Jameer Nelson's favorite superhero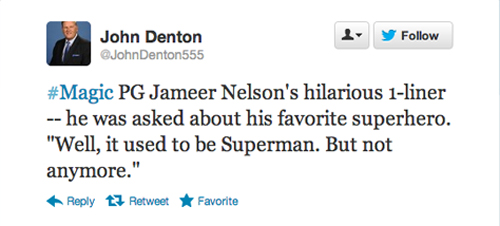 Jameer Nelson of the Orlando Magic was asked who his favorite superhero was and he answered in an expected manner considering a former teammate's nickname. Of course, he's talking about Dwight Howard, now of the Los Angeles Lakers. It's nice to know that Nelson can have a sense of humor about the whole Dwightmare. Of course, the Magic's immediate prospects will probably be scarier. Keep laughing, Jameer! Sometimes that's all you can do.
The following two tabs change content below.
Dennis Velasco (AKA DV) has contributed a lot of content throughout the Internet over the past several years - SB Nation, ESPN/TrueHoop, SI, SLAM, Yahoo! Sports, BuzzFeed, and The New York Times Company among others. DV is the Publisher of Hardwood and Hollywood.
Latest posts by Dennis Velasco (see all)