Stephen Curry and His Daughter Throw Shade at LeBron James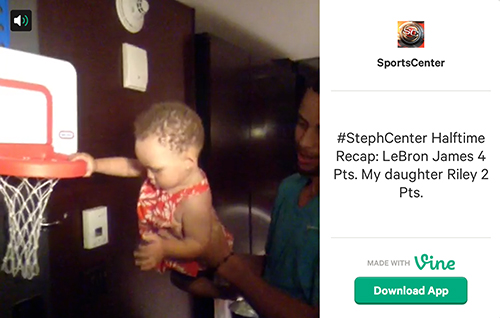 Stephen Curry is one funny dude that seems to enjoy having a laugh at the cost of his fellow NBA superstar. LeBron James did not shoot well in Game 3 of the NBA Finals, which was part of the reason the San Antonio Spurs beat his Miami Heat. James finished with 15 points on 7-for-21 shooting from the floor. In the first half, he shot a paltry 2-for-7 from the field for a total of four points.
This did not go unnoticed by Curry, who made a Vine video during halftime using his baby daughter as a prop:
Shade thrown.
The following two tabs change content below.
Dennis Velasco (AKA DV) has contributed a lot of content throughout the Internet over the past several years - SB Nation, ESPN/TrueHoop, SI, SLAM, Yahoo! Sports, BuzzFeed, and The New York Times Company among others. DV is the Publisher of Hardwood and Hollywood.
Latest posts by Dennis Velasco (see all)