NBA All-Star Weekend comes to New York City in 2015!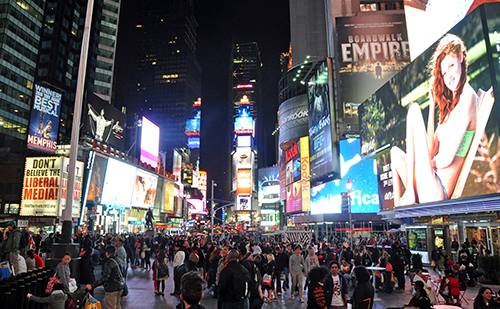 Yesssssss! That was my first reaction when commissioner David Stern announced that this wonderful city that I call home, New York City, would be hosting the 2015 NBA All-Star Weekend. And to make the deal even sweeter the festivities will be divided between the newly renovated Madison Square Garden and the brand new Billion Dollar Barclay's center. This will give New York fans from both factions, the New York Knicks and Brooklyn Nets, an opportunity to experience the All-Star energy on their home floor.
The BBVA Rising Stars challenge, Sprint NBA All- Star Celebrity Game, and The State Farm All-Star Saturday Night – including the Sears Shooting Stars, the Taco Bell Skills Challenge, Foot Locker Three Point competition, and Sprite Slam Dunk competition will take place on Atlantic Avenue in Brooklyn at the Barclay's Center. There will be plenty of high flying, sharp shooting, skilled passing, and all around good fun taking place in one of the most amazing new venues in the NBA today. And then Sunday, the lights get a little brighter on Broadway as the main event moves over to the Mecca of Basketball in Madison Square Garden. The stars will be aligned and shining on 7th avenue as the worlds greatest players converge to put on a show for the ages.
NYC hosted All-Star Weekend back in 1998 at MSG, with the East winning 135-114. Michael Jordan took home MVP honors scoring 23 points, along with six rebounds and eight assists. This season the cast has changed. Tim Duncan, Kevin Garnett, and Kobe Bryant are the only currently active players who also played in that game, but the talent level of today's All-Stars will surely entertain the basketball savvy fans of Gotham City.
The timing couldn't be better. The brewing rivalry between the two hometown ball clubs is only getting hotter, and will be at napalm level by that time ASW comes around. If you're a true basketball fan and lover of the league like I am then you are setting the calendar on your Apple IPhone or your Android and bookmarking TicketMaster on your internet browser. Make sure you're in the house because I sure will be.
Photo courtesy of James Willamor/Flickr
The following two tabs change content below.
King Harrison is a New York City native, who has contributed to FOX Sports and COMPLEX through his work with Baller Mind Frame. His on-camera escapades include interviewing New York Knicks fans disgruntled and demonstrating against Jim Dolan, hip hop artists such as Troy Ave, as well as doing feature work with Bacardi and the legendary Rucker Park in Harlem, New York. He's been said to have a striking resemblance to Tyson Chandler, to which he says, "That's a compliment for both of us."
Latest posts by Mister King (see all)