NBA Fandom Games: Los Angeles Clippers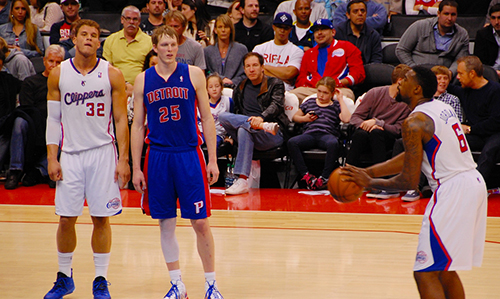 Don't forget to check out our 2013-14 NBA Ultimate Season Preview!
Whereupon an NBA free-agent fan sets about selecting a team to root for during the 2013-14 NBA season.
Most of the upcoming season's viable championship contenders are still standing in the inaugural Fandom Games. The New York Knicks were eliminated first, a ceremonial and cathartic purging for decades of misdeeds, but only deep-seated New Yorker delusion enables a belief in the Knicks' 2014 contendership. The Houston Rockets and Oklahoma City Thunder have both been eliminated, too—legitimate NBA heavyweights by almost any measure. And, depending on where you stand on the Golden State Warriors, their early purging may have represented the elimination of a long-shot postseason challenger. But the rest stand strong.
Is this to say that only the teams capable of winning titles are worthy of a fan's support? Of course not. It's simply that the NBA's system of competition has a way of rewarding the smartest, most competitive teams, and so these teams double as title contenders and Fandom Games prospects.
This stems in large part from the NBA's financial system, which does far more to punish rich-guy stupidity than Major League Baseball (just ask James Dolan and Isiah Thomas) and rewards long-term planning in a way that the National Football League never could. It's not perfect, mind you, but many of the NBA's most noble, forward-thinking, and fan-conscious franchises are also the ones who find themselves making deep runs every postseason. It's no accident.
The actual competitive layout of the NBA contributes to this outcome, too. The season is long enough and the postseason rigorous enough to ensure that the best teams are the ones advancing, year in and year out. Baseball's playoffs remain too small and the NFL's playoffs too fickle to ensure such consistent results.
So yes, of the 12 (soon to be 11) teams remaining, seven are bona fide contenders. This isn't about cherry-picking the best of the best for a more rewarding fan experience, but quite the opposite: many of the best got there by being the type of franchise worthy of a fan's support. And besides, the endurance of the Dallas Mavericks, Los Angeles Lakers, Minnesota Timberwolves, New Orleans Pelicans and Orlando Magic, five of the remaining 12 teams and at best fringe playoff squads, disproves that particular notion.
Even still, for the doubters out there who suspect fair-weather fandom, this should help reconcile some doubts. Today's elimination is an unquestioned contender and a franchise that, after nearly 30 miserable years in its current hometown and several difficult years prior to that, after averaging a playoff appearance once every four and a half years for the length of its wretched existence, is finally rewarding its fans for their loyalty. Today's elimination is the Los Angeles Clippers.
The Clippers are pretty clearly a thriving franchise. In the Baller Mind Frame 2013-14 NBA Ultimate Season Preview, your ruthless Fandom Games sovereign predicted that the Clippers will advance to the NBA Finals, it being their turn on the Fall-to-the-Heat Carousel. This summer they addressed what was arguably their most glaring weakness (head coach) with a bang. They feature one of the NBA's three best players in Chris Paul and one of its five best forwards in Blake Griffin. Players actually wanted to go there this summer! It's a new day.
At the same time, aside from the obvious "it's still the Clippers" dynamic, there's something that sets this franchise apart from its fellow contenders. The Clippers of recent years have had to shake the longest, most dire run in American sports history, and did so in perhaps the only way possible: a sudden, clunky ascent, highlighted by dumb luck, some glaring missteps, and dramatic, almost unfathomable personnel turnover. No other NBA title contender boasts the kind of turmoil and recklessness we've seen from the Los Angeles Clippers in the last couple of years.
This is a franchise built on the acquisition of Paul, a well-documented fiasco, and one that is expected to soar to new heights thanks to the messy procurement of Doc Rivers. Some typical Clippers misfortune reared its head when locker room leader Chauncey Billups tore his Achilles tendon in his first season with the team. The franchise dared add Nick Young during the Washington Wizards fire sale of 2012, brought Lamar Odom back to town after a lost season in Dallas, and signed Jamal Crawford fresh off his participation in the Nate McMillan coup while with the Portland Trail Blazers. They canned the most successful coach in franchise history in Vinny Del Negro and, this summer, spent another offseason overhauling most of the bench.
It's hard to fathom a great franchise—say, the San Antonio Spurs—making any of these moves.
It's a testament to Paul that the franchise has gotten this far. It's perhaps the most remarkable off-court accomplishment by a current NBA player, actually, save perhaps the formation of the modern Miami Heat. And in the franchise's defense, just ending the drought was more important than doing so gracefully, and now the Clippers are positioned to make their deepest run yet. But at this point in the Fandom Games, with 12 (well, 11) teams remaining, the take-no-prisoners development of the Los Angeles Clippers isn't cutting it. Too many truly great franchises still in the fold.
NBA Fandom Games Eliminated Teams List:
New York Knicks
Boston Celtics
Washington Wizards
Charlotte Bobcats
Golden State Warriors
Milwaukee Bucks
Utah Jazz
Philadelphia 76ers
Houston Rockets
Portland Trail Blazers
Toronto Raptors
Sacramento Kings
Detroit Pistons
Phoenix Suns
Oklahoma City Thunder
Atlanta Hawks
Cleveland Cavaliers
Denver Nuggets
Los Angeles Clippers
Photo courtesy of LWY/Flickr
The following two tabs change content below.
Stephen Oby Jr. is a social worker living in Albany, NY. Follow me on Twitter (@stephenobyjr) by clicking on the icon below my picture.
Latest posts by Stephen Oby, Jr. (see all)