Chicago Bulls keep plugging away
In reality we should've expected a return to the mean for the Chicago Bulls, a team who plugs away with the efficiency of German engineering. They're 17-8 since the New Year, including road victories against the Phoenix Suns and San Antonio Spurs. Admittedly they've taken advantage of a relatively soft spot in their schedule, and their run of games coming up in March is daunting to say the least. They'll play eight games against teams with winning records, with Memphis being the only .500+ team not in playoff position. The good news is the majority of these games will be in the United Center where their record is 15-10. The bad news is they'll have to play four of the five best Western Conference teams by playoff seeding.
This isn't to spoil what the Bulls have accomplished because it's inspiring how they've managed to stay relevant even in such a crappy Eastern Conference. Their defense has been overshadowed by the Indiana "Seattle Seahawks" Pacers but it's been the one source of consistency for the Bulls the entire season. Hell, it's been their one source of consistency in the Tom Thibodeau era. The Bulls ranked fourth in DefRtg until the New Year and have improved to the second-best defense in the NBA. Mind you that the gap between first and second in DefRtg has never been this big since the NBA's database started tracking the stat in 1996-97.
They've reinvigorated the career of D.J. Augustin, turning him into a less flamboyant version of 2013 Nate Robinson. After a rough 15 games or so to start the season, Joakim Noah has returned to being Joakim Noah: the Bulls are more than eight points better defensively with Noah on the floor since January 1 (94.4 to 102.8). Taj Gibson is slowly taking away Carlos Boozer's minutes while arguably having his best season. First-round pick Tony Snell has shown spurts of clever screen play. The Bulls run this play for him occasionally as a decoy screener to set up his man for the intended action: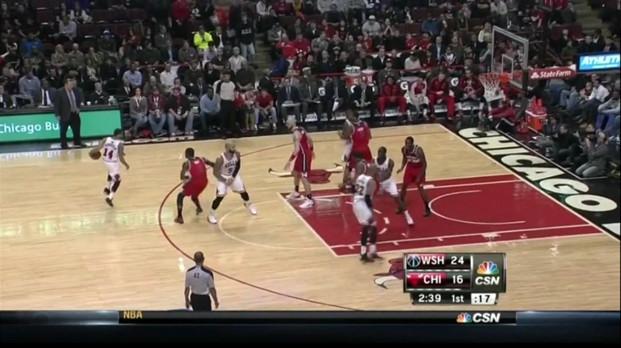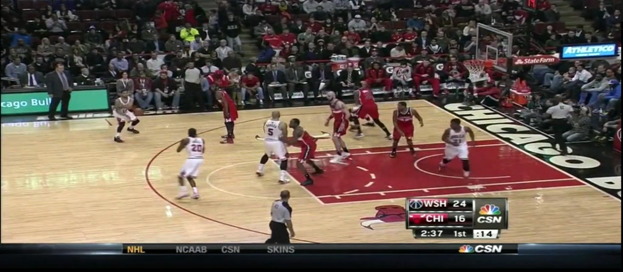 It's simple plug-and-play with the Bulls and if there's anything that's defined the last two seasons of Chicago Bulls basketball, it's been their ability to take "misfit outcasts" and make good use of them. Nate Robinson (get well soon Nate) and Marco Belinelli were crucial for the Bulls with their shot making and ability to be a relatively high usage pick-and-roll player, and this year the mantle has shifted onto D.J. Augustin. His resurgence story has been wonderful to see, particularly when considering that for the majority of the last two seasons with the Pacers, including their playoff series with Miami last year, he played with the dribbling prowess of a seven-year-old. He was terrible in his quick stint with Toronto, failing to establish any significant role with the team despite the fact that his main competition for the backup role was Julyan Stone and Dwight Buycks.
He's thrived under the Bulls, specifically the fact that the system offensively is simple and leans towards point guards that have the ability to penetrate and create offense. Case in point, the following table:
Ranking
 Assist opportunities per game
 Passes created by assist per game
 Touches per game
 Time of possession

(min)

D.J. Augustin
15th
24th
17th
7th
Now how much of this is true talent and how much is it the boost from playing in an offense that's simplistic in its nature is something for way smarter people than myself to decide, but he's fit in seamlessly. One of the cool little things during Augustin's time in Chicago (well at least to me) has been the chemistry he and Snell have fostered in terms of finding Snell in perfect stride for his jump shot, especially whenever Augustin is in some sort of transition:
What's also made Augustin a very helpful offensive player has been his shot making. He's shooting 50 percent on three pointers with him as the pick and roll ball handler, an outstanding mark (and probably unsustainable). A good chunk of these shots have come as Augustin's been holding the ball for 8 to 10 second before initiating the pick and roll. It's one thing to shoot a great percentage when having the looks come from motion sets and having the team being bent with decoy actions previously, but he's been making some tough shots with the defense keying in on him. The dip in three-point shooting will happen at some point considering that he was a career 36.7 percent three-point shooter before his time in Chicago who's now shooting 43.3 percent with the Bulls, but the Bulls will take anything they can get offensively.
On defense is where it's murkier for Augustin. He just struggles to stay with his man when guarding the pick-and-roll, and there's no shame in that. The NBA is a pick-and-roll league, and there are very few point guards who can consistently stick with their man through a screen, which is why George Hill has real value to Indiana. It's easier to hide a point with troubles (hello, healthy Steve Nash) of that variety than a big guy who's hopeless corralling the point guard (hello, Carlos Boozer). This is compounded even more with the Bulls' stringent defensive protocols, which Zach Lowe meticulously detailed last year.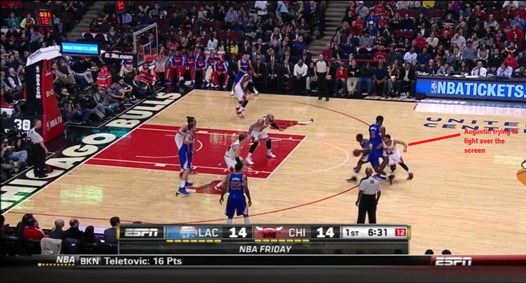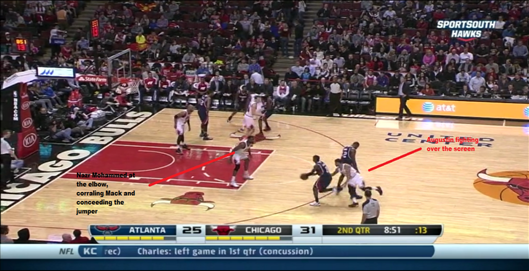 The Bulls are 7.4 points worse defensively with D.J. Augustin on the court and whenever the opposition puts Carlos Boozer in the pick-and-roll with Augustin guarding the ball handler, bad things usually happen:
Sadly nbawowy.com doesn't have D.J. Augustin's numbers as a member of the Chicago Bulls to break this down further. The good news to report though, if it isn't Boozer that's being placed in the pick-and-roll, the Bulls still do a great job in forcing mid-range jumpers, a staple of the Chicago Bulls defense.
Speaking of the Bulls defense, what's helped them thrive on that end despite the issues that Boozer and to a lesser extent Augustin bring is the fact that the Bulls employ perhaps the best defensive three-man core in the NBA in Taj Gibson, Jimmy Butler, and Joakim Noah. Butler's a defensive force in the same way that Paul George is, able to get through screens with the greatest of ease. He's one of the few people in the league who can stay attached on a ball handler.
Gibson and Noah bring elite rim protection and are the fulcrum of the Bulls' ability to force mid-range shots. They both rank in the top 10 in opponent field goals at the rim via NBA's Player Tracking. They're agile as hell on switches, and when a guy like Gibson can combine a 7'4″ wingspan with the agility and foot speed of a ballet dancer, chances are you'll have to work really hard to get your points.
Gibson's also improved as a post up player, upping his usage exponentially. He's gone from 13.1 percent of his possessions ending in post ups in 2011-12 to 33.6 percent via Synergy Sports. His fadeaway jumpers on the baseline spinning away from his defender are golden and the Bulls run little screens to get him easy opportunities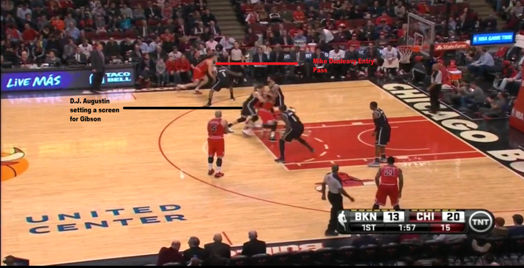 Turnovers are an issue for Gibson in the low post. He's turned the ball over on 17.1 percent of his possessions via Synergy. That's getting close to Dwight Howard territory. For perspective, the much maligned Carlos Boozer is only turning the ball over on 11.2 percent of his post up opportunities despite a relatively similar usage. At the age of 28, we're probably seeing the height of Gibson's offensive prowess. Combined with his defensive acumen and his contract is a steal right now.
There isn't much to say about Noah that hasn't been said before. He's a wonderful passer, perhaps the best passing big man not named LeBron James in the NBA. Without his passing, the Bulls offense wouldn't be able to function the way it does. His shooting from the mid-range area has decreased dramatically but perhaps it's just a year blip from what he's produced in the last few seasons. His switching on defense is impeccable, and his mannerisms might rank in the top five in the NBA in terms of sheer hilarity/awesomeness.
What lies for the future of the Bulls is such a fascinating case. There's a decent chance they amnesty Carlos Boozer, and the dream of acquiring Melo would hinge on that, including renouncing nearly every cap hold they've got. We have no idea when prized European stud Nikola Mirotic will make the move to the NBA from Real Madrid, Derrick Rose is owed $60.3 million dollars over the next three years with the injuries he's gone through over the past two, and next season will be the last year the Bulls will have Jimmy Butler under his bargain contract. The free agency crop is bare of actual unrestricted free agents with Lance Stephenson headlining the list. The Deng deal was a financial savior for the Bulls, but at some point the production Deng produced will have to be replaced in some way or form.
The immediate future though will probably consist of a playoff seed in the 5-8 range in the Eastern Conference, and perhaps a second-round matchup with either Miami or Indiana. We can bank on the following things with the Bulls if they do make the playoffs: bad offense, one "WTF" performance from someone on their roster (I'm looking at you, D.J. Augustin), punishing defense, and gushing over Joakim Noah. Until then, the Bulls will have to survive the rough stretch of games during the beginning and middle portions of March. Perhaps Jimmy Butler will regain the shooting prowess he exhibited earlier in the season and make up for the probable drop in form we'll see from Augustin. We're even seeing Krik Hinrich's shooting return to something of a positive. The Bulls won't win the title this year and they might not even make it past Round 1, but they'll be a pain in the ass like few in the NBA can be.
The following two tabs change content below.
Mohamed Mohamed
Previously wrote for Raptors HQ. Supports selfish gunners even with it being a dying art. #FancyStats supporter in all sports, including the NBA (OffRtg and DefRtg to name a couple). I write words and hope they make me sound SMRT.
Latest posts by Mohamed Mohamed (see all)