Camo For Bunnies: Nike KD VI 'Easter'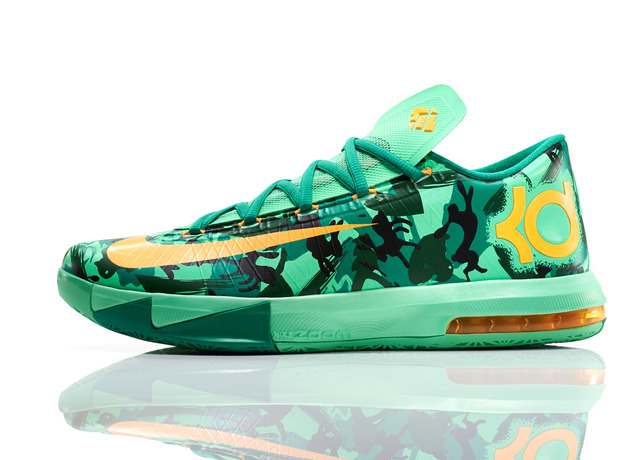 Courtesy of Nike >>
With Spring in the air and Easter weekend on the horizon, Nike Basketball brings the spirit of the holiday to its new Easter collection.
Driven by performance, the three low-cut signature shoes for LeBron James, Kobe Bryant and Kevin Durant undergo a festive Easter makeover with individual stories connected to each shoe.
KD VI
The performance design of the Nike KD VI was inspired by the precision of a finely crafted wristwatch.  The shoe's low-cut and its light weight came at the specific request of Durant. The traditional Easter egg hunt influenced the custom camouflage pattern mixed with Easter iconography featured on this special edition KD VI.
The Nike Basketball Easter Collection is available April 18 at Nike.com and select retail locations globally.  Each shoe's special colorway also comes to life in a matching t-shirt available in limited quantities globally; the KD VI and LEBRON 11 Low also have matching hats that will be available.
The following two tabs change content below.
Sandy Dover serves as Managing Partner of Hardwood & Hollywood. With background as Senior Editor, Leadership Board Member, and Equity Partner of H&H as well, Sandy has his hands in everything creative, editorial, social, and strategic for the outlet. Sandy precedes his time with the Complex Media partner as a feature writer, multimedia producer-photographer, and event correspondent for a number of major media publications and outlets, including Yahoo!, SLAM, and both ESPN and espnW. Sandy is an industry insider concerning the NBA, footwear and sportswear, product, technology, lifestyle & fashion, and fitness & training.
Latest posts by Sandy Dover (see all)