Fender Mod Shop is 'NIKEiD of guitars'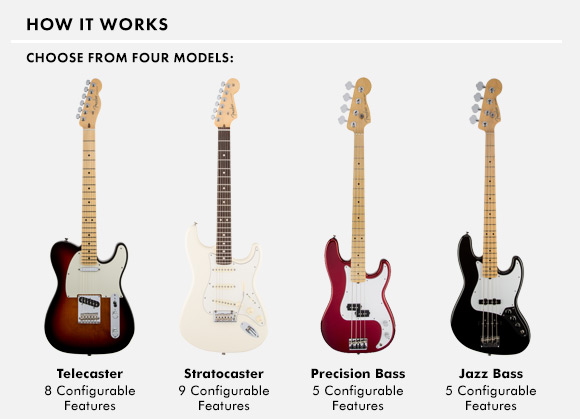 Guitars are some of the most precious instruments in the world, but are also very labor-intensive and timely to produce, and that's just for the general public. What if that same work went into a guitar that's made just for you? That's the thinking about the Fender Mod Shop.
See more on the Fender Mod Shop, below courtesy of our partners and friends at Fender:
It's a highly innovative, digital design studio (think NIKEiD of guitars) that allows players and collectors to design their dream guitar and choose from thousands of customizable options.
–Fender spokesperson
---
In response to the overwhelming uptick in player demand for personalization and modified instruments, Fender is introducing Mod Shop, which offers more than 70,000 customizable options to customers of all skill sets.

Fender introduces Fender Mod Shop, a truly immersive customer experience that allows players to choose from one of four Fender models including the Telecaster®, Stratocaster®, Precision Bass® or Jazz Bass®. They can then modify their selection online with a curated menu of options such as body color, pickups, pickguard material, fingerboard, hardware color and style, bridge and orientation to create a factory-customized model truly tailored to their personal preferences. Cosmetic options include nine body colors, such as Candy Apple Red, Daphne Blue, Surf Green and Fender's popular Sunburst shade.

Fender is dedicated to understanding players' needs and creating innovative, inspiring solutions for every step of their musical journey. A response to the extremely high demand for personalized custom guitars from players in the industry, Fender Mod Shop provides consumers with the ultimate guitar modification experience. Consumers have the access to Fender Mod Shop on both desktop and mobile device with base models starting at $1,649.99 – $1,799.99. (All pricing will vary depending on model and selected modifications.)
The following two tabs change content below.
Sandy Dover serves as Managing Partner of Hardwood & Hollywood and network partner with H&H content partner, Complex Media. With background as Senior Editor, Leadership Board Member, and Equity Partner of H&H as well, Sandy has his hands in everything creative, editorial, social, and strategic for the outlet.
Latest posts by Sandy Dover (see all)