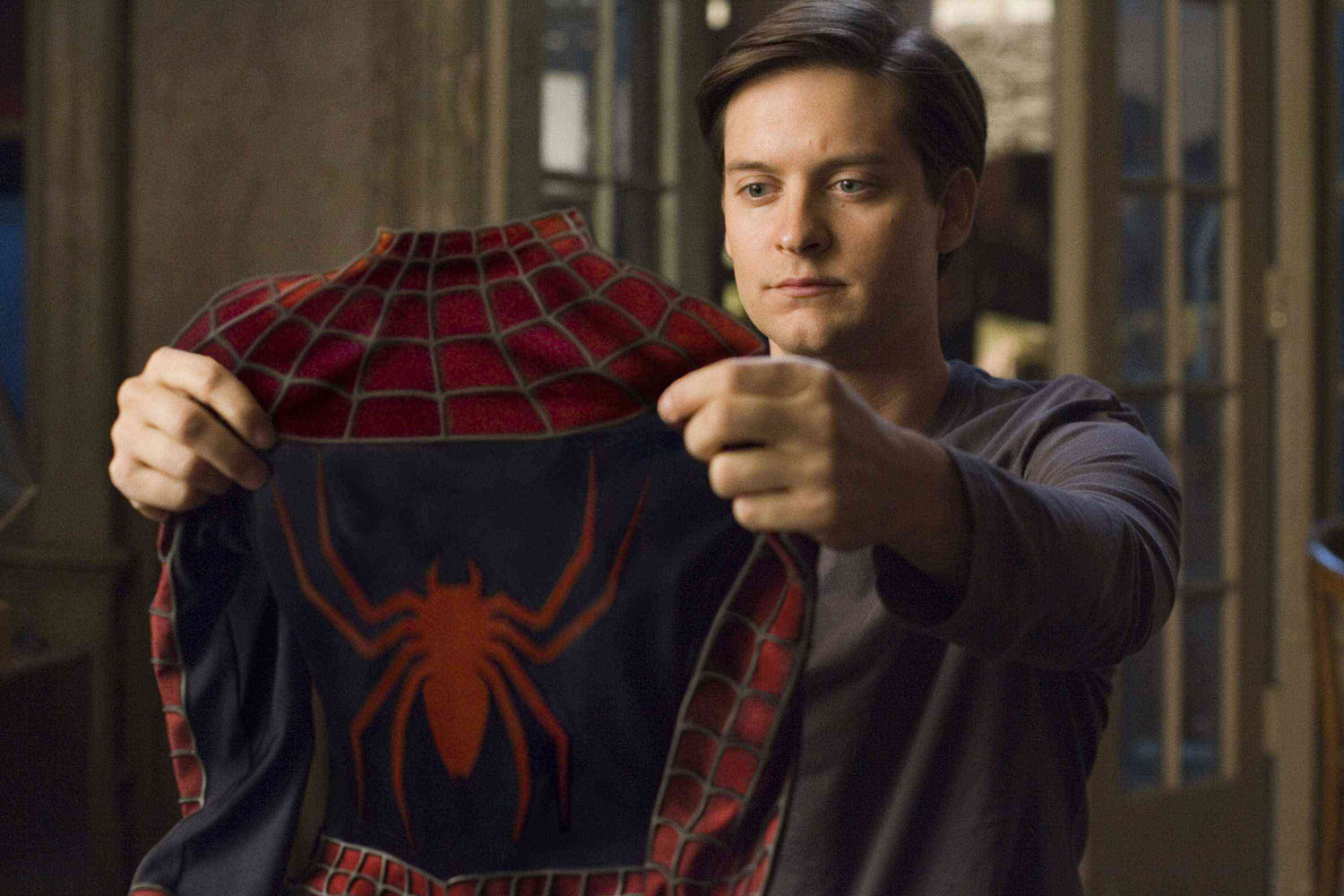 Sam Raimi's Spider-Man had to work. Thankfully for the millions (and millions!) of comic-book lovers, it did.
By the time the film was released in 2002, comic book adaptations had gone through a rebirth and then fallen back into campy nonsense with the late 90s Batman movies. X-Men had successfully shown that these adaptations could be "cool" again in 2000, but like the Batman films that came before, it was forced into a kind of grounded reality that we will (spoilers) get into with the next entrant on this list.
Spider-Man couldn't be shoehorned into a darker, more Matrix-inspired costume or (like Storm and Rogue) have his most fantastical powers taken away.  It just wouldn't make sense.
Spidy had never been on screen before and as silly as it sounds to boil an entire blockbuster flick down to one thing, we needed to believe the web-slinging or nothing else would have mattered. And they nailed it. In my estimation, this makes Raimi's Spider-Man the first in a class of fantasy-style adventure comic-book adaptations that would eventually bring us The Avengers.
Because of the technological advancements made by this film, superheroes were no longer resigned to one-on-one fist-fights in tight corridors. Now they could swing from the rooftops and give audiences shivers as the battles took to the sky.
In terms of faithfulness to source material, casting a 30-year-old (looking) Tobey Maguire as Peter Parker falls somewhere between having a Batman that kills people and giving us a 6'5 Wolverine. Somehow, the re-boot featuring an even older looking Andrew Garfield managed to double down on this mistake robbing the webhead of one of his most distinguishing characteristics: he is just a kid.
Finally having a teen-Spidy – and putting him in the MCU with the Avengers and the Defenders where he belongs – is why I have faith that the best Spider-Man adaptation lies in our future. But the importance of the commercial success of this very first effort should not be understated.
Raimi, Maguire, Kirsten Dunst, James Franco, Willem Dafoe, and the rest of the team proved that bright colors, massive scope, levity, just the right amount of campiness, and a whole lotta CGI was the perfect recipe for a summer escape.
Complete 35-part list for best comic book adaptations ever!
Part 1 – Daredevil / Part 2 – The Dark Knight / Part 3 – V for Vendetta
Part 4 – The Flash / Part 5 – Sin City / Part 6 – The Crow
Part 7 – Agent Carter / Part 8 – X-Men: Days of Future Past / Part 9 – Captain America: The Winter Soldier
Part 10 – Guardians of the Galaxy / Part 11 – X2: X-Men United / Part 12 – Iron Man
Part 13 – The Avengers / Part 14 – Teenage Mutant Ninja Turtles (1990) / Part 15 – Superman (Richard Donner)
Part 16 – Hellboy / Part 17 – The Incredible Hulk / Part 18 – X-Men: First Class
Part 19 – Spider-Man 2 (Sam Raimi) / Part 20 – Thor / Part 21 – Ant-Man
Part 22 – The Dark Knight Rises / Part 23 – Spawn / Part 24 – Agents of S.H.I.E.L.D. – Season Two
Part 25 – Avengers: Age of Ultron / Part 26 – Batman Begins (Christopher Nolan) / Part 27 – Captain America: The First Avengers
Part 28 – Batman (Tim Burton) / Part 29 – X-Men (Bryan Singer) / Part 30 – Spider-Man (Sam Raimi)
Part 31 – Smallville: Season One / Part 32 – Hellboy II: The Golden Army / Part 33 – Teenage Mutant Ninja Turtles 2, 3
Part 34 – 300 / Part 35 – Man of Steel / Extra Part – Final Thoughts
The following two tabs change content below.
Drew Creasman
Drew Creasman (or DC for short) is a writer and podcaster for POP CULTURE SPIN, BMF SPORTS, and the Colorado Rockies SBNation affiliate Purple Row. He also works independently as a singer-songwriter in the Boulder and Denver areas. Drew is "analytics curious" and constantly seeks to understand as many different possible ways of looking at and understanding sports whether it be diving deep into the newest available numbers or casting them all aside for a moment and relying solely on the eyes.
Latest posts by Drew Creasman (see all)