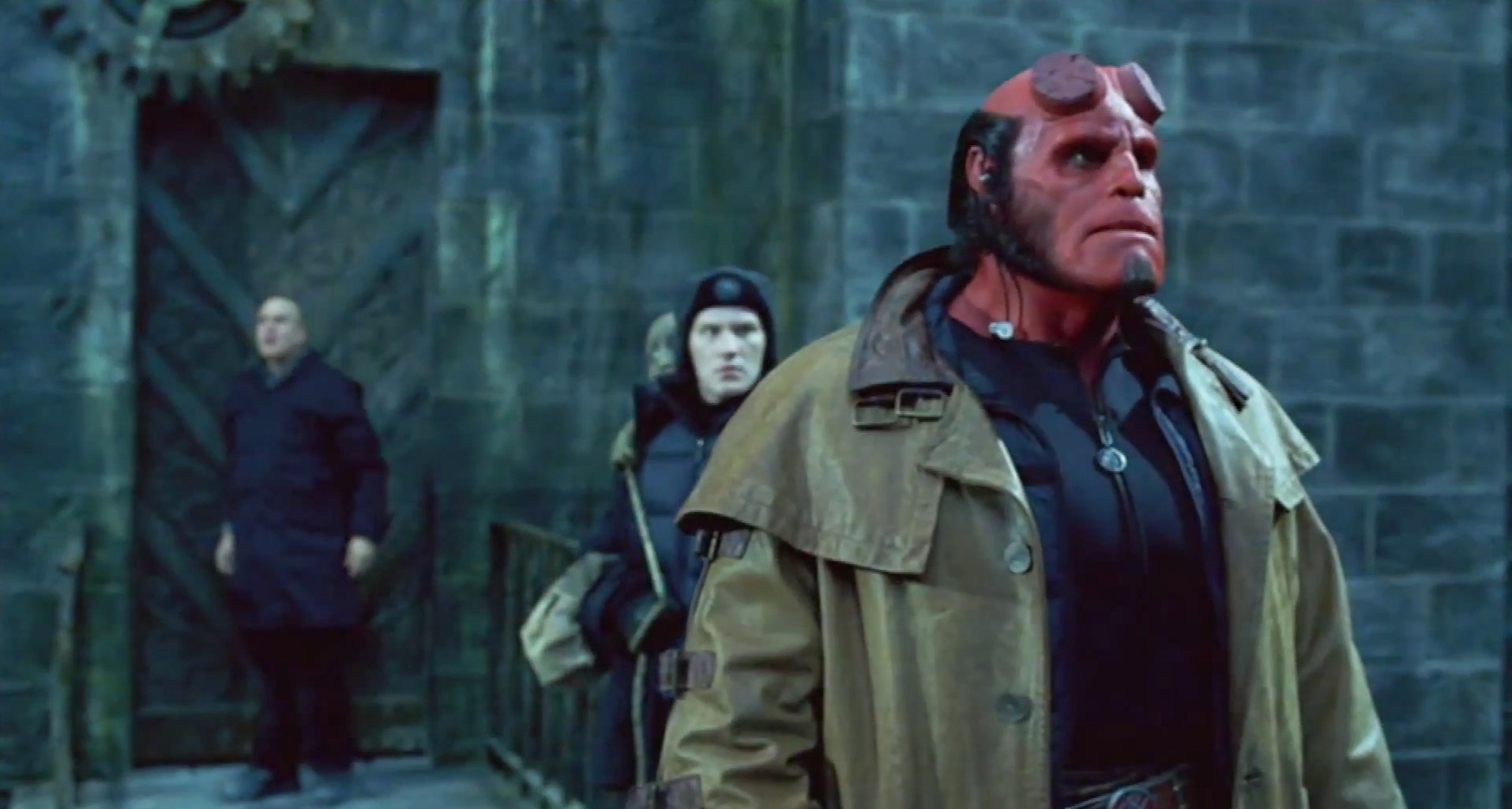 While two powerhouse comic book companies were defining themselves as either bright and fun or brooding and provocative, Dark Horse Comics was redefining the dichotomy with the character known as Hellboy. The wisecracking demon was adapted to film in 2004 by a relatively new director named Guillermo del Toro who it turned out would be the perfect visionary to bring this unique world to life.
I don't want to use their names because Dark Horse and Hellboy deserve their own article, but we have all been so familiar with the aesthetics associated with those other characters for so long, that even when done masterfully they all feel like they come from a similar place. Because they do. Hellboy, and its Mexican-born director, look and feel different in every frame because they are made from a different perspective.
I could gush over del Toro all day – and it can be difficult to profess a visual masterpiece when the picture-to-word market tends to favor the former – but it absolutely has to be stated how gorgeous this movie is and not because of fancy computers and special effects but from ingenious makeup, costume, and set design.
Ron Perlman was the only choice to play the titular character and is sublime at balancing humor, crudeness, and charm with anxiousness, loneliness, and a fear about his true nature. Most superheroes are imbued with a kind of moral righteousness – a deeply held belief that they stand for what is right. Hellboy carries the concern that he isn't in control of his destiny rather than personal doubt.
Selma Blair's Liz Sherman, and Hellboy's love interest, wears these concerns more outwardly, allowing the audience to identify with her pain, struggling with powers dangerous to those around her. Abe Sapien, who brings wit and pith in abundance, is also estranged due to his amphibious form. The heroes in the Hellboy universe are all plagued in some way, never being bestowed with godlike powers, often pining for normalcy.
Hellboy nails this central theme. It takes us down a path where we must ask ourselves about how much we are really just a product of where we come from and what we look like. Do we really have free will? Is it true that you can love whoever you want, all else be damned?

These are difficult questions that this breathtaking-to-behold film asks in between smoking cigars and crushing beer cans. Hellboy is overflowing with heart, humor, and spectacle that manifest in a unique tapestry not found anywhere else in film.
Complete 35-part list for best comic book adaptations ever!
Part 1 – Daredevil / Part 2 – The Dark Knight / Part 3 – V for Vendetta
Part 4 – The Flash / Part 5 – Sin City / Part 6 – The Crow
Part 7 – Agent Carter / Part 8 – X-Men: Days of Future Past / Part 9 – Captain America: The Winter Soldier
Part 10 – Guardians of the Galaxy / Part 11 – X2: X-Men United / Part 12 – Iron Man
Part 13 – The Avengers / Part 14 – Teenage Mutant Ninja Turtles (1990) / Part 15 – Superman (Richard Donner)
Part 16 – Hellboy / Part 17 – The Incredible Hulk / Part 18 – X-Men: First Class
Part 19 – Spider-Man 2 (Sam Raimi) / Part 20 – Thor / Part 21 – Ant-Man
Part 22 – The Dark Knight Rises / Part 23 – Spawn / Part 24 – Agents of S.H.I.E.L.D. – Season Two
Part 25 – Avengers: Age of Ultron / Part 26 – Batman Begins (Christopher Nolan) / Part 27 – Captain America: The First Avengers
Part 28 – Batman (Tim Burton) / Part 29 – X-Men (Bryan Singer) / Part 30 – Spider-Man (Sam Raimi)
Part 31 – Smallville: Season One / Part 32 – Hellboy II: The Golden Army / Part 33 – Teenage Mutant Ninja Turtles 2, 3
Part 34 – 300 / Part 35 – Man of Steel / Extra Part – Final Thoughts
The following two tabs change content below.
Drew Creasman
Drew Creasman (or DC for short) is a writer and podcaster for POP CULTURE SPIN, BMF SPORTS, and the Colorado Rockies SBNation affiliate Purple Row. He also works independently as a singer-songwriter in the Boulder and Denver areas. Drew is "analytics curious" and constantly seeks to understand as many different possible ways of looking at and understanding sports whether it be diving deep into the newest available numbers or casting them all aside for a moment and relying solely on the eyes.
Latest posts by Drew Creasman (see all)