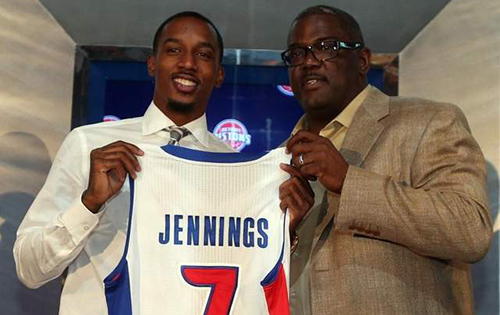 A week after the Detroit Pistons made it official with point guard Brandon Jennings, they finally introduced him to the media, fans and the team itself. Jennings seemed very excited to get going and hit the court with a team that has a great supporting cast. He especially gave praise to the Detroit frontcourt. "I guess you can say we can bring the `Lob City' to Detroit this year."
While that may seem like a lofty goal, it is easily within reach with a young and spry 6'10" Andre Drummond to lob it to. Drummond absolutely dominated the inside during the Orlando Summer League and should do the same during the regular season given time. Jennings also has the efficient and productive Greg Monroe, as well as Josh Smith, who comes to Detroit with a lot to prove.
As for Jennings, he has a lot to prove himself, coming to the Pistons with a less than stellar reputation as a selfish ball player who takes a lot of bad percentage shots. Jennings shot 40 percent from the field last season, but vows he will change with the Pistons. "This year I think you're going to see a whole different player, just with all the talent that I have around me, the veterans that are in the locker room," Jennings said. He went on to say "Now I can just actually be myself and be who I was five years ago, when I was in high school, playing AAU basketball. I definitely have to change my game for this team, for my teammates, everybody to be successful. The things that I was doing in Milwaukee, I won't have to do here – take all those bad shots."
It seemed like Jennings was sincere in what he was saying. He is still only 23 years old and is surrounded by talent and youth. He didn't have that luxury in Milwaukee where he had to be "the man." There was Monta Ellis who averaged 19.2 points per game last season, but was a bit of a diva. Ellis left through free agency and is now in Dallas. There was Larry Sanders who is talented, particularly as a rim protecter, but still has to prove he can be consistent. Jennings has never had a talented and youthful starting four surrounding him like he does now. Detroit has a bright future and so should Jennings.
If he plays hard and distributes the ball like he said he would, he can excel as an individual and the Pistons can excel as team. General manager, Joe Dumars is following the same formula that led to success in 2004. He has a team full of castaways with an edge. The question still remains if that will lead to the same success that the 2004 team had, but at least Dumars is not sitting around like he has the past few offseasons after overpaying Ben Gordon and Charlie Villanueva. "I do feel like the roster that we have right now is a roster that can compete for the playoffs," Dumars said. It's been a long time coming, but the Detroit Pistons are a strong potential playoff team yet again.