[share title="Share this Post" facebook="true" twitter="true" google_plus="true" linkedin="true" pinterest="true" reddit="true" email="true"]
[dropcap]S[/dropcap]tevie Nicks is having a renaissance. From guest appearances on American Horror Story: Coven, the now-departed Up All Night, and a CMT Crossroads episode featuring Nicks and Lady Antebellum, to the upcoming Fleetwood Mac reunion tour (which includes Christine McVie!), it is safe to say that the gold dust woman is back.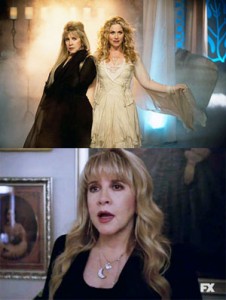 Did she ever really leave? Well, no, not at all. But is she gaining (well-deserved) notoriety among a new wave (dare we say "generation") of fans? Most definitely. Nicks will appear on the upcoming season of NBC's The Voice as a mentor for Proactiv user Adam Levine's team of singers.
As a longtime Stevie fan, I have to say I'm thrilled she's appearing in so many different formats and continuing to record, perform, create, and inspire. At this rate, they may soon have to increase the number of fans at the annual Night of a Thousand Stevies event.
Also new to Season 7 of The Voice: Pharrell Williams and Gwen Stefani, stepping into the roles of judges for the exiting Shakira and Usher. I can already imagine the SNL skit(s) based on this cast of characters.
And can we just stop for a minute and reflect upon People's Sexiest Man (meh) needing Proactiv? Know what's on the edge of seventeen? Adam Levine's acne-prone face, that's what.
[author title="About the Author"]
[custom_headline type="center" level="h2″ looks_like="h3″ accent="true"]Recent Posts[/custom_headline]
[recent_posts count="1″ orientation="horizontal"] [recent_posts count="3″ orientation="horizontal" offset="1″]