I recently caught up with the lovely and talented Britta Phillips, one half of the duo Dean & Britta, although you may know her better as the singing voice of Jem from the Jem and the Holograms cartoon. Britta filled me in on the current tour in support of Dean's solo album, info about the duo's ongoing collaboration with the Andy Warhol Museum, her work on her own upcoming solo album, and she reminisces about her time spent in the studio recording music for Jem.
How's the tour going?
It's going well! We break it up, so it doesn't become exhausting.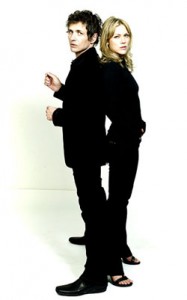 Have you had any interesting experiences while on the road?
In Atlanta, I saw two policewomen galloping down the street, which was quite a stunning image. Hmm…what else? The owner of a club we played in, in a small town near Rimini, Italy, made us amazing pasta and then did our sound for the show. That's a first. I know there's more, but I have a terrible memory, which is why Facebook, Twitter, and Instagram are good. I can look back and see what I did.
What's one of your favorite songs to perform on this tour?
It varies from night to night, but "Lost In Space," "4th of July," and "Happy & Free" are always really fun.
When does the tour end?
It's on and off until August 7. Check our tour dates, please! I get so bummed when people email asking when we're coming to their city and we've JUST played there.
Luna covered Serge Gainsbourg's "Bonnie and Clyde" on an album that pre-dates your involvement with the group. Do you and Dean ever do this song in concert, because I'm betting that you'd kill it.
We have done that song a lot at Dean & Britta shows, but right now we're doing Dean Wareham solo shows, so we're not doing any Dean & Britta stuff, just Luna and Galaxie 500 songs, as well as Dean's new stuff.
Any other cover songs that you enjoy performing while on tour?
We do "Ceremony" by Joy Division/New Order, which is always great. Galaxie 500 covered it on their album, On Fire. We also do "Air" by The Incredible String Band, which Dean covers on his mini LP, Emancipated Hearts.
What do you think is the first thing you're going to do once you're off the road?
I'm home right now for a few days. I'm in my home studio in the back working on my solo album.
What's your process like?
My process is all over the place. When Dean was away for a week, I stayed up all night and got quite a lot done. Now I just spend my days in the home studio when I can. I think I will try some more all-nighters, though, because it's hard to get back into that creative juicy spot once you've pulled yourself out of it. I can spend a lot of time just getting in the right mood/mode. In the past, I've written lyrics last, but this time I tried to write some lyrics first. Turns out it's hard both ways. Lyrics are the hardest part. Sometimes I have too many ideas and want to try every single one. I really need a deadline. I play Dean my stuff, eventually, and I'm all ears if he has any suggestions. There are a few other people I play songs for, too, just to get a mix of different reactions from different sorts of people. Melody/music comes more naturally to me than lyrics. The bulk of expression is from the music, for me. It says what words can't, so adding words to it is a tricky business.
When do you aim to have it ready for the masses?
Well, I'm hoping to finish by the end of the year and release it next Spring. I'm trying to work out some sort of theme for my original songs. But sometimes it's hard to tell what they're about until much later. I'm doing a bunch of covers, too. Scott Hardkiss picked some of them. We worked on several covers, but he passed away, tragically at the age of 44, in February 2013 before we had a chance to finish. I recorded a version of his song, "Come On, Come On" which ended up being in the movie, The Vow. I might see if I can put that on my solo album, too. I'd say that my solo stuff is, lyrically, a bit darker and more aggressive (on some songs) than the Dean & Britta stuff. I'm trying on a bunch of different styles.
"But she's like 'book-smart smart.'"
I loved that line. In the movie Frances Ha, you're a member of a dinner party who has to politely negotiate dealing with a seemingly conflicted Frances. Have you ever found yourself in the middle of a conversation as super uncomfortable as the one during the dinner party?
I'm sure I've been but I can't think of any specific instance at the moment.
Are you as smooth in dealing with that type of person in real life as you were in the movie?
I'm pretty smooth. I'm not confrontational. If someone starts acting weird, I usually just go with it and try to keep things comfortable.
Since you also composed music for Noah Baumbach's The Squid and the Whale, might there be more artistic collaborations between you guys if time and schedules coincide?
I sure hope so.
Between music and acting, which do you prefer?
They are completely different. But both are terrifying and thrilling, which is what draws me to them. Terrifying in that if you want to be good you can't hide and you can't fake it. So.. that's really challenging and I'm probably my toughest critic. I guess I'd have to choose music, though, because I can do it all by myself if I want. With acting you need other people a lot more. But that is also an upside since I can become like a hermit in the back studio. I guess that's what touring is for!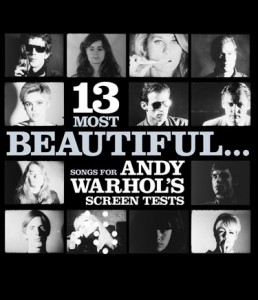 You collaborated on a project with the Andy Warhol Museum, 13 Most Beautiful… Songs for Andy Warhol's Screen Tests. How did you get involved in the project?
The Andy Warhol Museum in Pittsburgh contacted Dean and asked if we were interested. Which, of course, we were.
Do you have a favorite song or moment from the performance?
I love singing "I'll Keep It With Mine", the Dylan song we do for Nico. Also love performing the instrumental "Incandescent Innocent" for Freddy Herko. There are many great moments in the show. I love looking up and watching the screen tests during shows. I never tire of it. They are so alive.
Any favorite works of Warhol's? Who are some of your favorite artists?
Right now we're deep into Warhol's films since we are working on a new collaboration with the Warhol Museum. We'll be performing with four other musicians this time, each of us playing three songs for a total of 15 films. We are performing three shows at BAM in New York (Nov. 6–8) and one at UCLA (not sure of the details for this one yet). Other artists I love are Rothko, Richard Serra, James Turrell and Andrea Zittel.
The museum's website says that the project continues to take offers to tour. Has your involvement with the project ended or would you still be able to schedule appearances with it?
We can still do the show if someone wants to book us.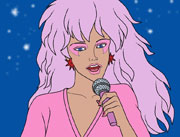 You were the singing voice behind Jem (while actress Samantha Newark was the speaking voice for Jem/Jerrica). What was the recording process like for those songs? Looking back on all of the seasons of Jem, it's really impressive how many songs were worked into each episode.
It was pretty fast and furious. I'd come into the studio and record two or three songs in a couple of hours. Anne Bryant (she wrote all the songs) would fill me in on the details of the episode, so that I understood what I was singing about. They really liked to push me up into the high notes to see how high I could go. It was fun.
It's okay if you don't have one, but I was wondering if any Jem song that you recorded stands out as your favorite? Or perhaps even a Misfits tune?
Favorites are hard for me. But, "Only Me And The Music," "Music Is Magic," and "Only The Beginning" are a few.
Do you ever attend any fan events?
Just the one JemCon a few years ago and I'm hoping to attend the one in Toronto in September this year. Are there other fan events? Maybe there are and I just don't know about them.
Can you give us any info regarding your involvement in the new Jem movie?
I have a very small cameo, but I can't say anything else about it; don't want to spoil the surprise! It was a fantastic experience being on the set, though. So surreal.
Does it boggle your mind that 30 years later people are still asking you about this cartoon?
Yes, it DOES boggle! And it's great. I never thought about kids growing up and remembering when I was doing it at the time, so it's a real treat. And I never imagined they'd be making a live-action movie about it!
What music are you currently listening to/influenced by?
I love Cate Le Bon and Courtney Barnett. They both blow me away. I like a few songs by Lana Del Rey. When she gets it right, it's great. I like Glass Candy, love Daft Punk, I think the band Foxygen is pretty great. I still listen to a lot of Lou Reed and The Velvet Underground… Nancy Sinatra.
It's probably hard to do while on the road, but do you have any current must-see shows? Anything that you're binge-watching?
I LOVE Louie. Other must sees are Girls, Game Of Thrones and Mad Men. But, I'm all caught up on them, so now I find that there's almost nothing I want to watch on TV, aside from The Daily Show and The Colbert Report. Although, we'll sometimes watch Seinfeld or Columbo re-runs.
Check out Facebook as well Dean and Britta's websites, deanwareham.com and deanandbritta.com, for information on the tour, their Andy Warhol project and more.