For an album (and song) that have been around for a minute, it's pretty interesting that there's only now a video for Janelle Monáe's "Electric Lady." But if you check out all of the digital product placement in the first 30 seconds of the video, it wouldn't be outlandish to assume the dual-purpose of using the term "Electric" here (what's up, Samsung).
Monáe recently performed the song on NBC's Maya Rudolph Show back in May, which you can check out here. She also did an *electric* performance on the Arsenio Hall show a few months back, which you watch below:
I love Janelle. I love her voice and I've always loved her sharp, retro style, with the perfectly coiffed 'do and tailored suits, but a strong case can be made for how Easy, Breezy, Beautiful she looks in this video with her hair kept natural while rocking a half shirt.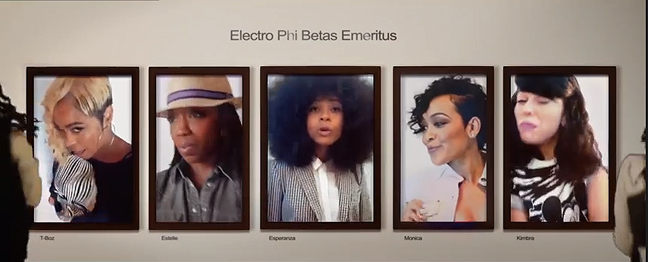 And do I spy Esperanza Spalding, T-Boz, AND Estelle as members of the Electro Phi Betas Emeritus? Hell yes.
If you're like me, and are wondering what Janelle's listening to right now, head on over to Spotify and check out her "WondaMix" playlist.
Header image via Monáe's website, jmonae.com