Ah, remember the halcyon days of the internet? The sound of your computer's dial-up modem connecting you via AOL to all of those fun chat rooms and Live Journal pages? Good times.

These days, no one except your parents (or possibly even grandparents) begin their web surfing on the AOL homepage though, right? And certainly no one pays for their AOL service anymore, RIGHT? (You do all know that it's free and has been free for years). Heck, some of you might even be surprised to know that AOL still exists. But, as of last year, in an effort to stay relevant and keep up (somewhat) with the Joneses, AOL has started to produce original programming. Featuring such familiar names as Hank Azaria, Nicole Richie, and Steve Buscemi, each web series takes on topics unique to the celebrities: Azaria's Fatherhood gives us a look inside his home life as he navigates the uncertain waters of being a dad. Nicole Richie's series deals with fashion.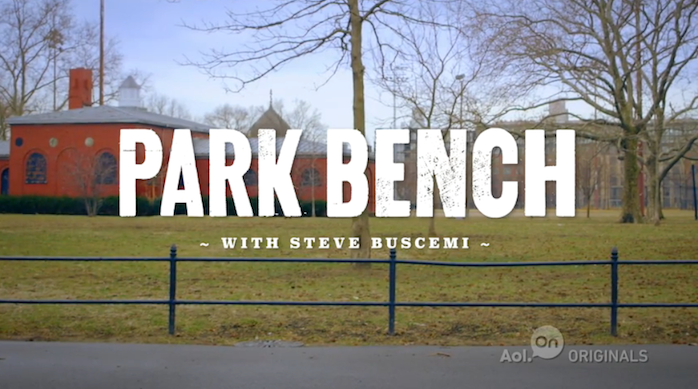 And then there's Steve Buscemi, who goes from Boardwalk to the park with Park Bench, a web series where he basically interviews other celebrities on park benches (an idea that Chris Rock casually throws his way in the premiere episode). However, it's not a talk show. As Buscemi points out, "it is a talking show. Talking show." In each episode Buscemi, along with his jovial sidekick Geo, interviews such popular celebrities as Michael Shannon, Rosie Perez, Chris Rock, Fred Armisen, Janeane Garofalo, GZA from the Wu-Tang Clan, and the Beastie Boys. He even sits down with Dick Cavett!
And it was nominated for an Emmy for "Outstanding Short-Format Nonfiction Program". It's in contention with Comedians in Cars Getting Coffee, Jay Leno's Garage, a History channel web program and the ESPN series 30 for 30 Shorts.
It's similar in scope to the premise of Seinfeld's Comedians in Cars Getting Coffee, although there's also a touch of the surreal Curb Your Enthusiasm-ness, show-within-a-show dynamic to Park Bench, where Buscemi is being himself, but then there's his brother Michael (also playing himself), who keeps popping up five minutes behind Steve to basically film his own Park Bench-style talk show (called Bench Talk), often stealing Steve's guests away from his own park bench.
Check out the first episode here.
The episodes are short (each a little more than 10 minutes long); you can even watch them all in the time it takes to watch an episode of Boardwalk Empire! The entire series can be watched for free on AOL, on AOL's Youtube page, or even via Apple TV.
Want to root for Nucky? The Emmy Awards will be broadcast on Monday, August 25 on NBC.
Header image via AOL.