The word on the street is that Janelle Monáe visited our furry friends on Sesame Street to empower them with the "Power of Yet." Watch the dapper songstress and company as they sing about not giving up when things don't come easily; you have to work hard and practice in order to achieve your dreams. Some very sound (and great sounding) advice!
[youtube] https://www.youtube.com/watch?v=XLeUvZvuvAs[/youtube]
In the wake of the new season (its 45th!) which begins this week, Sesame Street recently made a really strong media push, with Big Bird appearing last Thursday night on The Tonight Show with Jimmy Fallon in a segment called "#WhenIWasAKid"
[youtube]http://youtu.be/Sch4cgecTWA?list=PLykzf464sU9_KK4zOT0HI0ijFg-mCvhsH[/youtube]
and Mr. Snuffleupagus paying a visit to ABC's Good Morning America on Friday morning to put an end to the pesky rumors that he and George Stephanopoulos are related during GMA's Sesame Street Takeover day.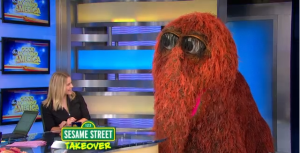 And then there's this subway ad that has  been popping up in stations around Manhattan: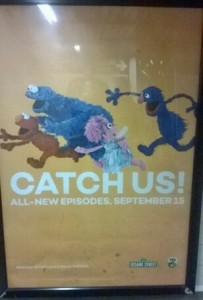 If you live in the tri-state area and want to help celebrate Sesame Street's 45th anniversary, you can head over to The New York Public Library, Donald and Mary Oenslager Gallery and view the free exhibit "Somebody Come and Play: 45 Years of Sesame Street Helping Kids Grow Smarter, Stronger, and Kinder."
Information on the exhibit, which runs until January 31, 2015, can be found on the New York Public Library's website [http://www.nypl.org/sesamestreet]