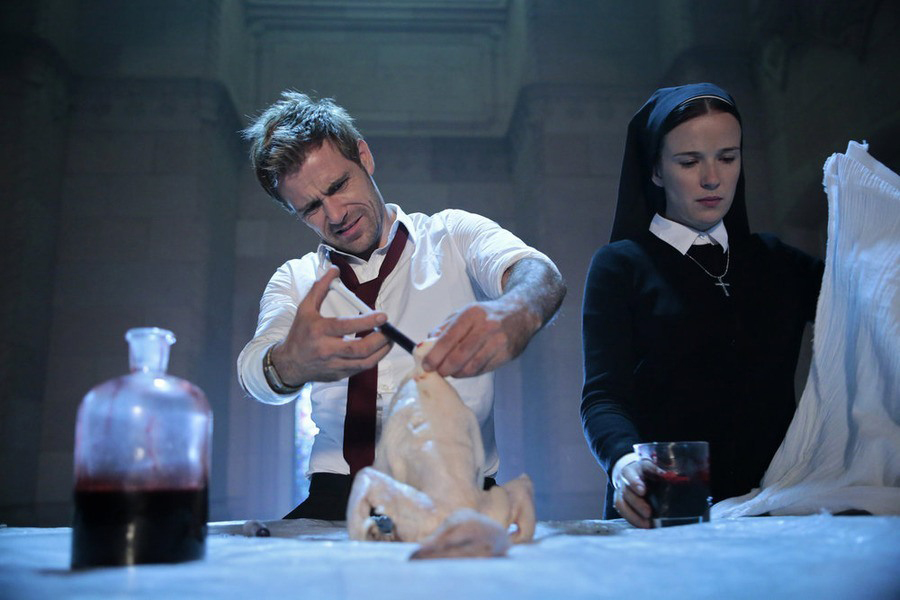 This week's Constantine was the midseason finale, so it pumped up the danger and ended on a cliffhanger that left Constantine in mortal danger. It also taught us a little more about Constantine's past, introducing a former lover who now hates him, but is desperate enough to need his help. This woman is Anne-Marie, played by Claire van der Boom. She gives a compelling performance and this character could prove interesting, although the backstory that she found Constantine cheating on her seems like a strangely mundane reason for their rift. What's more interesting is that she's the one who introduced Constantine to the Dark Arts back in the day. Now she's on the straight and narrow and holds deep resentment for Constantine. She tells him, "It's not just the sex and the seance, John. It's your ego. Everyone's just a port in your storm." Later, she allows Constantine to be attacked for the greater good and it was nice seeing Constantine's policies being turned around on him.
The episode begins with Constantine deciding to leave Zed behind while he helps Anne-Marie in Mexico. The separate A-plot and B-plot helped this episode's story breathe a bit, but it's also frustrating that they're not even trying to make this cast really cohere in an interesting way. Zed's story was pretty entertaining. She goes on a date with the nude model from her art class last week, but it turns out he was sent by her father to take her home. It was rewarding to learn more about what Zed is running away from, at long last. Her real name is Mary and she belongs to something called "The Crusade."
"The Saint of Last Resorts" is most notable for doing an alright job of raising the stakes and the tension before we get into the final episodes of the season. The show is already giving us Constantine himself being possessed, which is some nice rising action to suck me in. Overall, it was a strong enough episode, but not outstanding.