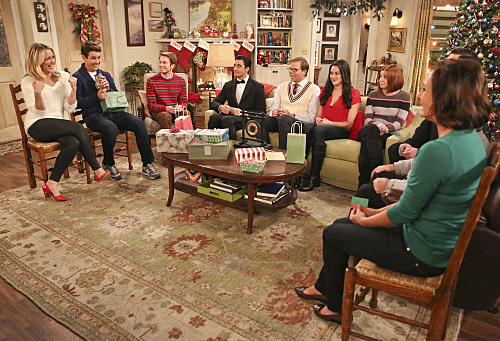 The Christmas episode of The McCarthys was basically a lesson in how to make a fun, effective sitcom episode. The premise was fairly simple: it's Christmas eve and the McCarthys are doing their annual traditional gift swap. The rules are the same as a Yankee Swap but of course the "Y word" is banned from their household. Ronny proudly explains that he had the idea of calling their exchange a Red Sox Swap. Marjorie says, "That was the day Ronny talked about sports."
There's nothing about this that I don't love. I was a little worried about an episode all about a gift swap. It's tricky to keep the stakes up enough that we care about all the rules and each move in the swap and, if it's not done right, episodes where all the characters simply sit around the living room for the majority of the episode can become claustrophobic. But "Red Sox Swap" is beautifully executed with each gift that's introduced and each move that's made, keeping the stakes up and interesting.
Both the comedy and conflict were helped along by the episode's four guest stars. The hunky Gilles Marini from Devious Maids plays a guy Sean has invited over in hopes of setting him up with Ronny. It was a lot of fun watching Ronny be schoolgirl smitten the entire episode. Jessica St. Clair returned as Gerard's fiance and continued to clash with Marjorie. You really felt for poor Gerard when the two women just wouldn't stop egging each other on. The hilarious Jeff Hiller also returned as a friend of Marjorie's from church choir and he provided a lot of the episode's biggest punchlines.
Alyson Hannigan appeared as the woman who's renting out the McCarthys' extra room. She's recently been dumped and is a huge downer. She was fun, but it was a reminder of how much I wish I lived in the alternate universe where people realize that Alyson Hannigan is one of the best actresses in the world. She was pretty underused as this one-note character. That said, toward the end of the episode she hits it off romantically with Sean and I would absolutely watch an entire separate show about that relationship. Fingers crossed that she becomes a recurring guest star.
Everything in "Red Sox Swap" just worked—the punchlines, the conflicts, the emotional pay offs. This kind of comedy episode where everyone just gathers together in one place and does a simple activity that becomes complicated is one of the hardest things to pull off, but they really make it look effortless. The relationships with all the guest stars were well done, making me excited to watch this show expand its world beyond stories within the family. It was a great episode that left me going into the midseason break feeling excited for the show to return.