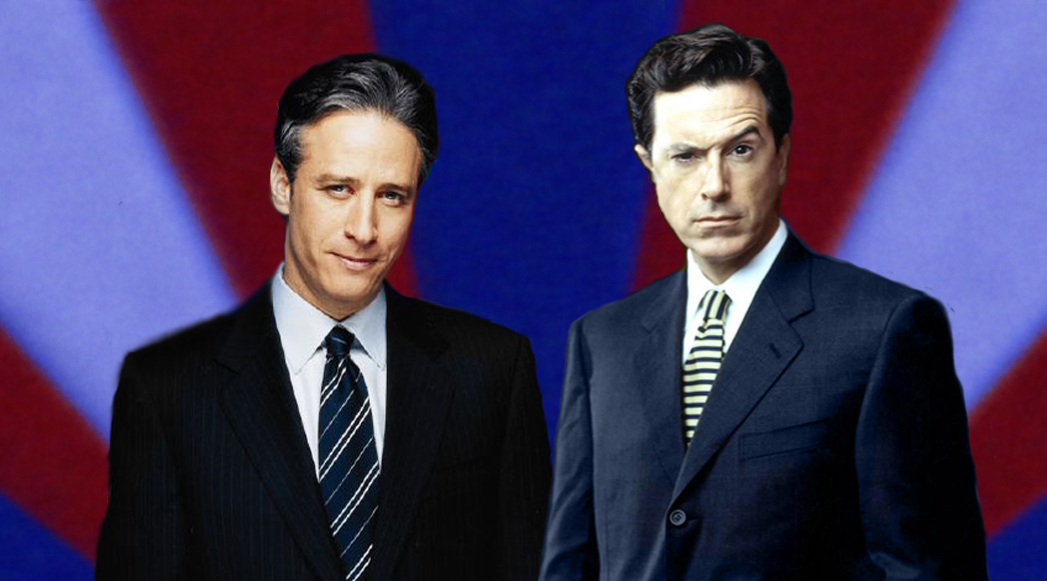 There is a hole in the world where once there was a man who was the most trustworthy mirage in America.
A world without Stephen Colbert doesn't compute in my brain. And by "Stephen Colbert," I am referring of course, to a character — a persona — who wagged the finger of "truthiness" in our collective faces and tipped his hat to the absurdity of the world.
And though I knew I would feel something as the final episode came to a close, I was not ready for the kickback to the place where it all began. In a few seconds that hit me like a jackhammer of nostalgia, Colbert delivered his final thanks and goodbyes and capped it off with, "Jon."
Thank you for that report, Stephen.
It was a reminder that this brilliant character came from a show that has grown more than a few. Colbert's genius was that his concept was so full of depth and nuance that it became a personified satire of modern times; a creature born of the hypocrisies and shallowness of microwave culture.
There will likely never again be anything quite like The Colbert Report, nor does it have any peers from the past. Ironically, after nearly a decade of making himself the center of attention, as the character faded away and the man began to emerge, the whole thing ended with an exceptional act of humility; the conceit that the show had been a nine-year long field report for The Daily Show.
The Daily Show is arguably the most important comedy show ever as its material often tows the line between absurdest humor and hard-hitting journalism, and (to steal a line from a song I wrote) there has been a long and distinguished list of "comedian prophets" who have lent there talents to the program to make it what it has been for over a decade.
So, while number one on this list may be obvious, I still thought it might be fun for all of us to take a trip down this particular memory lane. Here are the 10 best correspondents in the history of The Daily Show. Well, at least one man's opinion on the matter.
Honorable Mentions:
Both Mo Rocca and Dave Attell come from before I was watching the show religiously and I remember them more for other things, so didn't feel comfortable ranking them.
Demetri Martin had a very short tenure but was perfectly suited for speaking to a college audience as the show was exploding in that demographic.
Olivia Munn never quite worked on the show, but has been fantastic in her follow-up stint on The Newsroom, which speaks to how deep the talent-tree on The Daily Show goes.
Michael Che was only on the show for about twelve minutes but is already killing it on "Weekend Update" for Saturday Night Live. Again… deep bench.
Jordan Klepper is just a little too new for me to consider him for any kind of placement, but his early work shows extreme promise and if he sticks around long enough he could easily find his way into the top ten.
And finally, Lewis Black was left off the list because he does something markedly different than the usual responsibilities given to correspondents: back-and-forth interviews with Jon and filming field pieces. Had Black been eligible, he might have come in first.
The Next Five:
This was almost a Top 15, but breaking with tradition at this time of year is generally frowned upon. Even so, as I was engaged in ranking, I couldn't help but consider the five after ten. So, really, it is a Top 15. But don't tell anyone, okay?
15. John Hodgeman
14. Kristen Schaal
13. Al Madrigal<
12. Larry Wilmore
11. Wyat Cynac
Resident deranged millionaire John Hodgeman has a great, but limited shtick, which has in turn limited his appearances on the show. But when he is on, it almost always hits the mark just right.
Kristen Schaal is a comedian on the edge of the form who excels in challenging tropes and making people incredibly uncomfortable in hilarious ways. Her appearances have been few and far between, but her best slayings of gender stereotypes regularly approach Samantha Bee levels.
Al Madrigal's position suffers from the "fewer appearances" problem, but his presence has been absolutely necessary at times with how pressing immigration issues have become. His perspective is absolutely perfect for satirizing one of the most important issues of the times.
I feel most especially bad about the exclusions of Cynac and Wilmore. Wilmore is outstanding on each appearance but a completely unscientific study done of my recollection had him making fewer appearances than most on this list. But I am really looking forward to The Nightly Show and not just because there is a hole in my heart. I expect him to do very well. Smart plays.
Cynac has always been a personal favorite who I felt often spoke in a voice closer to my own. You should check out his stand-up if you've never seen it (or even if you have) and I'm sure he is happy having more control of his creativity than is often allowed in other pursuits, but the sheer magnitude of success that the names above him have achieved in a multitude of mediums, unfortunately, pushed him just outside the top ten.
So without further ado, accompanied by a selected clip (not necessarily their definitive best), here is…
The Top Ten
10. Ed Helms (2002-06)
You probably know Helms better for his roles on mega-hits The Office and The Hangover. If those aren't really your thing (they aren't really mine) you have still probably spotted him in Night at the Museum, the criminally underrated Walk Hard: The Dewey Cox Story, or recently in the surprisingly good raunch-com We're the Millers.
But you wouldn't know him from any of those roles (or quite a few others) if not for The Daily Show. Ed Helms got his start on the nightly "fake" news show in 2002 and was a regular until 2006 when he became one of the first alumni (just post-Steve Carell) to parlay the experience and exposure from the show into an incredibly successful film and TV career.
He's even made appearances on Arrested Development, Wilfred, and The Mindy Project and done voice work for Family Guy, American Dad!, and Ugly Americans.
The work from his days alongside Jon Stewart that stands out most to me came from his recurring segment "Digital Watch" and in his brief stint handling "This Week in God" perhaps the show's (second) best segment of all time.
His character often resembled a goofier version of Stephen Colbert. His willingness to be completely awkward would get interviewees to feel comfortable, as though they were speaking to a dolt. It was a smart and well-executed key to opening them up for better, funnier, and more revealing interviews.
He returned to The Daily Show briefly in 2008 to help cover Barack Obama's run to the white house, and is inarguably and indelibly a member of the golden era cast for the most important comedy television show of the last two decades.
9. Rob Corddry (2002-06)
Corddry's career has been eerily similar to Helms'. In fact, they covered the exact same 2002-2006 stretch of time on the show. And while you could easily swap their positioning on this list with Helms having reached such heights in his follow-up acts, Corddry always struck more of a chord with me.
He wasn't without other successes — showing up in Old School, Blades of Glory, Semi-pro (underrated), and as the antagonist in Harold and Kumar Escape from Guantanamo Bay — but his strength lies in his pure sarcastic wit and nowhere was this showcased more perfectly than on The Daily Show.
He always knew how to turn a phrase and his particular brand of sarcasm was perfect for a time of disillusionment. His self-deprecation combined with his embodiment of the American everyman was an important mirror for a country that needed some self-reflection.
Corddry has returned to the show on numerous occasions to file reports as an honorary member.
In a mantle that would be picked up later by Jason Jones, Corddry helped give the show a more biting critique of American culture (and other cultures as well) in a departure from the more earnest days of early Colbert and Carell.
8. Aasif Mandvi (2006-Present)
Aasif Mandvi hasn't had the success in TV or movies that several other names on this list have, but Mandvi is a master — maybe even the master — of the field report.
The Daily Show entered a new era in 2002 with the additions of Helms and Corddry, but of course the show, like the rest of us, was living in a new post 9/11 world and needed to reflect that.
This was now the issue of our times and the coming war in Iraq would cement that in stone. At the height of the conflict in 2006, Aasif Mandvi auditioned, was hired, and made his debut on The Daily Show all in one day.
He was an immediate hit who gave a desperately needed perspective. His myriad of titles symbolize just how much some of us had to learn about certain parts of the world. He appeared as "Senior Middle East Correspondent," "Senior Asian Correspondent," "Senior Muslim Correspondent," and, of course, "Senior Foreign Looking Correspondent."
But Mandvi's effectiveness came not because of where he was born (Mumbai, India) or the color of his skin, but because of his smarts.
While most correspondents rely on a character or angle to get interviewees and subjects of field pieces to reveal their true nature, Mandvi perfected the art of using the Socratic method.
Nowhere has that been more prevalent than in this selected clip:
7. Jessica Williams (2011-Present)
This might surprise some, but Jessica Williams is essentially 2003-06 LeBron James right now. She hasn't reached the pinnacle that many before her have, but she is proving to be perfectly built to excel in this medium.
The youngest correspondent in show history has only been around for three years, but what a three years it has been. She speaks to so many different specific demographics that she ends up speaking to all demographics.
It is said that the key to poignant and relevant comedy is having your finger on the pulse, and Williams lives at the epicenter of of the modern world. She is perfectly equipped to tackle gender and race issues, but clearly smart enough to handle whatever she chooses, and all in a fresh way.
Coming out of nowhere in a maelstrom, she represents in many ways the very best of what my generation has to offer, while also being the perfect vehicle to critique the very worst.
6. Rob Riggle (2005-08)
In the aftermath of actions and reactions concerning numerous clashes between the police and the citizenry, Jon Stewart recently said:
"You can truly grieve for every officer who's been lost in the line of duty in this country, and still be troubled by cases of police overreach. Those two ideas are not mutually exclusive. You can have great regard for law enforcement and still want them to be held to a higher standards."
The exact same could be said for the United States Military. Enter: Rob Riggle.
Both of these institutions have a fraternity-like aspect to them, the proverbial "I can say anything about my family, but you better be careful" mentality. And fair enough when lives literally hang in the balance.
So, when it came to asking some questions and shining some light on the most well-funded military in the history of the world at the height of two wars, nobody would be better suited than a member of the family.
Rob Riggle has 23 years of service in the United States Marine Corps Reserve as a Lieutenant Colonel, serving in Liberia, Kosovo, and Albania.
His reporting from Iraq (actual Iraq, which was a huge step for the show) and his "Chasing the Dragon" coverage of the 2008 Olympics were the stuff of legend. Forgive the over-extension of metaphor, but Riggle regularly traversed treacherous ground (subjects) with deft precision in his short tenure on The Daily Show.
In a profession often consisting of people like me who are too feeble to be forceful and so take comfort in making snarky remarks from safe quarters, Riggle broke the mold, frequently joking that he could kill anyone on staff at The Daily Show if he wanted.
I originally had him ranked higher until I realized he wasn't on the show for nearly as long as my brain remembers it, which I think is a testament to how much his work stood out.
His post-Daily Show career isn't mind-blowing but he often excels in bit parts in well-received flicks like The Hangover, The Other Guys, and The Internship. For me, though, the best of these is Mr. Walters from the 21 Jump Street movies.
His place on this list, though, comes from expertly handling some of the most sensitive issues The Daily Show has ever dealt with.
5. Jason Jones (2004-Present)
The Jason Jones persona on The Daily Show is that of the proverbial guy. He, quite ingeniously, succeeds on allowing guys, dudes, bros, and other such classifications of people to be themselves and talk to him the way they would with each other.
Like the yin to the yang of Sacha Baron Cohen's Borat character, Jones can highlight the absurd ways in which machismo culture often behaves when they think no one is listening. Think football locker room.
But, rather than feeling like they are talking to an outsider, they are safe because they are talking to one of their own.
You feel like you could grab a beer with Jason Jones and tell him all about how your little town (which is also the meth capitol of Alaska) just has better morals than those other places.
In an era where Sarah Palin dubbed the term "real America," Jason Jones showed us with reckless abandon what that actually looks like.
Jones is fearless. His reporting from Teheran, Iran was even used as part of the reason to throw journalist Maziar Bahari in jail, an event immortalized in Jon Stewart's Rosewater.
He even excelled in a fill-in role when Stewart was sick, hosting The Daily Show all by himself… okay, and with a little help from his wife.
4. Steve Carell (1998-2005)
It is entirely possible to be an enormous fan of Steve Carell's work and have no idea that he was ever on The Daily Show, which speaks to the magnitude of success he has achieved outside the show.
He multiplied his notoriety as the lead on the intensely popular awkward-mockumentary series, The Office, and in a career-making performance in Anchorman, stealing the show from comedy mega-force, Will Ferrell.
He has exploded into a oneman comedy machine, anchoring successful comedies like 40 Year Old Virgin, Crazy Stupid Love, Seeking a Friend for the End of the World, and The Incredible Burt Wonderstone, where again he stood in perfect comfort with a comedy legend – Jim Carrey.
Carell won a Golden Globe and was nominated for six Primetime Emmy's for his work on The Office, and has even received some well-deserved attention for his dramatic work in the phenomenal Little Miss Sunshine and most recently for Foxcatcher.
But before all of that, he was Produce Pete.
He has, more than any other correspondent in the history of The Daily Show, become a household name and one of the most diverse comedic actors of a generation. What Steve Carell brings to each role is the same thing that made his time on The Daily Show so memorable and successful; an earnestness that bubbles just below the surface in everything he does.
There is something about Steve Carell that smacks of honesty and comfort. He is self-effacing, a wise person who often plays the buffoon, and he stays true to his origin in constant re-appearances to check in on Jon Stewart.
Only he and the other half of the greatest segment in TV show history — "Even Stevphen" — have their roots in the Craig Kilborn era. Oh yeah… Craig Kilborn used to host The Daily Show!
Carell and Colbert's lampooning of shows like Crossfire — by sitting across from each other and embodying the absolutely abhorrent way in which we "debate" things in this country — existed as the very heart and soul of what the show was, and still is, about.
Much the same way it is fair to say that there may have been no Steve Carell without The Daily Show, it is fair to say that there might not still be a Daily Show if not for Steve Carell.
3. John Oliver (2005-13)
John Oliver quickly became my de facto Stephen Colbert replacement and new favorite because he talks like the Pythons and nobody had a bigger impact on my comedically-driven youth than them.
And while he was undoubdedtly at his best when discussing issues from across the pond, his brilliance and perspective have somehow ended up in him anchoring the best — and at times it feels like only — investigative journalism show on TV.
I didn't see it coming, but Oliver has created a show on HBO that is equal parts The Daily Show and VICE.
He was simply the best during his tenure with The Daily Show and so it was no surprise to most that Oliver was given its reigs when Jon Stewart left for a little over a month to go direct a movie.
Oliver's time anchoring the show in the summer of 2013 was eye-popping to many and the stellar job he did resulted immediately in the creation of Last Week Tonight, which became DVR appointment viewing in my house before it ever aired an episode.
The show is the next evolution of the idea that began in The Daily Show, and the formula that was toyed with in The Colbert Report.
John Oliver is the next wave.
2. Samantha Bee (2003-Present)
Want to slay a hypocrite? Give Samantha Bee a camera and a producer and send her that way.
It's kind of amazing how long Bee has been on The Daily Show, and even more amazing how long she has been producing consistently stellar work that walks that all-important line between hilarious and sad.
She has had so many memorable moments over the years that finding quality video is more a question of time management. Her reports from either Republican or Democratic National Conventions are Pulitzer-worthy.
She is the perfect correspondent, a kind of mixture off all the things that make anyone who attempts this job successful. She plays the insider, the outsider, the dolt, and the genius.
Samantha Bee could report on someone reporting on someone watching grass grow and make it entertaining. Smart plays.
1. Stephen Colbert (1996-2005)
I can't do this. Few things in life were quite so satisfyingly cathartic than watching Stephen Colbert tackle an important issue.
The man ran for president, started a super PAC, put a treadmill in space, and anchored a television show for nine years that would change the world.
When it was first announced that my favorite correspndent from The Daily Show would be recieving his own television program, I was mad. I didn't think he could support a show all by himself. Not like Jon.
And I was wrong.
The Colbert Report recieved four Emmy nominations after having been on the air for only a few months. It lost all four to The Daily Show and Colbert would continue to lose to his old boss until 2013 when he finally slayed the beast and ended the longest-running streak of domination in Emmy history. The only person who could beat Jon Stewart was a character created on his show.
Colbert reached the mountaintop just in time to announce his goodbye.
And what a run. Put perfectly and succinctly in his final episode:
"That was fun."