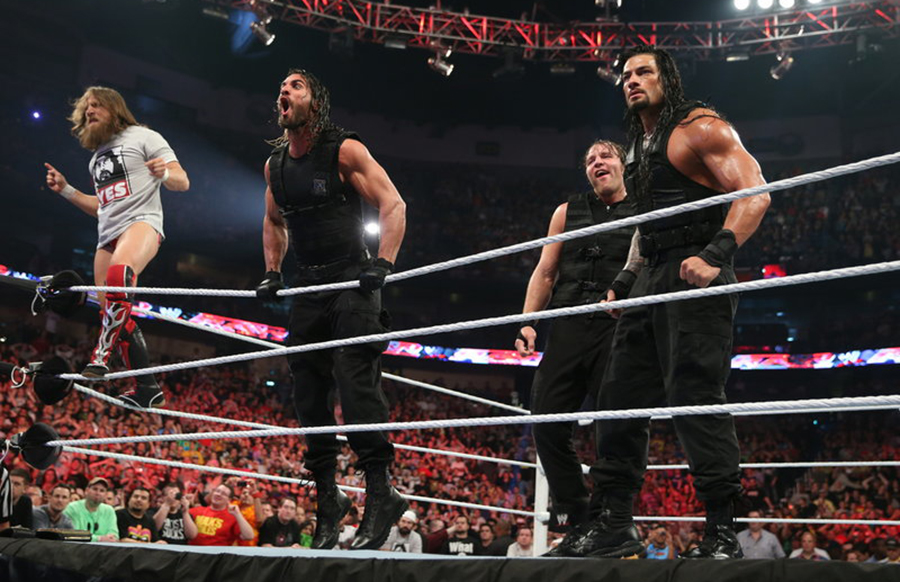 The dream of the '90s is alive in pro wrestling. While WWE touted younger talent, dubbed "The New Generation" twenty years ago, they are inadvertently doing the same with their newest crop of talent. One of these superstars can capitalize by winning the WWE Royal Rumble, a 30-man battle royale that guarantees a title opportunity and a chance in the limelight.
Entering 2014's Royal Rumble pay-per-view, John Cena was positioned as the paradoxical underdog. While fans have notoriously been fed that Cena was a top-tier superstar who eventually overcomes the odds, he had not acted like it; just a month prior, Cena lost a match between long-time foe, Randy Orton, in what became a tables, ladders, and chairs match to unify their respective titles and create the WWE World Heavyweight Championship. At the end of that match, Cena was handcuffed and driven directly from the top of a ladder through a nearby table, essentially marking his loss and his metaphorical descent from the main event spotlight.
But John Cena lived up to his mantra and didn't give up, as evident by the Royal Rumble's title match. But much like the match from the previous month, Cena'a shoulders stayed on the mat for the three-count. It turned out to be one of only two times that Cena — who is known as a hard worker that hardly skips any WWE event — would succumb to a pinfall loss.
As Randy Orton hoisted both belts in victory — with one belt in each hand as a welcomed modification to his trademark arrogant taunt — the championship co-main event concluded to make way for the pay-per-view's namesake match.
WWE is microcosmic of contemporary culture; what was once cool is cool again. The bright colors and pastels that have become commonplace today are simply allusions to the 1990s. We get nostalgia trips from shows such as Girl Meets World and even Twins Peaks is coming back soon. And it's only fitting that the WWE is inadvertently bringing back shades of what they called the "New Generation."
[youtube]https://www.youtube.com/watch?v=pEW7nsGZQR8[/youtube]
In order to compete with WCW, WWE (then WWF) had a small squared circle renaissance where they allowed the older, more established wrestlers to walk away in favor of their younger talent. Doing so allowed Vince McMahon to shift from the likes of Hulk Hogan to focus on future stars. Wrestlers like Shawn Michaels, Stone Cold Steve Austin, and The Undertaker became megastars as a result of this.
Fast-forward twenty years and the same happenings are taking place. The small, scrappy wrestler in Shawn Michaels is now this generation's Daniel Bryan. The foreboding big man with long-flowing hair isn't Diesel; it's Roman Reigns. The babyface that fans adore because he's doing all the bad things is not Stone Cold. It is now Dean Ambrose. All of these current superstars are well-established, but have not reached the pinnacle of the business. They need one career-defining match. For one of those superstars, that match can be this year's Royal Rumble.
Having one of the newest generation of superstars win the Rumble is not as far-fetched as it was in 2014 when Batista made his return and won. In 2015, Seth Rollins became the company's biggest bad guy in ages. For turning his back on Roman Reigns and Dean Ambrose, Rollins received the Money in the Bank briefcase, guaranteeing him a future title opportunity at any given time, and is also included as part of Sunday's triple threat match for the WWE World Heavyweight Championship with Brock Lesnar and John Cena. In short, it pays to be bad. And Rollins is so bad that fans can't help but get furious.
Rollins is the exception to the newest generation of superstars. Most of them are babyfaces with a legitimate opportunity to win the Rumble on Sunday. Roman Reigns, for better or worse, is the favorite to win. Reigns showed flashes of brilliance last year when he eliminated twelve participants, a personal best for anyone who has entered the Rumble. The second-most eliminations are now credited to Kane, who once eliminated eleven contestants, begging for a comparison between the young Reigns and the veteran monster in Kane. Reigns' dominance continued during the summer of 2014 when his job was primarily to show up, throw a big punch, victoriously howl, and leave with saying very little.
The formula worked well for months until he was given the opportunity to grab a microphone, revealing a major flaw in a character that seemed so impervious to any imperfections in the summer. His recent overexposure and his lack of gravitas on the microphone (as well as his limited moveset in the ring) has dwindled the comparison to the brute force of Kane and has instead emphasized how WWE is handling him as the next John Cena. Calling Reigns the heir apparent to John Cena instantly changes perceptions of the former Shield member to many hardcore fans, who at this point would rather have someone else take the reins (no pun intended) as the top contender to the WWE World Heavyweight Championship.
Fortunately for WWE and its fans, Daniel Bryan came back to the ring just in the nick of time. Bryan has already had his career-defining moment, having won two matches in WrestleMania 30 last year to capture the WWE World Heavyweight Championship. But Bryan suffered a slew of injuries immediately after capturing gold, forcing him to relinquish his title. He would not appear on WWE television for months. Recently, he returned to the ring and teased his retirement, but rescinding the notion minutes later. Bryan never lost the belt in a match and he has the admiration of most WWE fans. The only question is: will he have to work harder to become the most popular superstar of the newest generation once again, or will the journey be easier the second time around? Having Bryan win the Rumble would easily re-establish him as one of the best. Aside from Bryan and Reigns, there are a handful of prospective Rumble winners who are more like wild card competitors than they are obvious threats. Wrestlers like Dean Ambrose and Bray Wyatt could get their opportunity as one of the best superstars currently on the roster with a Royal Rumble win, and they deserve it. Throughout an injury-laden 2014, Ambrose and Wyatt successfully carried the product month after month in specialty matches. However, given the rumors of a WrestleMania match against The Undertaker, Bray Wyatt might not be a plausible threat to win at the Royal Rumble.
Dean Ambrose's immediate future seems a bit less clear, especially considering his months-long feud with Seth Rollins that ended anti-climactically when Bray Wyatt abruptly attacked Ambrose and sparked a new feud instead. Ambrose and Rollins spent the majority of the summer in a feud that became a well-coordinated game of cat and mouse. If Rollins wins, or is presented an opportunity to win, at the Royal Rumble, Dean Ambrose may pick up right where he left off and attack Rollins. Only this time, the stakes are increasingly higher than last summer.
The most refreshing thing about this scenario is that it might happen. Just like Daniel Bryan, the upstart superstar from the independent scene, captured gold in a triple threat match against two established veterans, Seth Rollins might do the same in an eerily similar situation. On Monday, Stephanie McMahon and Triple H mocked John Cena by telling him that his days of capturing gold are over. Though it might seem like a throwaway insult for some, it might also be a sign of things to come. John Cena's time as the monolithic face of WWE might be up. The group of promising young superstars in Ambrose, Rollins, Wyatt, and Bryan might have their time.