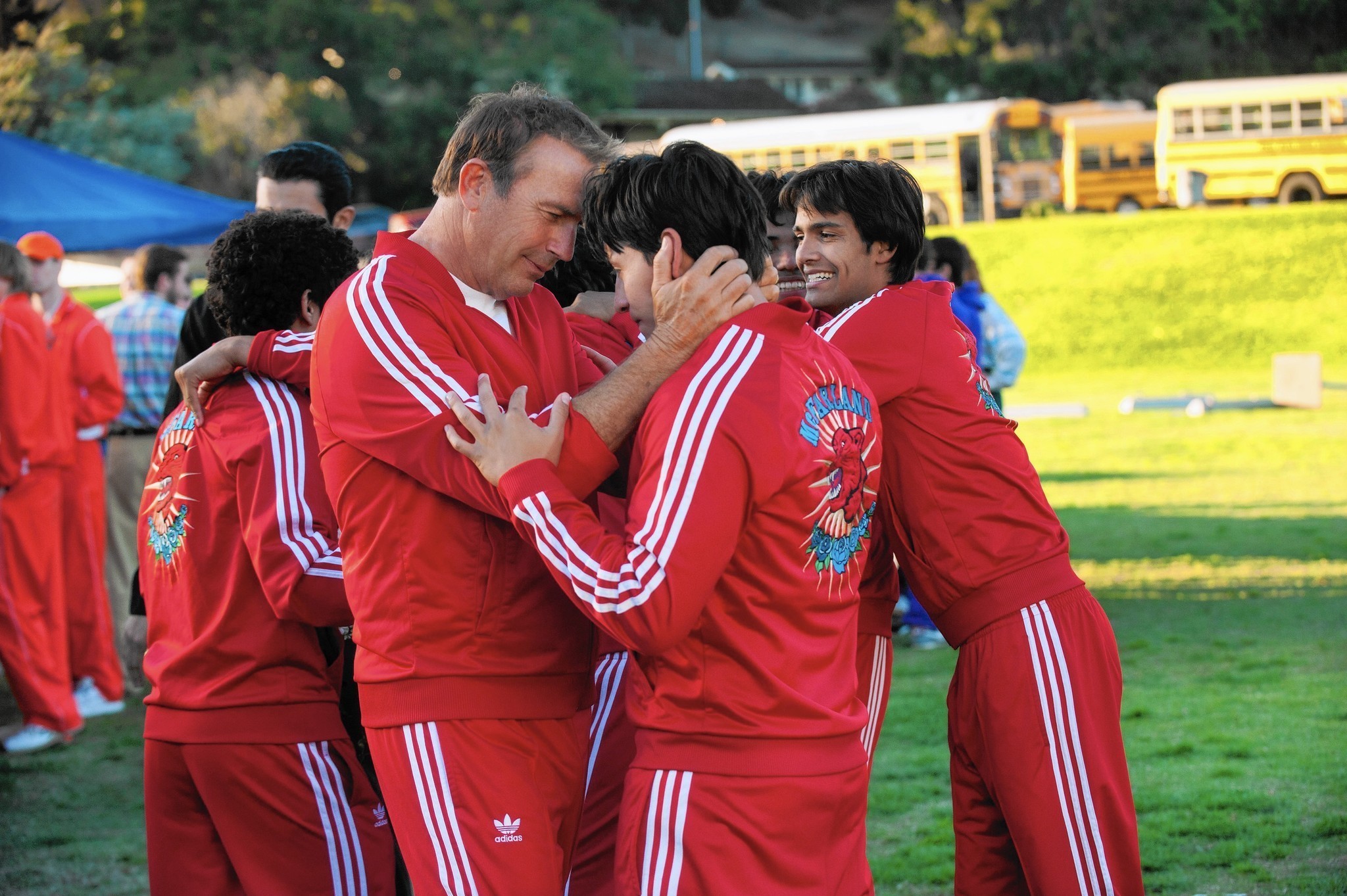 McFarland, USA tells the unlikely story of a cross country team based in the humble city of McFarland, CA in 1987. In a largely Mexican-American town, and at a high school with an identical demographic, Jim White, played by Kevin Costner, finds himself coaching physical education. White was left with limited options because of past bad behavior as a coach, leaving McFarland High School as his only choice.
From here, the ending can be anticipated a mile away. White's going to bring the boys up, give them a sense of direction, and lead them to glory. SPOILER ALERT! Naturally, that does essentially transpire, but McFarland, USA manages to tell this predictable story without being corny or frustratingly formulaic. The movie packs enough heart and determination to overcome its similarity to other sports movies.
On that wavelength, McFarland, USA does present a unique dynamic in that it's a cross country movie. Sports movies are so often based on basketball, football, and baseball stories. It's refreshing to have a rarely discussed sport being played in a nationally unknown town and receive publicity.
In this town, White's athletes are much more than just that. They don't have the luxury of simply attending school and going to practice. No, their lives start at the crack of dawn. They end after an intense, exhausting series of bouts with manual labor. McFarland, USA references the boys' (and seemingly a majority of the town's) job title as "pickers," where they pick fruit, vegetables, and/or nuts in open fields for the entire day. These boys are already part of a team (of pickers) ran by a local or their own father.
Toward the movie's end, White refers to his boys as "superhuman" for their admirable ability to balance school, sports, family life, and work. McFarland, USA successfully weighs each theme evenly. After a rough start and discomfort with the sport, Thomas Valles, Jose Cardenas, Johnny Ortiz, Victor Puentes, and the three Diaz brothers – Damacio, David, Danny – all of whom account for White's seven runners, begin to develop a cohesiveness.
Thomas acts as the dominant athlete. He's able to lead the pack. Danny, the overweight Diaz brother, acts as the anchor. His responsibility is to keep his brothers in line along with the entire team. The other runners try to keep their natural pace behind the remarkable Thomas. When each member finds comfort, the team begins winning meets.
They become so good, in fact, that they quality for California's state championship. This is where McFarland, USA hits its stride as an enjoyable sports movie. In the meet with all of the best teams throughout the area, Thomas manages to win the race, but Jose foolishly wastes his gas prematurely. He doesn't preserve enough stamina to maintain his pace for the entire length.
As White realizes Jose's error might cost the team a chance at victory, Thomas points out to White the most unlikely occurrence. Who do they see barreling down the finish line with a personal record time? Danny Diaz, the heavy brother who was mocked and laughed at throughout the movie, always placing last for the team. Danny's heroics help McFarland High School take home the state championship hardware.
After his coaching tactics land him a dream job offer from a better school with superior facilities, White elects to return to McFarland. His influence also helps each of the boys on his 1987 team to attend college. None of their relatives had even graduated high school. McFarland, USA is worth seeing for this unlikely tale of success, even though you can sense the story from a mile away. It's worth the run to the theater.