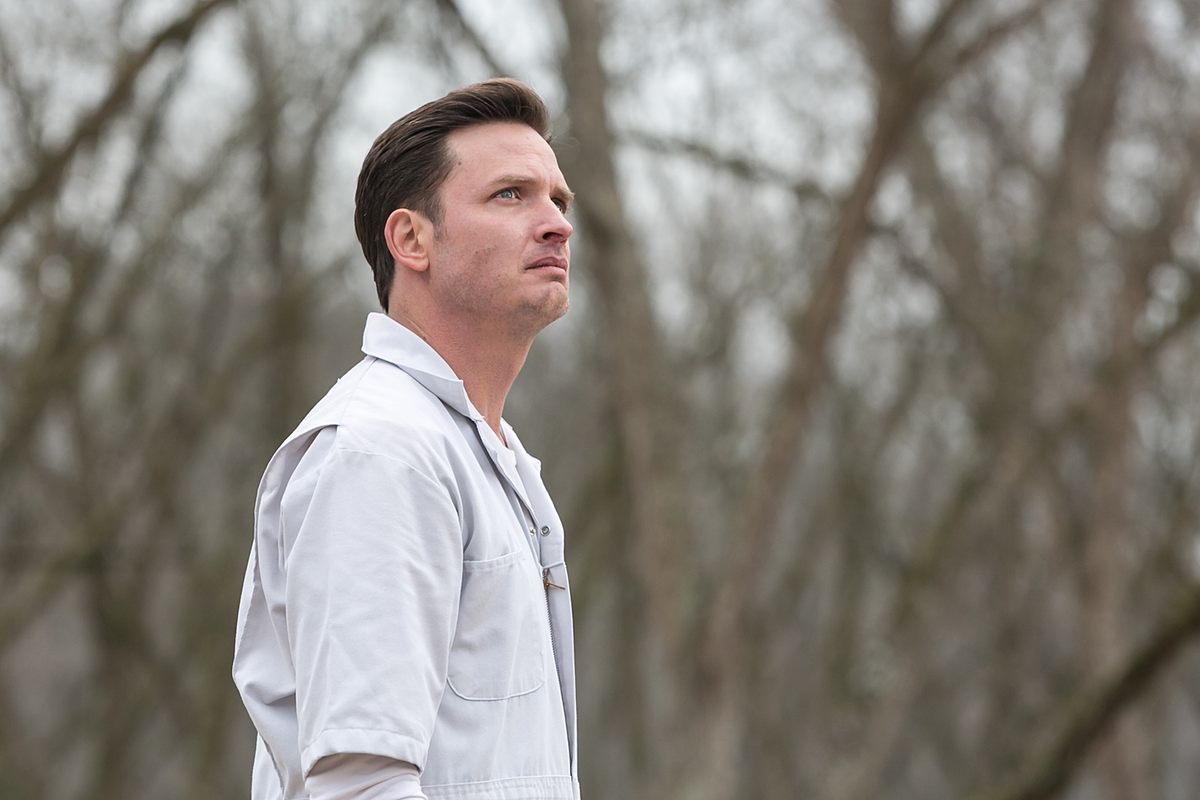 Have you heard of Rectify? Created by Ray McKinnon and starring Aden Young as a free man following a 19-year stint on death show, this SundanceTV show is a fascinating, profound illustration of our most human elements. Two seasons have been completed, and both are instantly available on Netflix. A third is on the way.
Take it from me, a usually difficult-to-please TV watcher who struggles to find greatness outside the worlds of Breaking Bad, The Wire, Oz, and various other all-timers. Okay, I find Orphan Black to be heart-stopping, but no judgments here please. The point is that Rectify is sitting there, waiting for you to pounce on its subtle intrigue.
Rectify is unlike anything you've ever seen. With Young playing Daniel Holden, the show's main character, we have one of the most unusual protagonists of the post-2000s era. Holden was on death row after being convicted of the rape and murder of his girlfriend. Because of new DNA evidence, the result from the trial is vacated, much to the delight of Holden's loyal family.
Amantha Holden is his sister, played admirably by the rising Abigail Spencer. She'll be taking on a role in the upcoming season of True Detective. Luke Kirby shines as Daniel's lawyer and Amantha's lover, while Clayne Clawford fills an important role as the annoying, suspicious step-brother to Daniel. The strongest supporting character has to be Kerwin, Daniel's death row friend played by Johnny Ray Gill. The connection between Daniel and Kerwin is truly a special relationship.
Make no mistake, though, Rectify functions most efficiently when Daniel is on the screen. Struggling to adjust to a daily routine that isn't surrounded by convicted killers awaiting impending systematic obliteration, Daniel paces his way through renewed freedom. Food tastes better. Doors opening is still a surprising feat. Face-to-face conversations are different than wall-through-wall dialogues.
Through Daniel's journey from imprisoned to uplifted, we witness the experience of a valuable human life, one the state was more than willing to extinguish. And because of the past pain attached to this small community, Daniel's freedom isn't absolute. Judgment prevails. Hatred plagues the air. Skepticism is made into an instinct.
Rectify is one of the best shows on TV. It's easily the most fascinating. Because it's on SundanceTV and lacks a major national audience, the show has been undervalued. But again, there it is, waiting for you on Netflix. It's the perfect opportunity to catch up on both seasons prior to the third arriving. Accompany not only Daniel's journey, but that of Rectify. It's one you'll never forget.