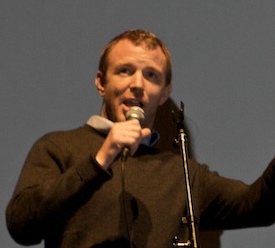 For anyone who grew up fascinated by tales of King Arthur and the Knights of Camelot, the news that acclaimed director Guy Ritchie is working on a massive King Arthur film franchise was a treat. That news broke last year, and it appears that the project is going full speed ahead, with Knights of the Round Table: King Arthur set to hit theaters in 2016, with a rumored five films to follow.
What we know at this stage is intriguing to say the least. The film's IMDB page shows an incomplete cast consisting of Charlie Hunnam (King Arthur), Eric Bana (Uther Pendragon, Arthur's father), Jude Law (Vortigern, the villain), Djimon Hounsou (Sir Bedivere) and Astrid Berges-Frisbey (Guinevere). That's a very capable cast, and one that seems well suited to begin an ambitious retelling of one of history's favorite legends. Furthermore, Screenrant recently showed off some early set photos, as well as a brief synopsis that paints the picture of a young, rebellious Arthur rising with a small band of friends to claim his crown and realize his destiny.
All in all, the early word on Ritchie's project is promising. But there's one gaping hole that any fan of Arthurian legend will find it hard to ignore: who, and where, is Lancelot?
Think back on some of the most recognizable King Arthur projects and it's often Lancelot that stands out the most, even above the king. In 1995's First Knight, the story revolved around the conflict between Lancelot's loyal heroism and his love for Guinevere, and throughout the film Richard Gere's performance overshadowed even the flawless casting of Sean Connery as an aged Arthur.
In the more recent King Arthur (2004), Clive Owen played the king and served as the chief protagonist in a more rugged vision of the knights of the round table; but while Owen's Arthur was a picture of good and justice, Ioan Gruffudd's dark and cynical Lancelot was far and away the film's most interesting character, a reluctant warrior kept in check only by his loyalty to his king.
And even in the goofy but timeless Monty Python and the Holy Grail, John Cleese's Lancelot has to be considered the most memorable character among Arthur and his knights. Thinking back to the film, Lancelot's wedding rampage has to be considered one of the most memorable and hysterical scenes (and it's up on YouTube if you haven't seen it in a while).
Even in King Arthur's shockingly limited history in video games, Lancelot tends to win out. The 2004 film had an accompanying game developed by Krome Studios and released for Xbox, GameCube, and PS2, and in the game players could control any of the main knights; maybe this is personal bias talking, but the agile Lancelot, wielding two swords, was by far the most enjoyable character to play. Elsewhere, Lancelot has even branched off into his own games. At the Betfair arcade online, which hosts a number of casino and arcade games based on popular literary and film characters, the Lancelot slot machine is among the popular offerings, even without a mention of King Arthur or Camelot. The game isn't based on any one Arthur telling in particular, but uses a Lancelot character and knightly imagery in place of slot machine icons.
In short, even for hardcore fans of Arthurian legend, it's usually Lancelot, and not Arthur, that stands out. Lancelot is the Iron Man to Arthur's Captain America; the Aragorn to Arthur's Gandalf—he's the fun, badass one we can't wait to see on screen.
And he's so far completely absent from the discussion about Ritchie's upcoming film. Now, given that the early synopsis indicates an Arthur origin story, and that there could be five more films, perhaps Lancelot isn't meant to be in the first one. But that's hard to imagine, and either way he'll have to make an appearance eventually. So just for fun, here are a few of the actors we'd most like to see considered for the role….
Chris Hemsworth
He might have been a better pick to play King Arthur, really, but being the best knight in the realm seems right down his alley….
Richard Madden
Game Of Thrones spoiler alert: Madden, who played Robb Stark, just didn't get enough time to wield his sword. He's a compelling young actor who could slot pretty naturally into a Lancelot role.
Nicholas Hoult
Hoult may soon be a little overexposed, as his X-Men role seems to be intensifying and he's soon to star in Mad Max: Fury Road…. But he does have a certain rebellious twinkle in his eye and could easily look the part.
Sam Claflin
Best known as Finnick Odair in the second and third Hunger Games films, Claflin would be a similar option to Hoult.
Matthew Lewis
This would be the dark horse pick. The actor best known as Neville Longbottom from the Harry Potter series has evolved into a strong and good-looking young man seemingly primed for a big role.
Who do you think would be good for the role?