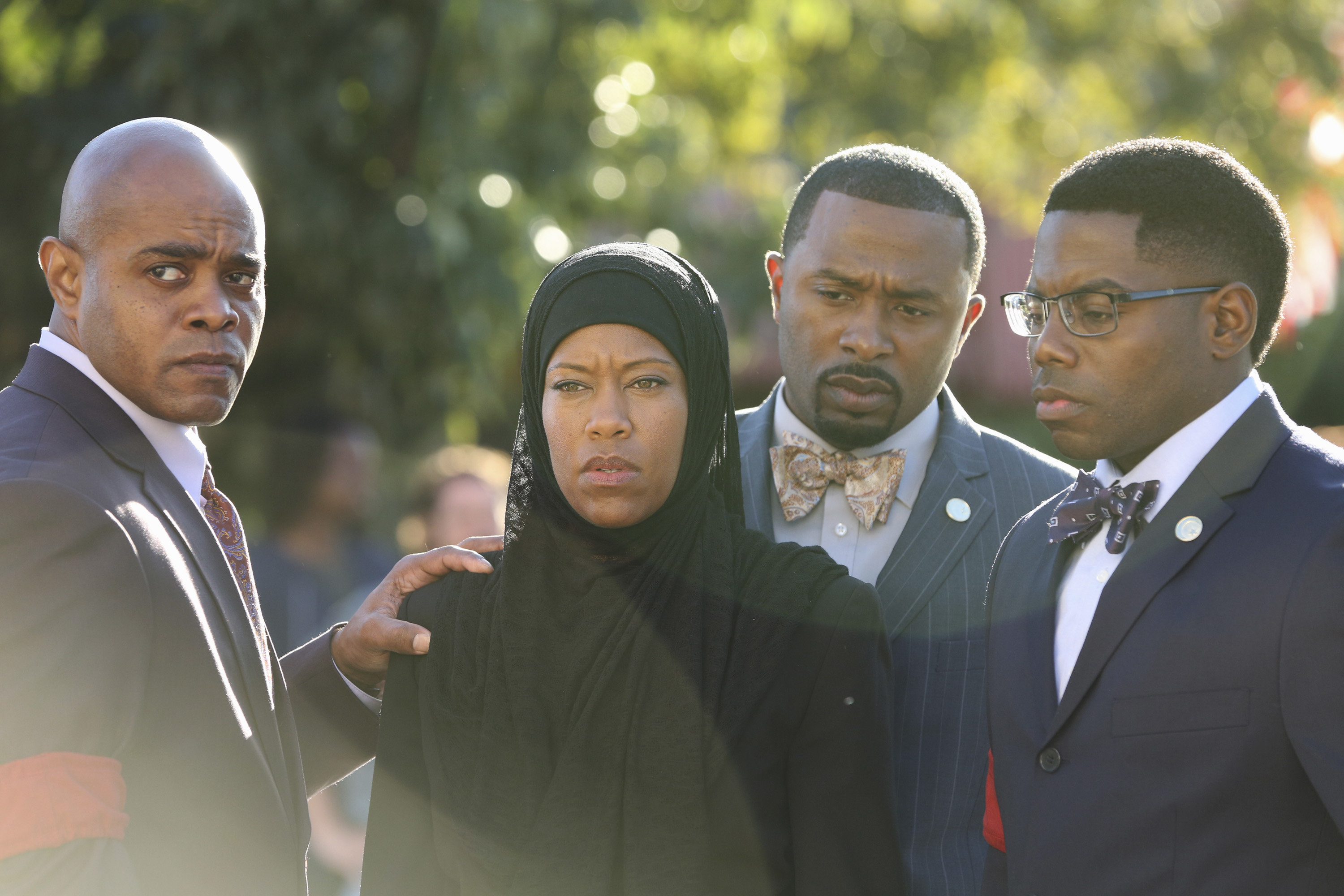 American Crime doesn't offer any critical developments in its latest episode. Instead, the audience receives the high level of acting American Crime has continually pumped out, but we fail to experience the gripping demand last week's scenes-for-the-next seemed to offer. Part of me appreciates the show's socially dynamic scope, part of me is frustrated by its tendency to wander.
In fairness, the episode does reach a powerful climax toward the end of its airing. A march takes place on behalf of Carter, one that's hotly contested by the local community. Segregation activists and blatant racists fill the crowd in opposition to those standing for Carter. The protest erupts in violence with the police and an apparent swat team bringing fury on the dissenting citizens, striking them with instruments and carrying out chaos while riding on horses. It's a violent explosion that will have a ripple effect throughout the series.
Yes, the ending was rather intense and difficult to stomach. The previous periods of American Crime were far from it. We have Russ and his sad life growing sadder by the moment. I like Russ, he's one of the few characters easy to like on American Crime, but even his act is growing a tad tired. He's rejected by a former coworker, nearly shunned by his living son, and hate-blasted by the media. Russ, you poor soul, may this series hopefully bring you happiness at some point. Because so far, Russ has experienced nothing but gloom and disappointment.
Carter and Aubry continue to have a pivotal role on the show. We see Carter being interviewed early in the episode about the march. He protects his sister Aliyah during the exchange, although he eventually opts to depart once the questions become serious. As Carter contemplates a plea deal, Aubry also has those in her corner providing legal advice. Her family wants her to rat on Carter to improve her standing with the law. Hopelessly in love, and in turn unfathomably foolish, Aubry continues to make decisions against her best interest.
Tony and Hector also find themselves in predicaments resulting from their indiscretions. Tony's at the mercy of being tried as an adult. Alonzo attempts to help his son, urging him to snitch on Carter or make up valuable information in any way, but Tony insists that his father can't help him. We then meet Hector's girlfriend who is also the mother of his child. She chastises Hector for leaving her behind, and for failing to provide for their daughter. This scene is the first time we witness Hector's vulnerabilities.
The fatigue of American Crime's developments are most clearly revealed on Barb's face. Utterly drained by the death of her son and treatment by the media, her sorrows take her to a local store following her car being drilled by a brick. In the presence of an understanding employee, Barb's attention is caught by the weaponry available in the store. She purchases a gun in preparation for the march. This marks another poor character decision in American Crime. An individual with her current mental state has no business making that sort of buy.
My issues with American Crime display themselves each episode. When the pace is strong, the storyline stifles. When the storyline advances, the pace slows down. I haven't yet experienced the viewing rhythm that makes a show jump from impressive to tremendous. The acting is always outstanding, but what more do we have to watch? We understand these characters are the partial product of circumstances, and yes, the audience knows that America is full of judgmental people, and that the legal system is complicated. Does touching up on socially relevant issues such as these make you a transcendent show? Absolutely not. American Crime's themes may be deep, but the show itself hasn't reached that level.