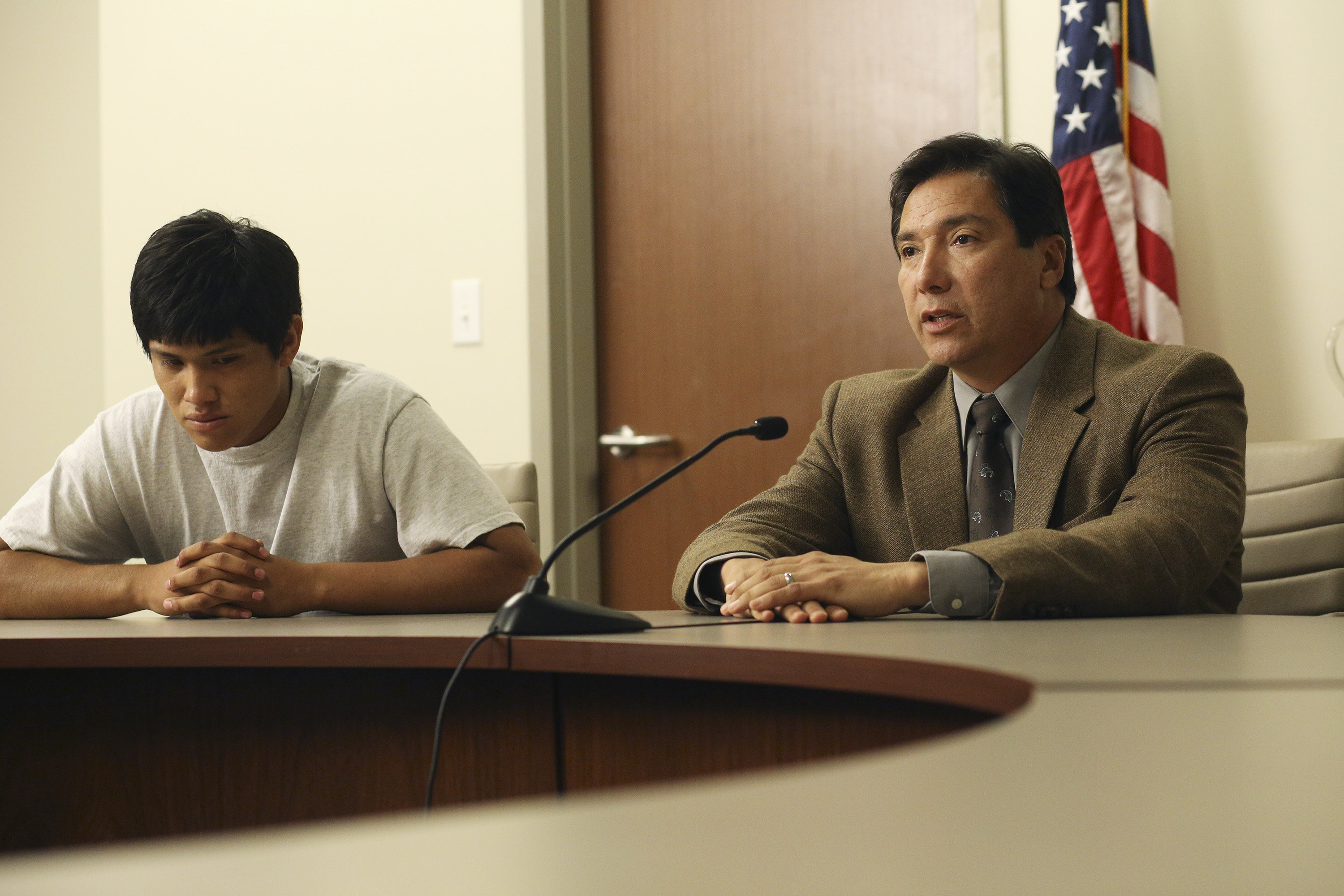 American Crime starts its latest episode with Hector receiving a visit behind bars. Woken up shirtless and revealed to be heavily tattooed, the prosecution's witness is questioned about the murder weapon in Carter's case. Apparently Hector named or identified a weapon that not only wasn't used in the crime, it didn't even present a resemblance. This turns Hector's words into lies, and has the potential to eliminate his deal. It's hard to determine if Hector offered false words intentionally or simply made a mistake.
We then shift to the dreary, downhill-rolling Aubry. Her eyes are faded to an unhealthy extent. Nothing about her aura exudes positivity or hope. As her prospects dwindle following a series of foolish decisions, her family begins to lose hope as well. Russ and Barb aren't depressed on Aubry's level, but their frustration in American Crime is building. They meet with a member of the prosecution team who states that fresh allegations against their deceased son could be on the horizon. This upsets Barb and infuriates Russ.
Alonzo and Tony continue to climb their uphill legal battle. The saddened father lands a private defense attorney, doing so after selling his business. Alonzo's newly hired legal representation believes a family court circumstance will be more conducive to Tony's release. If he shows remorse and admits his errors, a judge could be lenient. That's the play. American Crime jumps back to Hector behind bars. His credibility seems to be lost, and guilt over what his recent trouble could mean for his daughter claws away at Hector's soul.
Aliyah continues to fight on behalf of her brother. She's essentially a shark in every American Crime episode, pouncing on each mistake her opposition makes. Her essential point is that Aubry confessed to the crime, making it unreasonable to detain Carter as the prime culprit to the murder. American Crime shifts to Aubry being formally charged and arrested. Perhaps her situation will change that of Carter.
Back to Hector again. He meets with his girlfriend when discussing the prospects of getting deported back to Mexico. This stands as one of the more profound, touching scenes this season has offered. Hector's girlfriend states her desire to reach out and touch the father of her daughter, but even a simple act of human kindness has been made impossible by his decisions. Hector lands himself on a bus, and perhaps my favorite character has finally exhausted his options. At least this episode gave him extensive screen time.
While Barb prepares for new allegations against her deceased son, she warns her living son about the potential news. Barb's loneliness is starting to rival that of Russ, and Alonzo isn't far behind. He meets with one of Tony's former teachers in search of a character witness. The teacher claims that Tony's assault victim is one of his fourth period students. He already had a single surgery, and the severe damage will require two more. We can't blame the educator for not wanting to back Tony. The kid lacks personality on top of being difficult to like.
Hector is back in Mexico. The potential trouble is homicide and fleeing the jurisdiction. There's an eyewitness who can pin Hector as the murderer, and the troubled character quickly learns the differences between his new system and America's. In Mexico, there's no jury, and the judge determines an outcome based on the evidence presented. After seeing Hector again, American Crime shows Alonzo meeting with his daughter. It appears she might be ready to return home. The family looks to be coming together in spite of the surrounding drama.
Barb makes a critical decision. Seemingly broken down by the negative media attention and upsetting state of her life, she decides to back off from her role in Matt's case. She gives her gun to Russ out of fear that she may indiscriminately use it. Barb's sudden shift in American Crime alarms Russ, however, it comes as no surprise that he's unable to alter her perspective. Barb is clearly unhappy, and seeking legal involvement on Matt's behalf has provided her with nothing but stress and fatigue.
Aubry's troubled background is revealed in further detail. In foster care until she was around eight, Carter's girlfriend describes her childhood abuse. It does appear possible that she was abused at some state, but it's clear she's fabricated the lies about her brother. Aubry looks to be in almost a trance like state in American Crime, living for the sole purpose of protecting Carter, doing nothing to better herself. Tony then receives his backing in court. His father, daughter, uncle, and others vouch for him to a judge. Like Hector with his girlfriend, this is another profound scene. Alonzo and Tony embracing is merely the finishing touch to a heavy moment.
An even more significant moment comes when Carter is released from incarceration. Tasting the outdoor nature of freedom, he hugs his sister who offers religious words of wisdom. Carter questions the exact nature of his legal status. This is reasonable considering the up-and-down ride he's found himself on. Aliyah doesn't answer her brother's question directly, but the audience receives an insight into Carter's inquiry. American Crime flashes to Aubry pleading guilty to Matt's murder in a packed courtroom. This admission should benefit the newly free Carter.
Toward the end of this debut season, American Crime has found its footing. My reviews have ranged from critical to positive, but much of that criticism came when the show was solidifying its foundation. Rough patches aside, this series is an ambitious project with plenty of questions raised about America's legal system. A show can be good without being transcendent, and while American Crime's hype pointed to a breakthrough series, there's nothing wrong with having a quality show in our grips. Next week will mark the season finale. Here's to wishing for a satisfying conclusion.