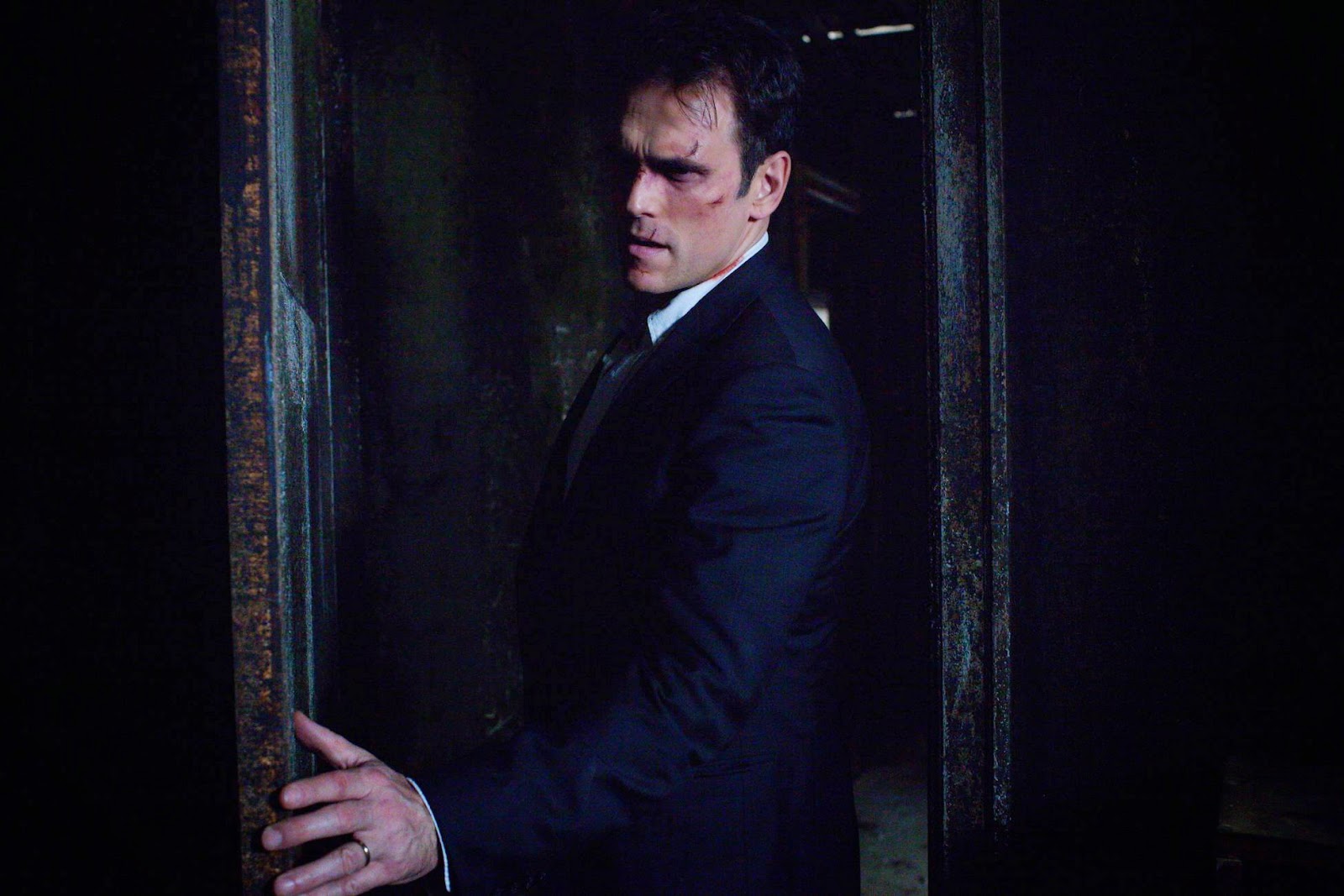 Wayward Pines opens up with an injured Matt Dillon unconscious in dirt. Shortly after the U.S. Secret Service agent awakens, he ends up in a local hospital. Believe it or not, Dillon finds himself in an Idaho town with the same name as the show's title. Dillon's character is Ethan Burke, an individual investigating the disappearance of two fellow agents in this strange community. Burke is taken care of by Pam, a nurse portrayed by Melissa Leo. Early in the episode, M. Night Shyamalan does a marvelous job of instilling a vibe full of creepiness and oddities.
As Burke attempts to leave the hospital, Pam aggressively tries to keep him within her grasp. He manages to slip away unharmed, at least for now, and maneuver his way through Wayward Pines. Burke then runs into Beverly at a nearby bar. She's played by the usually underrated Juliette Lewis. This superb cast also includes Terrence Howard playing Sheriff Arnold Pope, Carla Gugino taking on the role of Kate Hewson, and Toby Jones showcasing Dr. Jenkins. It's impressive that a new show was able to land such a quality cast.
In this debut, Wayward Pines functions through Burke's wavelength. Like his character, the audience roams through this hour dazed and intrigued, confused and alarmed. Other reviews have suggested Wayward Pines drops a major revelation four or five episodes in. Until then, it's possible we won't receive ample answers or concrete clarification. This kind of sentiment is established further when Burke discovers a corpse in a rundown house, an address Beverly told him was worth checking out.
After finding the decomposing body, Burke meets with Howard's character. The sheriff devours an ice cream cone as he questions every word Burke utters. M. Night Shyamalan and his crew immediately establish a cat-and-mouse game between Burke and Pope. This could stand as a theme throughout the length of Wayward Pines. Still without his phone, Burke reaches out to his wife and leaves a message. He's also unable to reach his contacts at the office. Wherever Burke turns, he's denied. No family connection. No assistance from other agents. No guidance from the townspeople of Wayward Pines.
This is where the mystery deepens. Following Burke's inability to contact those close to him, he returns to the bar where he met Beverly. The problem? According to the red-headed man working there, they don't have an employee named Beverly. This exasperates an already psychologically drained Burke. He's then knocked out after a brief struggle with the worker. Once again, the audience is confused, but our fascination doesn't waver. Wayward Pines grips viewers with alluring questions. Why are the local people so odd? How come Burke can't contact anyone? What secrets are hidden within this town?
Wayward Pines will need to answer these questions eventually. A debut episode is no time to drop meaningful answers on a show with a mysterious premise, but Shyamalan can't wander recklessly, either. Lost is the classic example of a show weaving a web far too complicated. A tremendous start to Lost was completely ruined by a lack of logical answers, and a feeling of betrayal given to the audience. If a show is artistic enough to craft a creepy mystery, the long-term payoffs need to match the early-season questions.
The episode briefly flashes back to Burke spending time with his family. This moment of serenity is contrasted by the next scene, a development that features a locked down Burke laying in a hospital bed. He's examined by Dr. Jenkins and transported to a different room for surgery by Pam. It's stated that Burke suffers from a history of mental illness. We don't know if this claim by Dr. Jenkins is based in reality or the opposite. Frankly, finding any shred of reality in Wayward Pines is like walking in dark. The audience doesn't exactly know who is telling the truth or what ulterior motives are present.
Burke is assisted by Beverly with the hopes of escaping the hospital. She seems like the only figure willing to help the primary character. Then again, it's odd that a seemingly kind character directed Burke to a house containing the body of a tortured agent. Meanwhile, Pam confronts Burke on his escape plan. He attacks her in a bloody backlash before she can administer pre-surgery anesthesia. It's unclear what the surgery will be or why the Wayward Pines characters are desperate to put Burke under the knife.
The plot advances when Burke's wife, played by Shannyn Sossamon, tells one of Burke's coworkers that Dillon's character hasn't contacted her. The audience knows Burke has attempted to speak with his wife on numerous occasions. The town seems to have a way of controlling what words come in, and what words go out. There's also the plot revelation that Burke had a past rendezvous with one of the missing agents, Hewson. This makes Theresa suspicious of her husband, thinking that perhaps he and Hewson have rekindled their romance.
Wayward Pines eventually leads Burke to Hewson. She embodies a different persona with the vibe of a regular housewife more so than a hardened agent. When she maneuvers to find a free moment with Burke, Hewson tells him that people are listening to their conversation and watching their movements. At least Burke realizes he isn't insane. Something profoundly unsettling is transpiring in Wayward Pines. Hewson has aged a self-proclaimed 12 years. Burke claims to have seen her a mere five weeks ago. Clarity is elusive in Fox's new mystery. What's concretely established, however, is a commanding protagonist played by Dillon, and a series with plenty of promise.
In the last scene of this engrossing debut, Burke asks Pope how to escape Wayward Pines. Howard's character crafts a simple response when uttering the following words: "you don't." Consider me entertained.