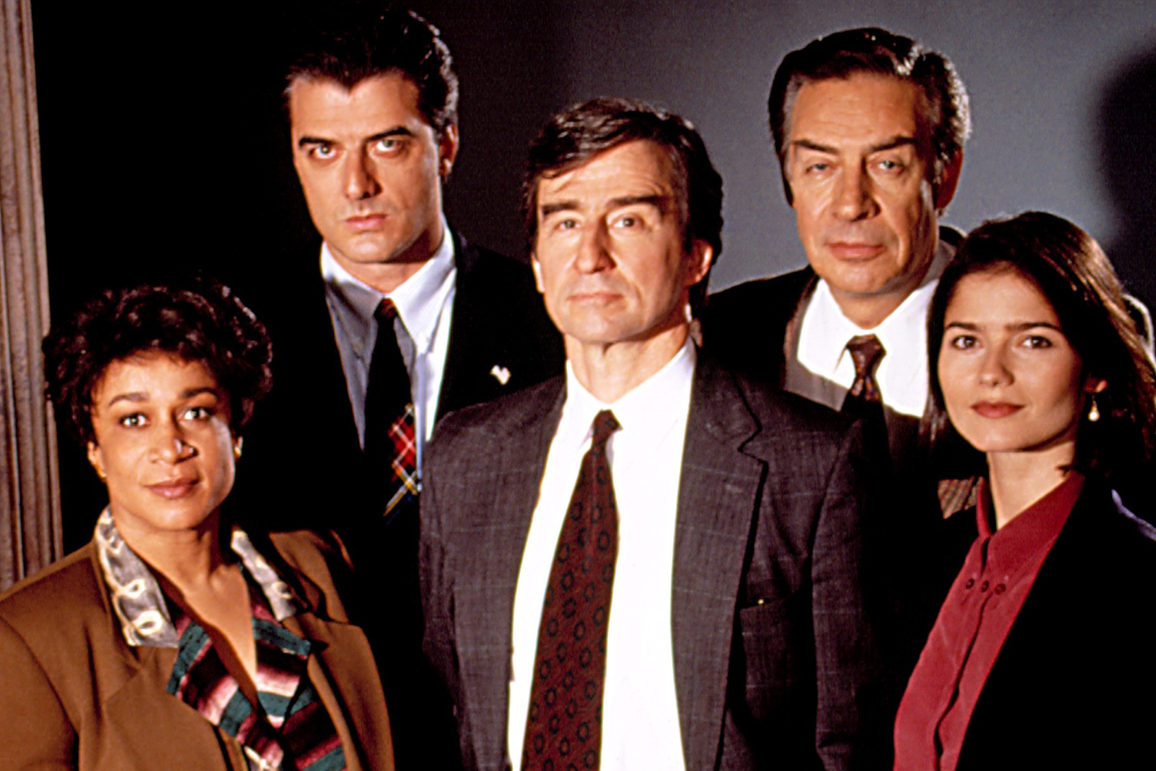 Law & Order, an American police procedural and legal drama, premiered on September 13, 1990 and ended on May 24, 2010; though it is still in syndication. The show spawned four spin-offs, Law & Order: Special Victims Unit, Law & Order: Criminal Intent, Law & Order: Trial By Jury, and Law & Order: LA; of the four spin-offs, Law & Order: Special Victims Unit is still on the air and entering its 13th season. Law & Order has also been known to do crossovers, either with their spin-offs or with other shows such as Homicide: Life on the Street or most recently, Chicago PD & Chicago Fire. The show has also been adapted in England, France, and Russia.
The show has had many celebrity guest stars in its 25 years on the air. Some of the guest stars were not famous at the time of their appearance, with some using Law & Order as a launching pad for their careers. The guest stars have ranged from Leighton Meester to established actors such as Julia Roberts and Philip Seymour Hoffman. Let's take a look at the some of the guest stars who have appeared in Law & Order's 20 seasons on the air.
Philip Seymour Hoffman


He appeared in the episode, 'The Violence of Summer,' where he portrayed Steven Hanauer, a teen accused of being involved in a possible gang rape. Actor Samuel L. Jackson portrayed one of the attorneys in the case.
Edie Falco


The Nurse Jackie and The Sopranos fixture starred in a four-episode arc as attorney, Sandy Bell. She first appeared in the episode 'Mother Love,' where she defended a drug dealer accused of killing his perfect student-turned-addict girlfriend. It turned to be the victim's own mother.
Zoe Saldana


The Star Trek actress made her first onscreen appearance in the episode 'Refuge' as Belinca, a woman who was unhappy with her sister's choice of the man to father her children.
Idris Elba


Before he was Russell Bell in The Wire, Idris Elba made his American TV series debut as floor manager Lonnie Liston in the episode, '3 Dawg Night,' where a hip-hop star and his Hollywood actress were involved to in the shooting death of a wannabe musician.
Law & Order has helped to launch the successful careers of many people in Hollywood. The show has also launched several spin-offs and filmed crossovers with other shows. There was talk of bringing the show to a ten-episode revival. Dick Wolf commented the following at the 2015 Television Critics Association, "It is a question of… most of the people involved are very successful in their careers. To try to get everything in sequence is much more difficult than it looks on the outside. I am always an optimist. I would love to do it if we can make it work." Overall, Law & Order was a great show during its 20-year span and has tackled some serious issues in its episodes.