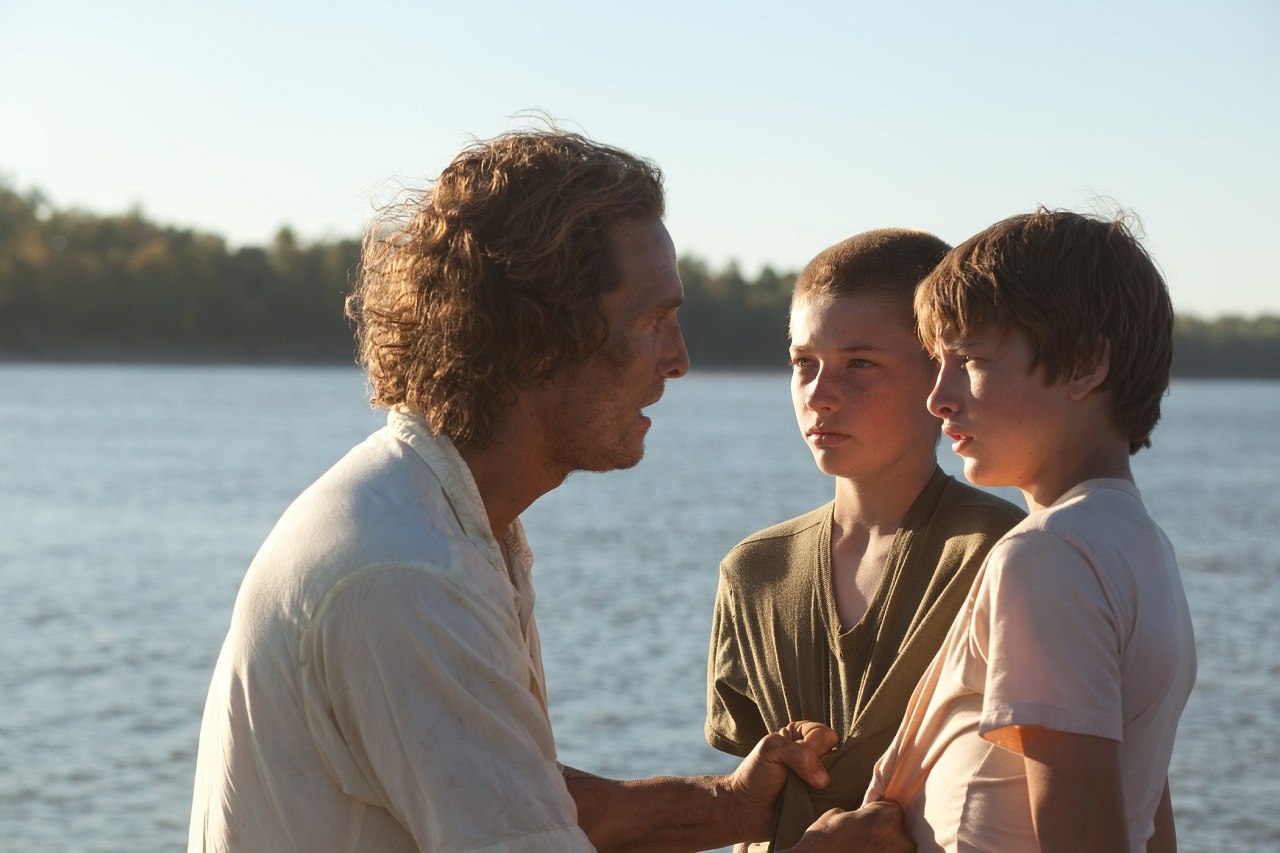 Mud is a 2012 film starring Matthew McConaughey, Tye Sheridan, Jacob Lofland, and others. It was released at the Cannes Film Festival in 2012, however, its wider release came in 2013. Those three are the main chunks of the movie as Sam Shephard and Reese Witherspoon also play a role. McConaughey plays a character by the name of the movie, and he comes across the youngsters embodied by Sheridan and Lofland (Ellis and Neckbone) when they take a trip to a small island in the Arkansas River. Mud temporarily lives there, telling the boys he's looking for his lost love (Juniper played by Witherspoon) and is on the run for killing a man who harmed her.
Capitalizing on the majestic beauty of youth, our collective interest in tall tales, and classic Southern movie themes, Mud is a powerhouse success. McConaughey gives a performance that's far removed from his days as a buffoon in forgettable romantic comedies. The modern McConaughey is a member of the Hollywood elite who can make us laugh and move our emotions in equal measure, a truth captured in Mud.
As the boys and Mud develop a closer relationship, they begin to help him with a plan to get off the island. There's an abandoned boat stuck in a tree, and their mission is to make it work so Mud can escape his current living quarters and rekindle with Juniper. This is every (or at least most) kid's dream during youth – working on a major project with a friend that feels like a life changing feat. Whether it's a treehouse, a boat, or anything else, movies have long placed an emphasis (with somewhat of a real life inspiration) on this notion for kids. In Mud, it comes across beautifully.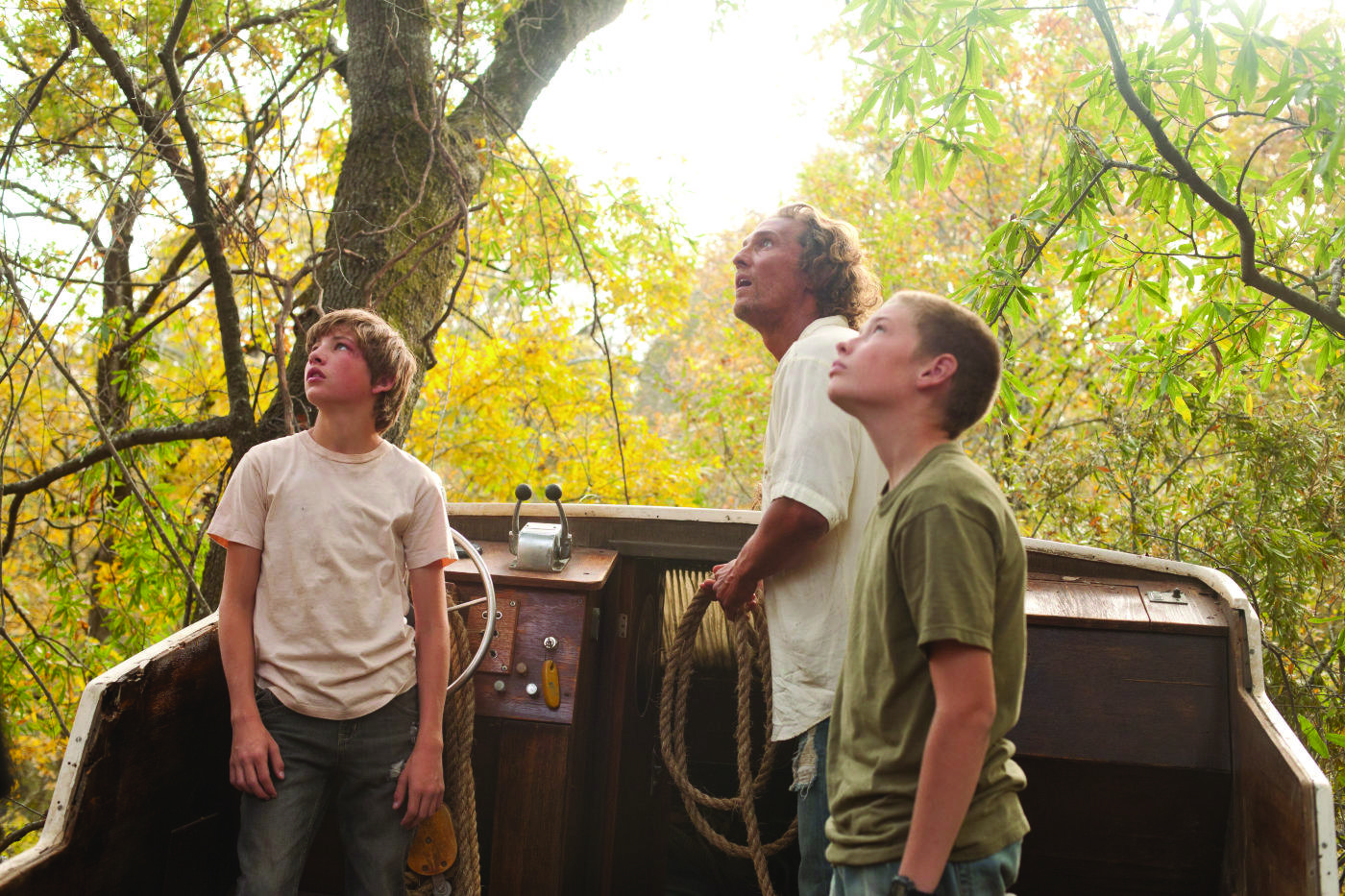 The additional aspect of Mud the character is that he's a storyteller, one that balances truth and exaggeration. Even the boys doubt Mud for some of his grandiose thoughts, however, they for personal reasons feel the desire to help him. Ellis is given more of a focus than Neckbone, in particular since Ellis has an overbearing and sometimes aggressive father played by Ray McKinnon (creator of Rectify). The good natured boy is attempting to find his version of love in his own life as he also maintains a wish to have his parents stay together rather than get a divorce. By helping Mud, it seems that Ellis feels he'll have love down the road and that his parents won't split. For Neckbone, he's just along for the ride since he worships Ellis and likes a good adventure.
As Mud goes on, we learn that Shepard's character is likely the father to McConaughey, and a riveting scene transpires when Shepard uses his sniper rifle to pick off the goons attempting to find Mud and break into the home of Ellis. The boat is ultimately a success, but the plans shift when Ellis is bitten by a venomous snake and has to be taken to a hospital. The rickety boat Ellis/Neckbone had been using to reach Mud is pushed for all its might as Mud races to find treatment for the youngster. Mud is now out in the open and can't hide on the island anymore, leading to the sniper showdown.
For its emphasis on storytelling combined with the scenery and environment vibes it holds, Mud deserves to be a regarded as a classic. Mud doesn't end up with Juniper, but Ellis and Neckbone each learn valuable lessons in a manner that's much more rewarding than your average coming of age movie. This is an adult made film that manages to also lend itself to the power of youth. The final scene of Mud is the McConaughey and Shepard played characters going down the Arkansas River together, an emotionally satisfying way to end a great movie.