[share title="Share this Post" facebook="true" twitter="true" google_plus="true" linkedin="true" pinterest="true" reddit="true" email="true"]
[dropcap]A[/dropcap]s part of his court-appointed 250 hours of community service for laying the smack down on a paparazzi last year, Kanye West took to Los Angeles Trade Technical College and did a three-hour lecture on designers.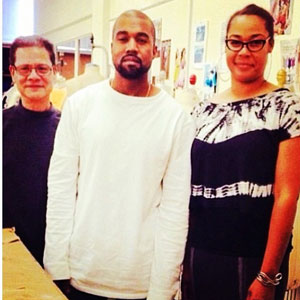 Last time I checked, community service involved wearing unflattering orange safety vests and picking up trash on the highway in 100° weather, or reading to old folks in nursing homes, but Yeezy found a nice little loophole and is lecturing at community colleges. LA Trade doesn't have any courses in music, which you would think would be a more natural fit, and it also doesn't have any courses in photography (now wouldn't THAT be cathartic for Kanye?)
According to TMZ, this was Kanye's third appearance at the college.
Kanye, however, is no stranger to the world of fashion, and is already known for having launched his own fashion lines, as well as creating shoes for Adidas, Nike, and even Louis Vuitton.
This gives me hope that we will one day have Lindsay Lohan lecturing a Political Science class, or maybe Chris Brown teaching courses in Lactation Consulting.

Kanye at LATTC: image via jwilljam Instagram
[author title="About the Author"]
[custom_headline type="center" level="h2″ looks_like="h3″ accent="true"]Recent Posts[/custom_headline]
[recent_posts count="1″ orientation="horizontal"] [recent_posts count="3″ orientation="horizontal" offset="1″]