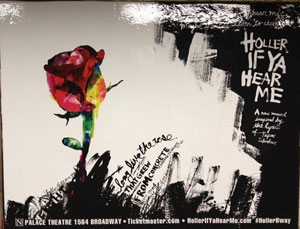 [dropcap]I[/dropcap]ve been seeing a lot of ads on the subway for the new Broadway show Holler If Ya Hear Me, which opened last week at the Palace Theater; and although the ad's art design, created by Linda Zacks, initially grabbed my attention, it's the subject matter of the musical that's held my attention.
While the musical's advertising states "The Music Is Tupac. The Story Is Now"; let there be no misunderstanding—this is not a musical based on the life of the late rapper. Instead, it's a musical inspired by the songs and lyrics of Tupac, an "original work that is at once a love story and a vivid picture of life in the streets."
According to Playbill.com, the late rapper's mother, Afeni Shakur, is among the producers of this non-biographical musical.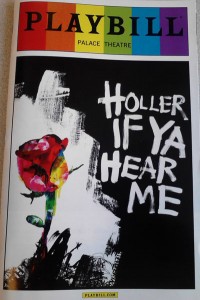 Starring spoken-word phenom Saul Williams (from the movie Slam) and Broadway stars Christopher Jackson (In the Heights) and Tonya Pinkins (Caroline, or Change), the musical features such Tupac tracks as "Life Goes On," "California Love," "Heartz of Men," "I Ain't Mad at Cha," and posthumous single ""Unconditional Love," among others.
For more info on the show, including excerpts of some of the songs, videos, and interviews with the cast and crew, visit hollerifyahearme.com
[author title="About the Author"]
[custom_headline type="center" level="h2″ looks_like="h3″ accent="true"]Recent Posts[/custom_headline]
[recent_posts count="1″ orientation="horizontal"] [recent_posts count="3″ orientation="horizontal" offset="1″]