Seriously, you guys, look at Kristen Bell and Dax Shepard. Is this couple not adorable? Don't we all secretly aspire to cohabit with someone in such a playful, supportive, and whimsical way? And wouldn't it be wonderful if Samsung were there in a supporting role, to help keep us connected to our beloved while that person runs around town searching for pregnancy cravings, or video messages us from the upstairs bathroom? This is the future, people. And the future can look exactly like these lovable goofs (provided you buy a Samsung Galaxy Tab S).
[youtube]https://www.youtube.com/watch?v=g3Kjj2ca4oQ[/youtube]
Although Bell is clearly pregnant in this commercial (with their second child), their first child, daughter Lincoln, is noticeably absent from the action. I'm sure their daughter's omission was intentional, as Bell and Shepard are champions of the No Kids Policy movement, whose mission it is to stop media outlets from buying and publishing paparazzi photos of celebrity children without their consent. Earlier this year Bell and Shepard appeared on Access Hollywood to debate the topic with representatives from two major photo agencies. It's clearly a topic that the couple is very passionate about.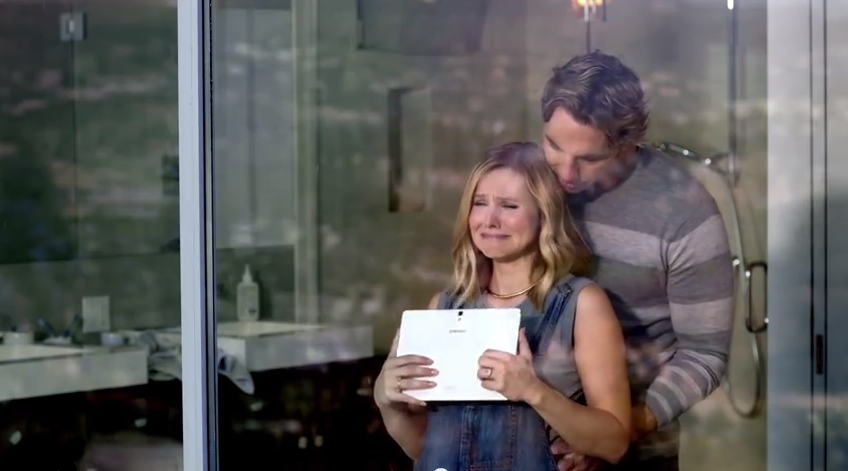 And honestly, who among us (pregnant or not) hasn't gotten a little weepy while watching a video of a cat and dog playing together nicely? Love really is an open door sometimes.