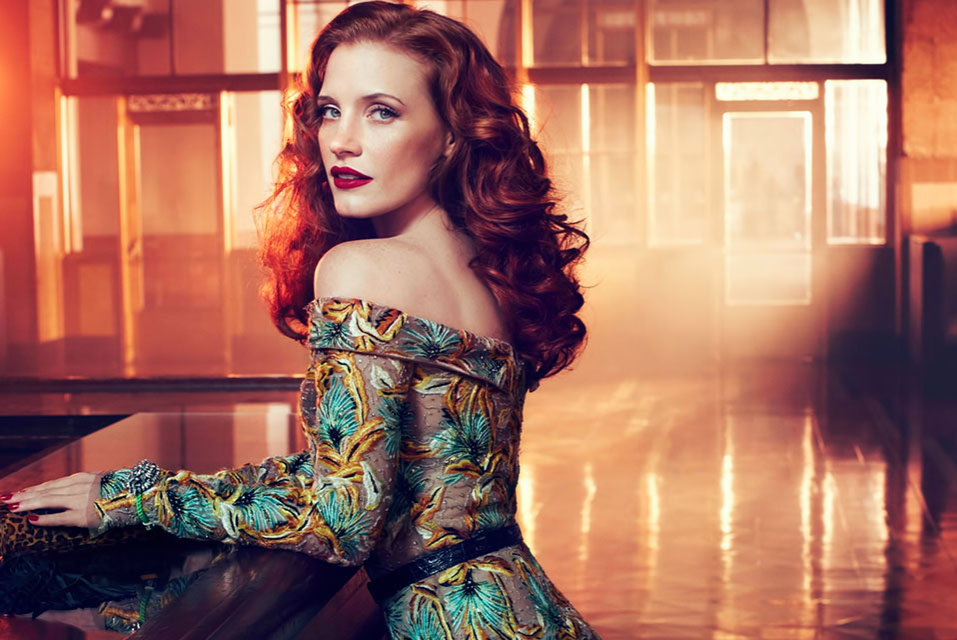 Jessica Chastain's rise through Hollywood has been swift. From 2006-2009, she was in three career films and Jolene was the only one worth viewing. A transformation has occurred from 2011 and beyond. To name a few, the soft-skinned Sacramento native has appeared in Take Shelter, The Help, The Debt, Lawless, Zero Dark Thirty, and Interstellar since that needed 2011 year. With two Academy Award nominations under her belt and a buzz-creating upcoming role in A Most Violent Year on the way, Chastain's established herself as one of the premier actresses in Hollywood.
She's my personal favorite for a variety of reasons. Her turns have ranged from graceful to touching, powerful to vulnerable, and have created a mix of emotions in the process. Chastain hunted Osama bin Laden in Zero Dark Thirty. In doing so, she captured the obsessed desperation of a committed woman on the warpath. In Take Shelter, she attempted to maintain familial normalcy in the midst of her husband's emergence of schizophrenia. In The Help, she may have been bodacious and outwardly confident, but her interior was revealed in a profoundly impactful manner. She even ditched her natural red hair and went full goth in terrifying our souls with Mama, a horror film that showed Chastain's diversity.
Chastain's rightfully classified as a late-bloomer, now being 37-years-old and not receiving fame and acclaim until her mid-30s at best, but she was absolutely worth the wait. Alongside Oscar Isaac in the earlier mentioned A Most Violent Year, Chastain's role as his dedicated wife looks to have the makeup of award-winning quality. She doesn't need an award to justify her placement with the Hollywood elite though. Chastain's right up there with Glenn Close, Meryl Streep, Angelina Jolie, or any other legendary performer. Her body of work and desirability among Hollywood executives reveal all we need to know.
She was named one of Time Magazine's most influential people in 2012. Richard Roeper has referred to Chastain as one of this generation's most noteworthy actresses. With all this fame and positive publicity, Chastain stays true to herself in keeping her naturally angelic beauty and humble nature. During any interview found across the internet, she speaks with grace, confidence, and poise. The Juilliard School graduate is the whole package on the screen and off.
Count me as a fan. Count me as excited for A Most Violent Year and hopeful that the masses flock to theaters for the purposes of watching Chastain perform next to Isaac. If she's not in your arsenal, if she's not on your radar of phenomenal actresses, consider making a change. Start with Jolene, move to Take Shelter, Zero Dark Thirty, and all the others. Not every film needs to be seen for appreciation of her skills, but every film does need to be viewed by anyone willing to call themselves a Chastain fan. She's an easy favorite in Hollywood. Just watch her perform and you'll understand why.