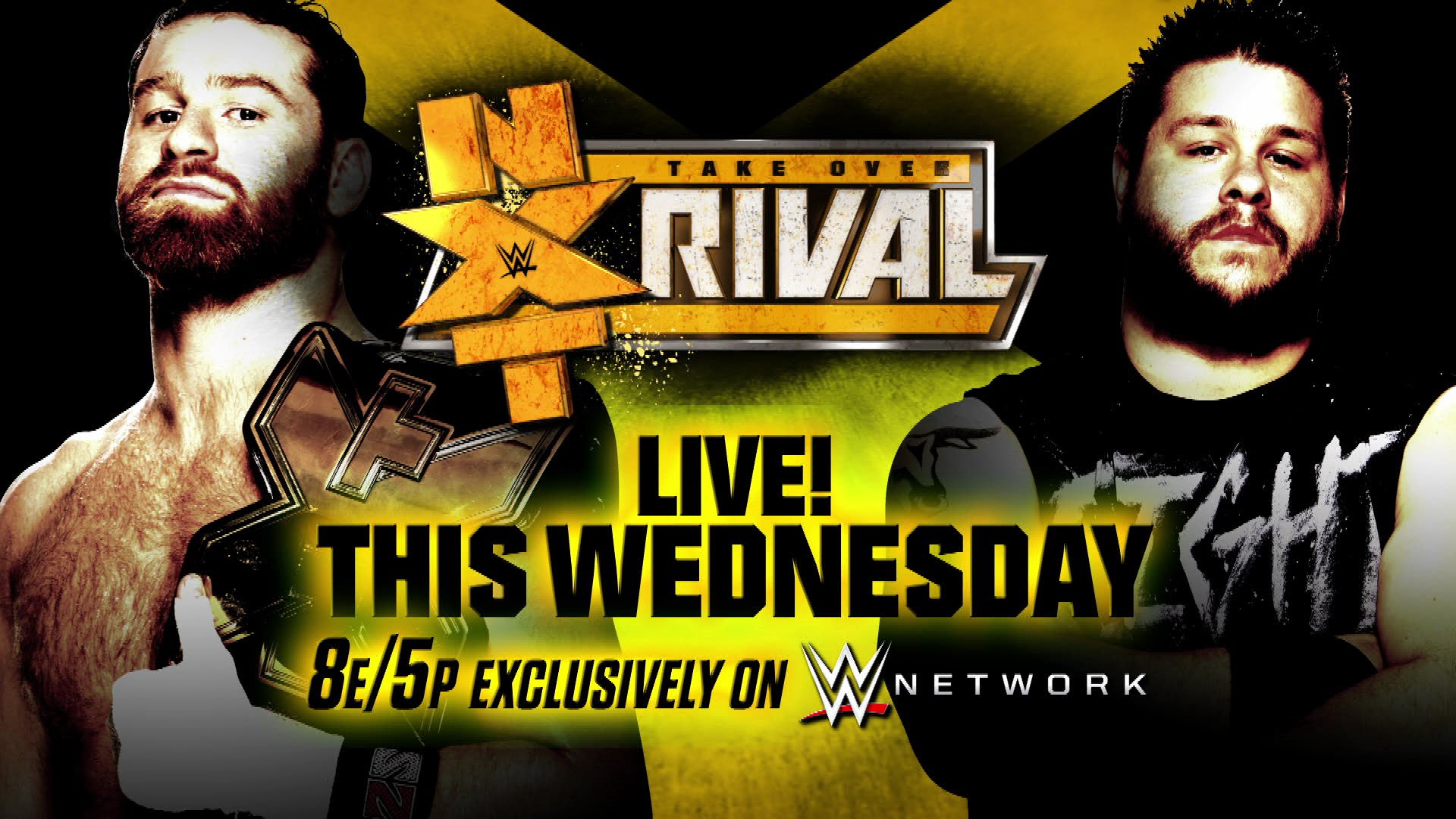 WWE's NXT is developmental in name only. In many respects, it's the more mature version of the WWE product. Their latest special, WWE NXT Takeover: Rival, will prove just that.
WWE has been working harder lately to make sure their product is always in the minds of viewers. Having a gamut of shows throughout the week reflects this approach. You have your staple in WWE Monday Night Raw, which airs weekly. That's your standard dose of primary storylines from the world of sports entertainment. But you also have Smackdown!, recently moved back to Thursday nights, as their secondary helping for the WWE Universe. If you're looking for more regularly scheduled wrestling, you can always catch WWE Main Event on Tuesdays. This features the overflow of secondary superstars and their respective stories. If that's not enough for you, WWE will gladly serve you a tertiary program in WWE Superstars. 
That's not your thing? Consider trying WWE's reality show, Total Divas, on the E! Network. You also have the power to stream anything from the past few decades on their WWE Network, which just hit one million subscribers last month.
Phew, that's a lot of wrestling. At this point, WWE is clearly diluting their product for the sake of your enjoyment.
There is one gem, however, seemingly both separate and joined to WWE's line of shows. That show is WWE's developmental program, NXT. What once started as a mock-reality show taking place before a taping of their larger shows, NXT is now its own territory within the larger context of WWE. Here you can find a mix of talent being molded by WWE as well as veterans from the independent wrestling scene who are looking to hone their skills to ascend into one of WWE's major programs.
That's not to say WWE NXT isn't major by its own merit. The show, lasting only an hour every week on the WWE Network, is a throwback to simpler times in professional wrestling. Where WWE Raw will usually feature long scripted promos, NXT will usually devote their small time for a quick soundbite and just get to the wrestling. It's the unspoiled treasure in an environment where jaded fans are chomping at the bit to declare something over.
On Wednesday, WWE will be airing their latest 2-hour special (don't call it a pay-per-view) called NXT Takeover: Rival. The card features matches with outcomes that inherently have a sense of depth and value to them. Some are grudge matches, others are for title belts, and others feature even higher stakes.
No Disqualification Match
Baron Corbin vs. Bull Dempsey
For months, Baron Corbin and Bull Dempsey have been trying to one-up each other. First, the hulking superstars began competing with each other in matches against other opponents to see who would secure the pinfall victory in the least amount of time possible. The mysterious and silent Corbin won that round, having victories that lasted 20 or so seconds. Bull Dempsey, whose entrance inversely features the loud chanting of "BULL!" that is piped in through his theme entrance, would have none of it. He began to interfere in Corbin's matches to get the best of him. The two have faced off before in the singles competition, but now they have the opportunity to settle their heated differences in a No Disqualification match. This allows Corbin and Dempsey to vent out all their frustrations with anything at their disposal.
NXT Championship No. 1 Contender's Tournament Finals
Adrian Neville vs. Finn Bálor
Having a singles match that is not for a title during a special (again, don't call it a pay-per-view) is refreshing for wrestling fans. Usually a no. 1 contender's match will be the foundation for a larger story. In this case, the match provides its own beast. Having competed in a tournament, newcomer (but independent veteran) Finn Bálor will face former NXT Champion Adrain Neville. On paper, fans will be delighted to watch this match. As far as the entire NXT Takeover: Rival card goes, this showdown will have the most exciting spots, filled to the brim with incomprehensible flips and counters. In terms of the story, it has the darling newcomer pitted against the veteran. This veteran may be on his way out from NXT in order to move up to the main roster after the storylines are concluded and the narrative arc restarts the day after WrestleMania 30. Expect Bálor to reign victorious in the end. And definitely be on the lookout for his entrance, one that was so awe-inspiring that fans started chanting "HOLY SHIT" as Bálor walked down the ramp.
NXT Tag Team Championship Match
Wesley Blake & Buddy Murphy (c) vs. The Lucha Dragons
Pro wrestling reaches its peak when you don't necessarily see an angle coming from a mile away. This is why Wesley Blake and Buddy Murphy's recent win against The Lucha Dragons in a regular edition of NXT rekindled everyone's attention on the tag team division. Blake and Murphy, who don similar hairstyles and tights while slowly gaining a sense of individualism in the eyes of the WWE Universe, won in an apparent fluke victory. The Lucha Dragons may be destined for greater things than the tag team titles or they may break up. This depends on whether you believe that WWE is gunning for Kalisto to be the next Lucha icon for the company. A win for Blake and Murphy will prove that they are not fluke champions, strengthening the tag team division. And if they do win, the Vaudevillains and Enzo Amore & Big Cass are ready to challenge them.
(Psst! This has been popping up on NXT's weekly shows as of late. It looks like Solomon Crowe, known as "Death Machine" Sami Callihan in the independent scene, will make his debut on the special after a tumultuous year of rumored gimmick alterations and unfortunate injuries.)
NXT Women's Championship Fatal 4-Way Match
Charlotte (c) vs. Bayley vs. Sasha Banks vs. Becky Lynch
The single most important thing that is happening in NXT is the rise of the women wrestlers. The modifier here is women. They are not given the subjective moniker of "Divas" as they are in WWE's main roster. These athletes have proven that they can deliver exciting matches, installments that fans will pay to see by themselves. In WWE, there has only been one match between two women that main evented a show. That was Trish Stratus versus Lita roughly a decade ago. Now, Charlotte, Bayley, Sasha Banks, and Becky Lynch are in what is undoubtedly the co-main event of the night. You have a mix of two faces in Charlotte and Bayley, plus two heels in Banks and Lynch. These groups of goodies and baddies are rifts amongst themselves. With this being a fatal 4-way match for the title, there is no clear favorite since the champion Charlotte, who hypes herself as the genetically superior athlete (it doesn't hurt that her father is the legendary Ric Flair), does not need to be pinned in order to crown a new champion.
NXT Championship Match
Sami Zayn (c) vs. Kevin Owens
This match is decades in the making despite NXT only being on television for a few years. WWE decided to evoke the most candid storyline in recent memory by, surprisingly, not questioning the intelligence of their audience. The fans know where these wrestlers come from, as well as their heated history together. In the indies, they were Kevin Steen and El Generico. They were often a tag team called Steenerico. During the last few months of El Generico's run in the indies, that's Sami Zayn's Canadian luchador gimmick, the two had a heated rivalry that concluded with hugs all around. They did this for several promotions including Pro Wrestling Guerrilla, which your humble narrator was lucky to have attended.
Moments after Sami Zayn won the NXT Championship after a year of chasing the title without winning the big one, Kevin Owens went for a hug and congratulated his best friend. Owens, who himself made his debut in the opening match of that same event, proceeded to slam Zayn onto the ramp and powerbomb him on the ring apron. Zayn is obviously taking this act as a personal dispute while Owens considers it more of an advantageous situation that his former best friend was simply caught between. What he wants is the championship, and what better way to make a name for himself then to take out the champ and request a title match two months after his debut?
I have absolutely no idea who will win this match, nor do I care. Like most fans, I just want a great match (which is a given) and this storyline to keep going.
You can watch WWE NXT Takeover: Rival On Wednesday, February 11th at 8pm E.T./ 5pm P.T. on the WWE Network, which is free for new subscribers this month.