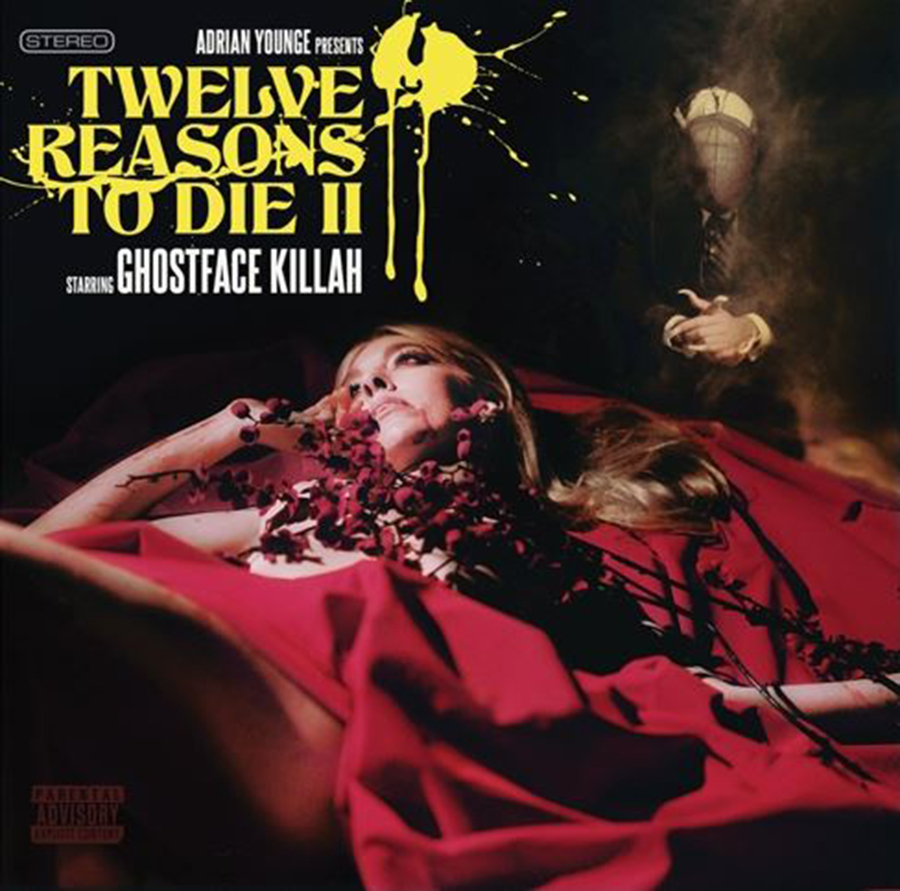 Ghostface Killah is about to make an explosive entry into the 2015 rap game with Twelve Reasons To Die II. A classic work blessed by the multi-faceted and multi-talented, Adrian Younge. The two worked together in 2013 to bring the world phase one, Twelve Reasons To Die, a musical triumph layered with passion, history, and drama. The second installment, dropping July 10th, promises all the same enthusiasm of the first with a whole new script for a reborn Tony Stark aka The Ghostface Killah. Beautifully arranged, produced, and narrated, 12RTD II, is executed with sublime focus making the piece a true gift for the fan of the soulfully raw. Hell, for the fan of music, in general.
Despite the east coast, Mafioso vibe the album personifies, the body of work has a super relaxed feel. The tracks meld into one another like whipped butter, smooth and without mental disturbance. The groove is mellow. And that's not to say that each and every song doesn't bounce, because the head effortlessly nods from beginning to end, from cut one to infinity and beyond: it's just easy as hell to listen to. The perfectly balanced energy can be credited to the cinematically-versed Younge, who blends that west coast chill with an authentic New York sound. The man knows how to paint a picture, tell a story, and do so with the brightest of colors.
For those who don't have the knowledge, it's important to quickly speak to Younge's career, so the narrative is best told and received accurately. How is it that this man is able to tell such a specific, yet richly complex story in album form? Well, the artist behind the music isn't just a producer, but a credited arranger, composer, and former professor of entertainment law at American College of Law in Orange County, not to mention a self-taught instrumentalist. The Black Dynamite score he's responsible for serves as a helpful parallel when looking at what Younge likes to do with Hip Hop. He takes it back to the old school with recording and production in regard to using real instruments for real composition. There's no lack of color in regard to the variances in style and genre play. And absolutely no shortcuts, all beautiful tracks recorded the right way. You can hear his meticulous work ethic in the production; it's tangible. Not to mention the user can feel and see a plot unfold musically when Younge graces an album with his signature production style.
But the storybook feel of the album isn't all Younge, in fact, the partnership forged between he and Ghostface lies in their mutual preference for producing musical pieces of art that inhabit depth, soul, and testimony. So yes, the screenplay vibe is also due, greatly in part, to the stylistics of Ghostface Killah, a man known for his motion picture presence. And the icing, if not the cake itself, is the legendary RZA with the album narration. Fluidly conducting the tale with that Wu Tang air that beautifully haunts the listener as they journey through Twelve Reasons to Die II.
Aside from the ridiculous presence of two of Wu Tang's elite, you also have Raekwon featured as a supporting male character alongside some other notable cameo appearances like that of Vince Stapples, Scarub of Living Legends, Lyrics Born, Chino XL and Bilal.
Oh and real quick, Bilal. If you don't know much about this artist, look him up: an incredibly versatile singer out of Philly that escapes the parameters of any one genre. Wickedly soulful and stupid creative.
At the core of 12RTD II, one can really feel the essence of classic New York, '90s Hip Hop with the underground, orchestral sounds of now. There's '70s neo-soul, funk, and at times, even ethereal notes that evoke spiritual brain trips for days.
"So what are your favorite tracks?"
While I can easily pinpoint some of my favorite tracks right NOW (and a major emphasis on NOW as this is an ever-evolving work that will be experienced differently by the user at different times) noting: "King of New York" featuring Raekwon, "Daily News," "Get The Money" featuring Vince Stapples, "Resurrection Morning" featuring Raekwon and Bilal… it just doesn't feel right with this piece to highlight individual songs. The album is meant to be experienced in sequential order; its pure production, true theater. You need to sit down and prepare yourself to be taken on a cathartic ride. And then, let go.
One point I think pertinent to make regarding 12RTD II is that this record is for everyone. Fans of the genres embodied, fans of the inverse, seasoned Wu Tang fans and new listeners alike. A record with such historical roots, contributors, and overall energy can give off an intimidating air; maybe a feeling too big or too deep for many. But, this album is so palatable and fresh; a record for all. Don't shake in fear, but shake in beat.
If you're ready for something to enjoy deeply for the rest of summer… and all other seasons for the rest of all time, pick up Twelve Reasons To Die II when it drops mid-July. It's one of those albums that you'll feel instantly, but will also grow to appreciate more and more every time the record spins. There's new content to locate with every listen, new pieces of the plot puzzle to put together, new melodies to notice, new intricacies that delight the senses… And I say that being a vulnerable receiver of the work on my 20th listen in 24 hours. Delivered from the good people at Linear Labs and some of the best the game has ever seen, 12RTD II is a blessing for us all. A banger for right now, a storied classic for later. Get some.