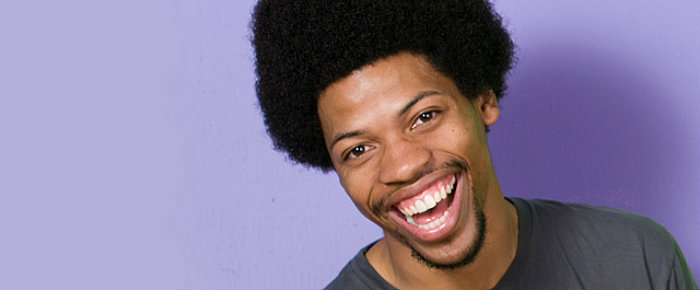 Comedian Mike E. Winfield is mastering the craft of stand-up comedy. Entering the tenth year of his career, he has matured and is looking to perfect the craft—all while releasing his debut album.
As he comes up the stage, Mike E. Winfield looks like he heard a really good joke. It's one of his, obviously. He looks like a kid mischievously plotting a prank on someone: all in good fun and highly methodical. In fact, based on his look alone, it wouldn't be a stretch if someone identified the stand-up comedian as a kid fresh out of high school. His lanky figure and high afro have almost destined him to hit the stage and make people laugh. On top of that, his big set of teeth demand that he seems as jovial as possible.
"It's hard to thug it out when you have big-ass teeth. People think I'm happy because I have big ass teeth."
"They say, 'Mike is so positive about life. Is that why you're always smiling?'"
"Nah. it's just when I close my mouth, it's uncomfortable."
But make no mistake about it. Despite Mike's easy-going and playful nature on stage, his comedy as a whole is mature and refined. You won't find more mature and developed humor at any comedy club. It's methodical.
Mike E. Winfield has been in the stand-up game for about a decade. He has traveled across the country and has dabbled in acting, notably grabbing a role in NBC's The Office. And for all of that, he has to thank a college open mic night in Sacramento.
Starting off at an open mic night at Sacramento State University isn't what one envisions as the romanticized way of getting your start in comedy, but Winfield has thrived and made it his own.
"As I went to college I thought, 'it's time to grow up and start doing adult things.' I was just kind of figuring out what I wanted to do. Then you see an opportunity for an open mic and grab it. You know that the successful people are the ones that just keep doing it, but it wasn't like a lifelong dream or passion, but it felt like it was meant to happen now."
Originally in college to study English, Winfield grabbed the mic and instantly felt comfortable. He didn't, however, toss what he had learned in school; on the contrary, he grasped it and used it to hone his newly found passion of stand-up.
"[Comedy] is my life, man. Now, I write on a schedule and when I see something happen that is funny, I'm writing it down.
Though the habit of writing from his English classes stuck, Winfield eventually opted out of Sacramento State University. He stayed in Sacramento for the surrounding comedy scene that was emerging. "Sacramento never gets any love. There's so much talent here and in Northern California in general, but specifically Sacramento. Oftentimes it's overshadowed by San Francisco or Oakland.
Staying near home but having the essential discomfort of finding yourself in early adulthood was the push that Winfield needed to grab the nearest mic. Merely getting to Sacramento State University was the push he needed to thrive amongst others. His outgoing persona didn't fruition in a family setting for him.
"With my family, I was just trying to keep up. I wasn't the funny one. But when you're older, you're with friends and start hitting clubs. To me I started blossoming then. I'm more of me in front of my friends than I am with my family."
And he found success early on. From there, the momentum organically grew and he was whisked away from Northern California. He began to understand comedy within the greater scope of things, in both a cultural and technical aspect.  "I remember the first time I went to Medford, Oregon which is a very small town. I did twelve minutes and they handed me a check. As soon as I saw it, I thought 'this is unbelievable man, I'm getting paid.' It just felt so good."
Though much of Winfield's creative process seems to be a free flowing exchange from within, some of his bits still need to be worked out on the stage itself. Some, on the other hand, feel inherently superior. It's almost as if Winfield understands the weight and power of the joke even before it becomes tangible on a piece of paper.
"But even when you have a winner and you get a laugh, it's never done." Winfield says. "You then have to place it in perfect spots and allow the joke to grow into its own bit by itself."
That particular practice of comedic calculation to maximize the heartiness in every attendee's chest isn't learned. It's developed, as Winfield has learned throughout his career. Starting off in Sacramento, he incorporated a few jokes that were particular to Northern California. But that's where the growing pains begin. It is a wake up call that forces the comedian to readjust their bits and allows them to become more universal and broadens their fanbase in the process. As a result, you get more laughs and more gigs.
"You're constantly getting humbled in entertainment. There were times when you think you're killing it. Then you go to another town and the audience it like 'no, we don't get that over here.'"
"But I'm over ten years in now, so thats when it starts to become next level because I know what I'm doing to an extent. I can clearly see where a joke is going early. I have more control now."
Much of that confidence that Winfield displays on stage is the result of the supportive comedy community, where anyone will gladly give advice to young starting comics as long as they're willing to lend them their ears. For Mike E. Winfield, his advice came from comedians that asked for him once he started getting his name out. Suddenly, he got dragged to another city, another state opening for headlining comedians on tour.
"When guys like you and see your potential, they respect you in turn. I was a sponge."
Admiring a headliner doing their thing while knowing that their experience will help shape your own comedy style is fantastic. But it's what happens off stage that holds greater importance. Traveling together or just hanging at the bar with these type of comedians made a hugely positive difference for Winfield.
Because Winfield started his career before the advent of social media, he's had to change his game up just a bit. Now, you can find him creating tweets and coming up with funny videos for Instagram and YouTube just to keep his name out there. From time to time, he gets starstruck. "I've had Baron Davis reach out to me on Twitter. Some other NBA athletes have. It's pretty cool when that happens since I'm a big fan."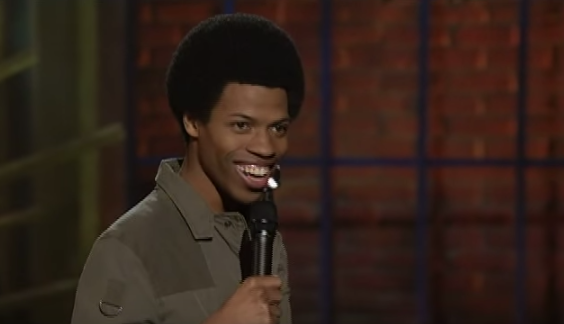 The novelty of being followed by fellow comedians and professional athletes can dissipate over time, but Winfield holds on to it and utilizes it to up his game. Through a mutual connection, he met Carolina Panthers running back Jonathan Stewart. Winfield was eager to create his next social bit and Stewart wanted to be a part of it. "We just met up and when you put funny people together, funny things happen." So during the course of a few days, they worked something out and made a quick video. Winfield posted it on his Instagram. Stewart did as well and it blew up.
Winfield still lives in Sacramento and is currently working on his debut album. Through and through, he's still working on his craft. If there is a textbook example of being lightheartedly self-deprecating without having any of the pessimistic weight that usually follows, Winfield would be it.
To this day, he both mocks and owns who he is and who is he is becoming. He's creating videos about his quest to watch football games on Sundays without having to head to church. And he's still joking about his teeth. In fact, BigAssTeeth.com will redirect you to his homepage, where you can find any upcoming tour dates.
Whether it's on stage at a comedy club or acting, Winfield wants to do it right.
"I'm doing it all. I'm pursuing acting heavy duty, but I'm not going to slowdown on comedy either. I've been doing it long enough where I just want to release the art. I just want to be that guy that puts out a bunch of work. and whatever happens after that point, I'll take any opportunity."
And as positive as Winfield is, he's still being cautious of his next move. It's almost as if he is autonomously humble, constantly recalibrating his perspective to continuously improve.
When asked about a set deadline for his comedy, he jokes:
"I'm taking it one step at a time while trying to stay patient. I'm aiming to record by the end of the year. Albums sometimes get delayed."
"I mean, Lil' Wayne announced Tha Carter V and that still hasn't come out!"