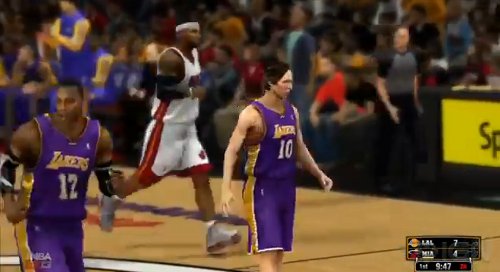 Are you an eager NBA fan, specifically a Los Angeles Lakers fan? Are you waiting with bated breath to see offseason acquisitions, Dwight Howard and Steve Nash, do their thing on the court? I feel you. As an NBA fan, I'm eager for the season to begin, as well as seeing this super team out west as D12 and Nashty team up with Kobe Bryant, Pau Gasol, et al. And, really, does it matter who's part of the et al. part of the equation? Of course it doesn't! I'm kidding, World Peace, don't hit me!
In any case, 2K Sports released a 10-minute video of actual gameplay between the Lakers and NBA champion, Miami Heat. So, you can see Super Team West versus Super Team East, including Howard and Nash in purple and gold action right now! Peep the video:
As a big fan of NBA 2K(whatever year), it was good to see the above action. I wanted to see more Howard and Nash, but of course, Kobe started chucking and hitting buckets and took away from the new duo having the rock in their hands much. Call me crazy, but I'm going to assume it will be the same in real life. As much as I'm anticipating NBA 2K13 (in stores October 2nd) coming out, I can't wait for the real thing to go down!
(H/T to IGN)