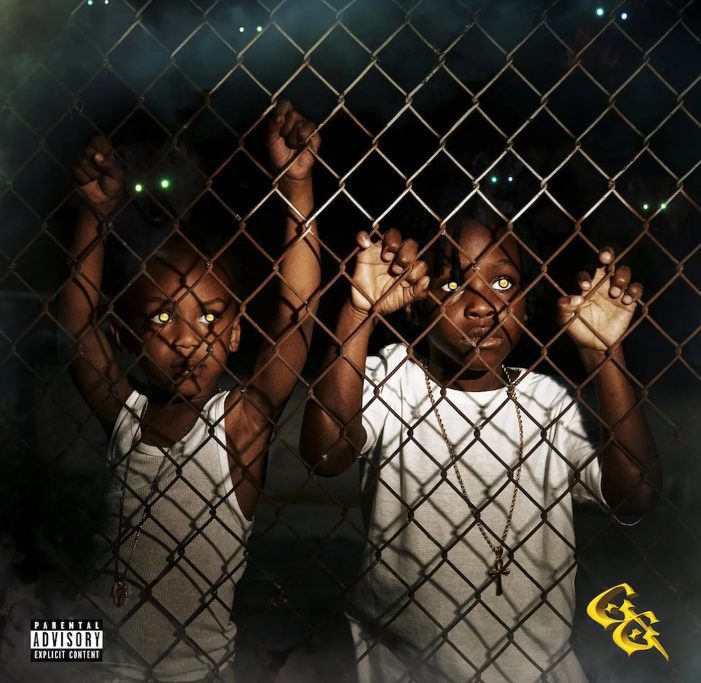 Atlanta hip-hop duo EARTHGANG has finally returned with their fourth studio album, GHETTO GODS. Following the group's huge 2019 with their contributions to Revenge of the Dreamers III and their best project to date in Mirrorland, as well as their stellar 2020 Spillage Village project Spilligion, EARTHGANG has been on a creative roll recently. With all of these strong projects, I was very excited to hear what was next from the duo, and the long wait between the announcement of GHETTO GODS and its release made me even more excited. 
The feature list did not disappoint, as EARTHGANG did a great job of mixing old and new contributors. For every Dreamville feature (JID, J. Cole, Ari Lennox, etc.), there was a new name that hadn't worked with EARTHGANG before (Future, CeeLo Green, Musiq Soulchild, etc.). All things considered, there were quite a few reasons to be excited about this new project. However, even though I still liked GHETTO GODS, I felt that it didn't live up to the expectations set by previous EARTHGANG projects.
Tracklist Analysis
The first couple tracks on GHETTO GODS are very upbeat and filled with energy. While I enjoyed the vibrant vocals from Olu and the strong verse from WowGr8, I felt like the production was lackluster and didn't add much to the song as a whole. I felt similarly from the first beat on "BILLI," as even though the performances from EARTHGANG were again strong, the production was only mediocre. However, the beat switch and the Future feature were stellar, and the production improved quite a bit on the second portion of this track. More of the same occurred on the third track "WATERBOYZ," as EARTHGANG, JID, and J. Cole all deliver solid lyrical and vocal performances, but the production again holds the track down.
After a brief interlude, "AMEN" begins with some soulful singing from Olu and guest Musiq Soulchild, and the vocal sample on top of the instrumental makes for one of the best beats on GHETTO GODS. WowGr8 delivers another great verse, making this track one of the early highlights of the project. The next couple tracks, "ALL EYES ON ME" and "LIE TO ME" again suffer from mediocre production, even with great vocal performances and hooks from Olu as well as great lyrical verses from WowGr8. One line that always sticks out to me is the "Speaker Knockerz, I'm too faded, can't even dap you up" bar that WowGr8 delivers in auto-tune, which is just fantastic considering the rest of his verse has no auto-tune.
The production picks up on the track "BLACK PEARLS," as the fast-paced drums complement the other elements of the beat quite well. Baby Tate delivers a great feature, but the Olu hook is the first on the album that isn't really compelling. "AMERICAN HORROR STORY" is more of the same as what we've already seen: disappointing production that doesn't match the great performances from Olu and WowGr8. "POWER" delivers another average beat, but the chorus and guest verse from CeeLo Green make this track one of the better ones on GHETTO GODS.
After a final skit and a solid slow song in "SMOKE SUM," GHETTO GODS delivers two great tracks in "STRONG FRIENDS" and "RUN TOO." "STRONG FRIENDS" contains a beautiful hook from Olu telling everyone to check in and be there for their "strong friends." The instrumental on this track is easily one of the best on the album, and Venus and WowGr8 use their verses to highlight some of their strong friends, as well as highlight the need to check in on those around us. "RUN TOO" ends the album on a high note and is my favorite track on the project. Guest Ari Lennox delivers awesome vocals throughout, and the solid instrumental pushes the track forward along with urging the listener to stay tuned in. EARTHGANG delves into some of their past and present issues throughout, and this song is a great end to GHETTO GODS.
Conclusion and Final Thoughts
GHETTO GODS features some great individual performances by Olu and WowGr8, as they both play to their strengths well throughout the project. Olu uses his soothing vocals to deliver strong hooks and verses, and WowGr8 flexes his lyrical abilities all over the project. The guest performances on here were also great, with Future, Musiq Soulchild, and CeeLo Green being the main highlights for me. However, this album lacked in one key area: production. 
While there were no horrible beats, the production on GHETTO GODS felt like a major step back from what was highlighted on Mirrorland and Spilligion. The beats on Mirrorland were energy-filled and unique, while the instrumentals on Spilligion took on lots of influence from non-rap genres, and the production was a huge part of what made those albums so excellent. The production on GHETTO GODS felt very basic and mediocre and didn't capture my interest the same way that the aforementioned projects did.
Even with all of the great performances littered throughout this project and the fact that there isn't a bad song, the production and the sparsity of great tracks really hold GHETTO GODS back from the heights that EARTHGANG's recent work has reached. All in all, this is a solid release, and I'd still recommend checking it out, it simply didn't live up to my expectations as well as the precedent that was set before it. I'd give this album a 7.5/10, with my favorite tracks being "AMEN," "STRONG FRIENDS," and "RUN TOO." It will be interesting to see what direction EARTHGANG takes with their sound next, as their creativity is one of their strongest attributes, but here's hoping they can continue what they started on their 2019 and 2020 releases.