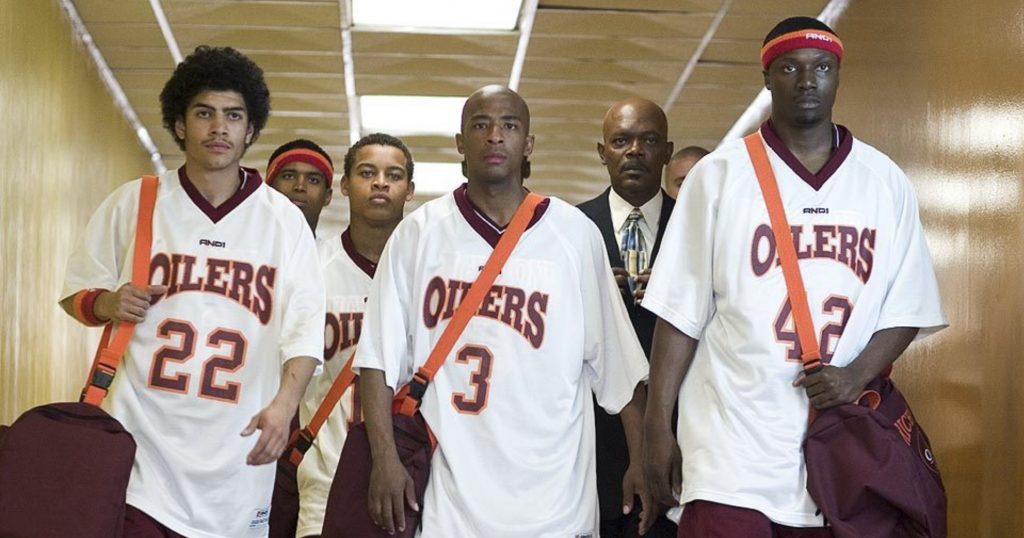 There's never a shortage of dramatic action when it comes to basketball. That drama has been captured and documented in many movies and TV shows about the sport.
From Coach Carter to Space Jam, movies about basketball can leave us feeling inspired, so much so that all we want to do is go out and shoot some hoops.
In this guide, we'll take a look at how basketball works before checking out some of the most inspiring TV shows and movies. We'll finish by examining whether these visual media have the power to get us up out of the chair and onto the court.
How does basketball work?
Basketball is a fast-paced and technical sport. Matches take place on a court that has an elevated hoop at either end, placed 10 feet high, through which the ball must pass to score points. Two teams of five players battle it out to score as many points as possible, with two points awarded for shots made inside an arc that surrounds each hoop, and three points awarded for shots made from beyond that.
The most well-known professional basketball league is the National Basketball Association (NBA). Thirty teams make up the NBA, with them split into two leagues or conferences, known as the Eastern and Western Conferences.
Each year, teams compete to finish in the top eight of each conference. To do so, sees them qualify for the playoffs, a knockout-style competition that takes place once all league games have been played.
The winner of each conference playoff qualifies for the NBA Finals, a best-of-seven bout to determine the national champion.
Given basketball's huge popularity across the globe, it has also become popular among bettors. Many betting sides offer odds on all NBA matches. Some may even offer betting bonus codes. It pays to spend some time researching the latest odds and offers to ensure you're getting the best deals.
Some of the most inspiring movies and TV shows about basketball
Space Jam is one of the most popular and inspiring basketball movies of all time. Released in 1996 and featuring basketball legend Michael Jordan, with the inclusion of the Looney Tunes characters it was aimed at a younger audience.
This helped to make the sport of basketball more interesting and intriguing to youngsters, and helped turn their eye to the sport when otherwise they may never have been interested. It also exposed a young audience to one of the greats of the sport and one of its most charismatic figures.
Sticking with Michael Jordan, one of the most inspiring tales to be shown on TV screens is his biopic documentary series, The Last Dance. Created by Netflix, the series documents Jordan's incredible career, taking an intriguing look at his legendary run in the 1990s with the Chicago Bulls.
Many viewers found experiencing the insights into one of the world's best athletes a truly inspiring tale, and no doubt, one that has encouraged many to take up basketball.
There has been a range of different basketball films over the years. While we've covered more of the upbeat productions, one that gripped many was the gritty film Coach Carter, starring Samuel L. Jackson.
In short, Coach Carter tells the true story of the Richmond High School basketball team and their coach, Ken Carter. When he took over, Carter imposed more discipline on the team, encouraging them to focus on their academic studies. At the same time, the film explores the day-to-day struggles of some of the players, all while the team's performance continues to improve.
There's nothing more inspiring than a tale of an underdog, and the Richmond High basketball team was just that. Against all odds, they managed to reach the State Quarterfinals, which they lost – but six of their players managed to get into college. It remains one of the most inspiring basketball tales ever.
Can these movies encourage us to play?
TV shows, documentaries and movies about the NBA or basketball as a whole have the power to inspire us to take action.
As we've seen, films such as Space Jam, which are targeted at a younger audience, can instill belief, confidence and desire in people who may never have contemplated playing basketball before.
They may inspire people in countries where basketball doesn't even feature much, which helps to extend its popularity and reach even further.
And movies like Coach Carter teach us never to give up, to work hard and to pursue our dreams, even if they may seem out of reach.