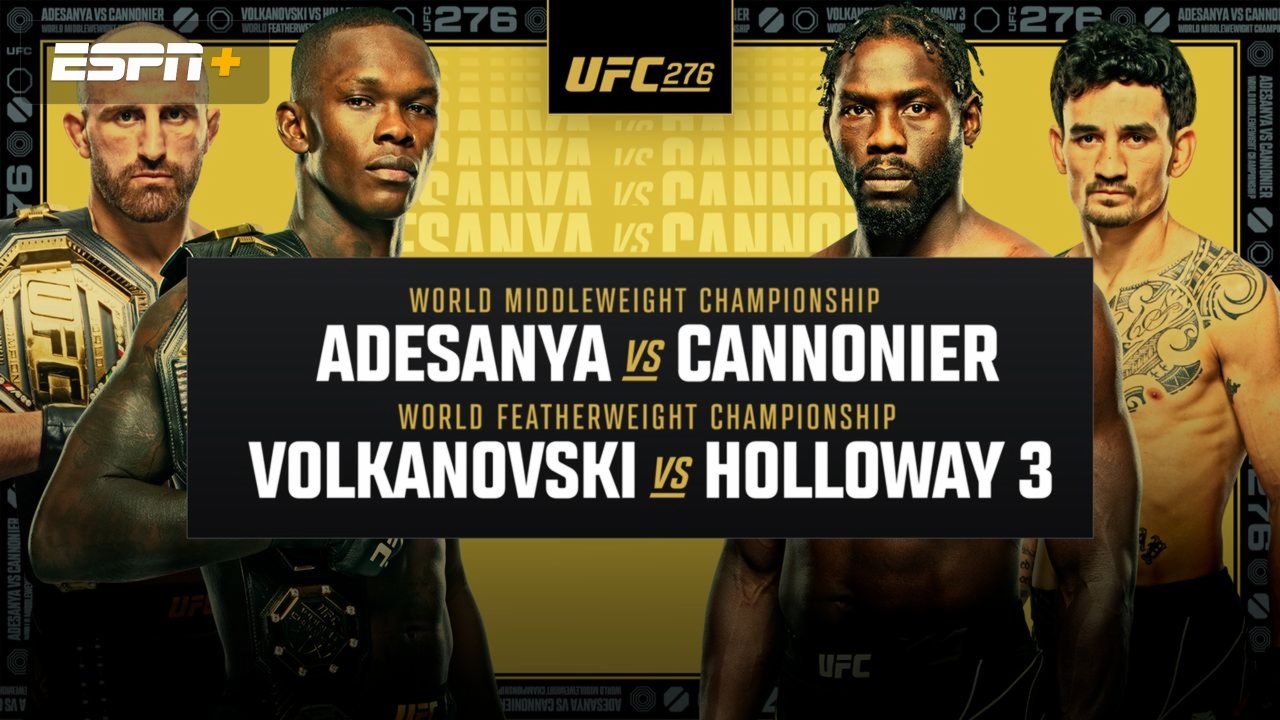 The UFC prepares for International Fight Week with its biggest card of the year taking place in the city of Las Vegas. UFC  276 is highlighted by one of the most exciting fighters on the planet, this card is far from disappointing, and is filled with a ton of exciting prospects, along with a stellar main card. The prelims, which will air on ABC, could easily fill the main card of a UFC Fight Night. Dricus Du Plessis is one of the more exciting prospects in the middleweight division and his fight against Brad Tavares is an exciting start to the prelims. Ian Garry has already been deemed the next Conor McGregor, and a win against Gabe Green would be a huge boost to his resume. Donald Cerrone and Jim Miller are both legends far beyond the promotion. Finally, Brad Riddell and Jalen Turner is an excellent prelims headliner, with both fighters looking to crack the UFC rankings. Not to mention, well-known fighters, Uriah Hall and Andre Muniz headline the early prelims as well . Nonetheless, let's break down the main card predictions.
Previous Prediction Record: 43-27
Pedro Munhoz vs. Sean O'Malley
Sean O'Malley brings a new wave of entertainment to the entire promotion with the crazy hair colors and an unorthodox fighting style. The "Unranked Champ" has completely slashed through every opponent since his injury loss to Marlon Vera. His length has given him a massive advantage in both boxing and kickboxing. Not to mention that he has a very underrated jujitsu game that he has yet to utilize because of his dominant striking. He faces Pedro Munhoz, an experienced veteran holding a ranked spot for multiple years now. However, Munhoz is 1-4 in his last five fights, only with a win over Jimmie Rivera who isn't with the promotion anymore. This could be seen as a fight for a spot bout for Munhoz. But it's hard to see him winning without some dominant jujitsu. O'Malley will likely overwhelm him with his striking and hopefully, can be taken as a serious fighter in one of the most stacked divisions in the UFC.
Official Prediction: O'Malley by KO/TKO
Robbie Lawler vs. Bryan Barberena
Two of the best scrappers in the welterweight division, the Robbie Lawler vs. Bryan Barberena match should be an all-out brawl. Lawler, a former contender, has continued to fight the best of the best in the division. He is recently coming off of a weird win against Nick Diaz that might have added a little heat to his name. But nonetheless, Lawler is a brawler in this game and goes the depths with anyone he's asked to fight. The same can go for Barberena, who is coming off of back-to-back wins against Matt Brown and Darian Weeks. He has the nickname "Bam Bam" for a reason. He is willing to walk through heaven and hell to earn a victory. His striking defense is also a bit crisper than Lawler's, which could be vital. Barberena looks to be more on a roll, plus his age definitely plays as an advantage for him in a style of fight where both guys are going to be taking a lot of punches. Realistically, I imagine him coming out of this fight victorious.
Official Prediction: Barberena by KO/TKO
Sean Strickland vs. Alex Pereira
Since moving up to the middleweight division, Sean Strickland, has been on an absolute tear and will put himself on the map as a legitimate title contender if he's able to win this fight. His domination against Uriah Hall and Krzysztof Jotko showed his ceiling, while the brawl he went through against Jack Harmanson showed the lengths he's willing to go to for a win. Strickland now faces his toughest opponent yet in Alex Pereira, who has otherworldly kickboxing skills. Known for beating Adesanya twice in another promotion, Pereira comes in with a ton of hype as the guy who could possibly dethrone The Last Stylebender at 185 pounds division. But as always, it's important to focus on the fight in front of him. Pereira lacks a legitimate wrestling game and it showed early in recent bouts, but he was still able to earn wins with his striking. This becomes a more complicated situation with Strickland, who has a decent enough wrestling game to win the fight. He'll have to take the fight to the ground, even though he hasn't shown a lot of it in his fights at middleweight. If Strickland is able to keep Pereira's kickboxing at bay, and use some of his wrestling techniques, this should be a steady decision win for Tarzan.
Official Prediction: Strickland by Unanimous Decision
Alexander Volkanovski vs. Max Holloway
Despite Alexander Volkanovski winning the first two fights against Max Holloway, a trilogy became almost inevitable when Holloway showed dominance against Calvin Kattar and Yair Rodriguez over the last year and a half. Now after dealing with injuries, the time has finally come for Holloway to earn his revenge. But in all honesty, he shouldn't have to. Halloway won the second fight and I believe that poor judging changed the course of his division. Holloway was able to knock him down twice and stay consistent for the remainder of the fight, while Volkanovski became impatient and desperate for hits. Holloway definitely needs to improve on his wrestling defense if he wants any chance of earning the belt back, because Volkanovski has only displayed improved wrestling in his recent defenses. On the other hand, Volkanovski is one of the most complete fighters in the division. His brilliant game plan against Brian Ortega turned heads, and many believe that he's destined to be the champion. Volkanovski followed that up with a steamroll against the Korean Zombie. At 30 years old, I believe Holloway has yet to show us his true prime despite the run he had years ago in the division. Some may see another robbery at hand, but I see Holloway narrowly winning the trilogy and potentially solidifying himself as the best featherweight of all time.
Official Prediction: Holloway by Split Decision
Israel Adesanya vs. Jared Cannonier
One of the best pound-for-pound fighters currently part of the promotion, Israel Adesanya, comes in as a heavyweight for his fifth title fight against Jared Cannonier. Adesanya is coming off of a stellar performance against Robert Whittaker, where some of his best skills were on display. Adesanya demonstrated accurate striking and his ability to hide his kicks and punches is spectacular. I could see this fight following a similar direction as his technique has proved more than successful to this point. Only Jan Blachowicz in a different weight class has been able to exploit his flaws. He's only separated himself from the rest of the contenders in this division with his recent title defenses. Cannonier does pack a lot of power in his hands, as he displayed that in his win against Derek Brunson. That could be one aspect that leads to a new champion. Cannonier even showed some wrestlingskill, but I can't imagine that'll be a factor in this bout. His best chance may be by luck with a knockdown or two to catch Adesany off guard. But The Last Stylebender has been all too perfect with his defense in recent fights, and I don't see this fight being very close at all. It may be time for the UFC to start exploring bigger fights outside of the division for Adesanya, because Robert Whittaker has been the only challenger to give Adesanya even a little bit of trouble during his title reign.
Official Prediction: Adesanya by KO/TKO