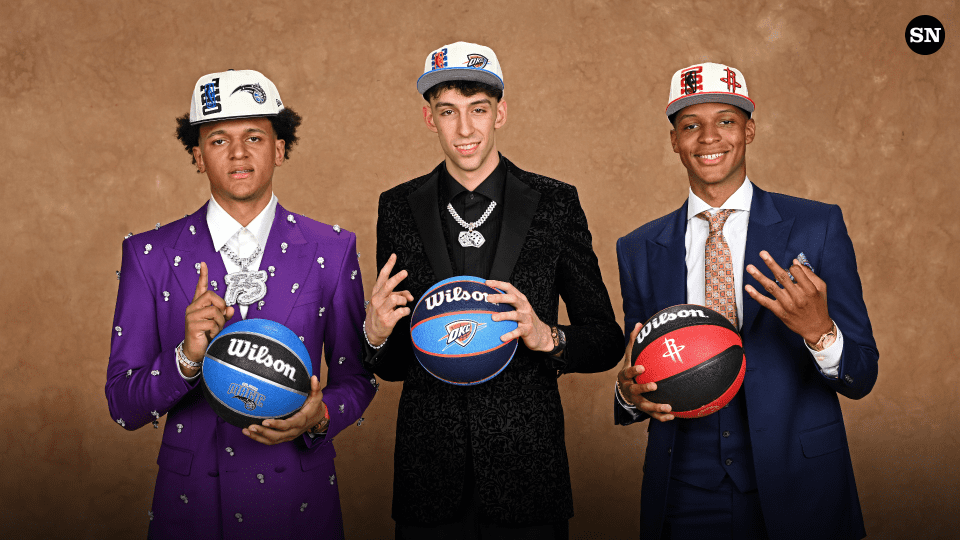 The NBA Rookie of the Year Award goes to the best first-year player of the regular season. The top rookies are voted based on their performance, potential, and contributions to the team's success.
Past winners include Pau Gasol, LeBron James, Kevin Durant, and Derrick Rose. Other notable past winners have been Kareem Abdul-Jabbar, Larry Bird, Tim Duncan, Magic Johnson, and David Robinson. So, who will be the next rookie to take home this award? Here are five bets worth your time and money!
Paolo Banchero, Orlando Magic
At +325 odds, Paolo Banchero is the NBA betting favorite to take home the 2022-23 Rookie of the Year award. The Orlando Magic forward possesses many strengths that separate him from other contenders. For one, Banchero is extraordinarily well-tuned and smooth-running as a ball handler.
Banchero is capable of being a rotation's lead baller if necessary and putting the ball on a string. Also, he has plenty of dribble moves in his arsenal that can get him out of tough spots in tight spaces. With the ability to shoot off the dribble or pull up off screens, it makes sense why some people would be betting on Banchero at such odds.
Furthermore, his mid-range game is a threat to any opponent, as he uses his body to create space and easily make contested shots. Banchero is also good at attacking the basket. Best of all, he's a crafty passer who isn't afraid to dish the rock when needed.
Chet Holmgren, Oklahoma City Thunder
The Oklahoma City Thunder's power forward and center is also one of the favorite bets to win the rookie of the Year award at +400. Chet Holmgren stands over seven feet tall. With his height, it's no wonder why Chet is an elite rim protector.
That means he can easily block almost any shot in the paint. Along with being a great defender, Chet has shown some excellent ball handling skills and decent range on his jump shot. He fits the typical center role in the NBA and will look to dominate the court.
Jabari Smith Jr., Houston Rockets
Another prospect for the 2022-23 Rookie of the Year award is Houston Rockets' power forward, Jabari Smith Jr. He's the son of the former American professional basketball player Jabari Smith Sr. and is a modern version of him.
Smith Jr. has a 7-foot-2 wingspan and stands 6-foot-10, capable of blocking shots on defense and using his height to score points on offense. His shooting ability is also fantastic and a significant selling point for his career.
Moreover, Smith is a self-starter, meticulous, and very driven at an early age. These habits matter as a player because they make them stand out in their profession. Plus, they're hard to fake. So, if he continues his high level of play this season, we could see Smith Jr. win this Year's rookie award.
Jaden Ivey, Detroit Pistons
Jaden Ivey's explosiveness and speed make him worthy of a spot on this list. He has the athletic gear that few players can match at 6'9 wingspan, 149 pounds, and 6'4 feet. Jaden Ivey is capable of breaking any coverage and has a unique ability to get a head of steam to shoot or drive with pace.
Additionally, Ivey has long strides and can bounce off his defender to draw contact or find open lanes in the paint. And he can improvise when defenses have collapsed by finding cutters or shooters on the perimeter.
When Ivey is sprinting down the court, it doesn't take long before he's able to release from behind the arc. His shooting form is sound and should only improve as he gets more experience in games under his belt.
Bennedict Mathurin, Indiana Pacers
The last player worth noting is Indiana Pacers forward Bennedict Mathurin. He's one of the best three-point shooters in the draft class, making him a valuable asset for an Indiana team that struggled from deep last season.
Bennedict Mathurin is also an explosive finisher. He loves to get out in the open and finish at the rim with force, which was rare among rookies last Year. His combination of skill sets makes him a perfect complement to stars in Indiana.
Another thing, Mathurin uses his instincts to deflect passes and create turnovers, even if he isn't assigned to be the primary defender on that play. And that's something you can expect to see more as he continues developing into the next star at the small forward position.
Takeaway
Rookies are essential to any team and can help change a franchise's fortunes. That's why NBA teams try very hard to find the best rookies they can get in the draft, hoping they can take home the title of Rookie of the Year. The five players mentioned above are some of the betting favorites for next Year's rookie race. They all have their strengths and weaknesses, but each has an opportunity to succeed if their respective teams give them a chance.