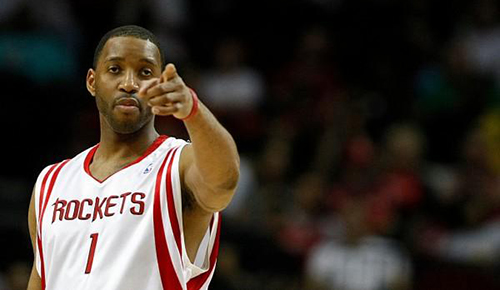 Abiding NBA fans love to espouse their list of all-time five favorite players; so in no particular order, here is mine:
Michael Jordan
Larry Bird
Hakeem Olajuwan
"Pistol" Pete Maravich
And… Tracy McGrady.
No doubt, anyone would be able to understand why I'd be partial to each of the first four players on my list. But Tracy McGrady?
Yes… Tracy McGrady.
A seven-time All-Star and two-time scoring champion, it's astonishing how people seem to have forgotten how dominant T-Mac was for very nearly the entire first decade of the millennium. Drafted out of high school in 1997 by the Toronto Raptors, McGrady was first considered a lanky, long-term project by the franchise. When in the next year's draft, the Raptors picked up his cousin, Vince Carter, the duo was heavily touted and each were eventually legitimized within the league.
Then, in 2000, McGrady was dealt in a sign-and-trade to the Orlando Magic where the intention originally was for he and Grant Hill to establish one of the most fearsome tandems in the league. Hill had bad ankles, though, which hampered him to such a degree that during the 2000-01 season, he was able to only log minutes during a grand total of four games. Furthermore, throughout the six seasons he was under contract with Orlando (four of which were with McGrady), the player once universally anointed as "the next MJ" played more than 30 games in a season only twice; therefore, with the only other real scoring option sidelined, and especially with the roster what it was, McGrady was primed to absolutely flourish.
And flourish he did.
During his four years in Orlando, T-Mac put up numbers which not only mirrored, but in some respects, outshone anything Kobe Bryant ever accomplished in terms of individual statistics. Between 2000 and 2004, he averaged 28.1 points, 7.0 rebounds and 5.2 assists – MVP stats, without question. Then, inexplicably, before the start of the 2004-05 season, McGrady was traded to the Houston Rockets where he proceeded to continue putting up monster numbers over the course of another four years, validating himself further as a top-five player in the league.
Sadly though, after the 2008 season, he underwent a series of major surgeries on both his left shoulder and left knee and thereafter was never the same player again. However, we are still talking about a solid 10 years of mega-star production.
Staggering as they were, his statistics are incidental in terms of why Tracy McGrady ranks as one of my favorite players ever. While the numbers certainly do well to make a sound case in favor of his greatness, the real grounds of my adulation are primarily based around what it felt like to watch him play. He truly had it all. At 6'8''and 230 pounds, his body was perfect – both imposing and sleek. Overall, the most remarkable thing about his game, though – owing perhaps in part to his prototypical physique – was how incredibly easy he made it look. On the perimeter, there was always a sleepiness, a softness, a mutability to the way McGrady moved – both with and without the ball. He was smooth – a glider, a slitherer – and often got to his spot before his defender ever could. Then there was his jumper. Whether off the dribble or, after slipping over top of a high screen, catching a pass and pulling the trigger, he could shoot from anywhere; in some respects, more purely, even, than anyone in the league at the time, maybe, not named Ray Allen. McGrady's shot was textbook, not necessarily in his follow-through, but in the sense that he used his legs – always getting a ton of air before eventually releasing the ball at his body's zenith.
Smoothness aside, with regard to getting to the rim, McGrady was absolutely merciless. He could "jump out of the gym" with the best of his skywalking contemporaries. Like a heron hunting, he'd soar through the air, jumping over or through, if he had to, any opponent who dared try and stop him. Then he'd finish. And man, would he finish. If pressed, I might even say he was the most skilled finisher at the small forward position I've ever seen – Lebron included. T-Mac's dunks were thunderous, mean, and when he wasn't dunking, his acrobatics otherwise were classifiably nothing less than positively elegant. He'd sail along the baseline – beneath and around the backboard – like a panther or Pegasus; like water moving through air with a mind of its own. Stepping out from under the basket, beyond that, his half-court post-game was both mystifying and mischievous. Deceptive with his back to his defender, he reminded me of Olajuwon in terms of footwork and use of body leverage. Then, whenever he chose to turn and drive, his first step – consistently nimble and sinuous – was utterly lethal. At the same time, though, if he wasn't peeling out from the low block, thrusting his way toward the basket, he, instead, could juke and swivel into the prettiest, most fluid and effective fadeaways this side of Michael Jordan.
It would be overkill to go into any kind of poetic detail about T-Mac's passing ability – how it was always completely underrated – or how he more than held his own on both the offensive and defensive boards. It would likewise be an insult to give any credence to his naysayers by speaking to the criticism that he didn't play hard or make his teammates better or, in general, that he didn't care at all. If you're a fan – a real fan of the game – if you love basketball, then go online and watch random clips of Tracy McGrady. Watch his eyes and tell me he doesn't care. I'm confident that if it's your aim to denigrate him as a player, you'll come up wanting. Watch him score 13 goddamn points in 35 goddamn seconds back in 2004 against the very team on which he wallowed this past year – the very team for which he suited up throughout these past NBA Playoffs and Finals, only to see little to no time on the floor. As you're watching that iconic 13 in 35 – perhaps most tremendous offensive blitzkrieg in NBA history – take into account how, nine years later, the media ostensibly went out of their way to make a mockery of that man's career.
Don't get it twisted here – I don't pity my guy; great players don't need pity. I am, however, attempting to draw some well-deserved attention back to him. I'm attempting to remind NBA fans that, for a good long while, Tracy McGrady was once GREAT.
[youtube]https://www.youtube.com/watch?v=NollBuDyU6Q[/youtube]