We've all been there at one point in our lives while playing basketball. It's a feeling that one doesn't exactly clamor about, and though pride and adrenaline kick in for a certain amount of time, an eventual realization reigns supreme: being an alpha dog on a bad basketball team sucks. It sucks. there's no two ways about it. It's a deflating experience[1], whether you're captaining your intramural squad during gym class or doing it for a professional basketball team in the NBA. I've certainly done it and I'm pretty sure you've done it and it's not a fun job to do.
Gordon Hayward is doing that same thing for the Utah Jazz, and the growing pains have been exhibited for the world to see. Hayward is in his fourth year in the NBA and he's being asked to be the best player on a tanking team. He has the highest USG% on the Jazz and his shooting has taken a nose dive with it, having the worst TS% and eFG% of his career so far. His shot attempts per game have increased, he's increased his pick-and-roll usage, according to Synergy Sports, from 15.3 percent to 24.6 percent and his turnover percentage in pick-and-rolls has spiked up as well. These are troubling signs for a player who's been previously compared by some Utah fans to Paul George, one of the 10 best players in the NBA and the living embodiment of a two-way player.
Hayward himself can't say that, which makes his upcoming RFA status even more interesting. His performance so far this year has been somewhat uninspiring, though there will be numerous teams going into the offseason with crap loads of cap space, including the Phoenix Suns, the Dallas Mavericks, the Los Angeles Lakers and the Detroit Pistons. Teams could throw the Jazz as dreaded an offer sheet as they can muster, though with how clean the Jazz's payroll looks, an overpay might not be the worst thing in the world.
All of this isn't to say that Hayward is a huge disappointment[2], because despite the drop in efficiency, Hayward is still a rather solid offensive player who, despite his problems in pick-and-roll situations, is a heady passer, and his passing numbers this year have been very comparable to someone like Paul George. He has a better assist/turnover ratio, more secondary assists per game than George, via NBA's Player Tracking, has created more assist opportunities (10.9 to 7.4), and has had more points created by his assists per 48 minutes. All of this considering the mundane supporting cast he's surrounded with and despite being part of a Utah squad that's the fifth youngest in the NBA, they are ranked 25th in pace via Basketball Reference.
These are very solid indications of what Gordon Hayward can become offensively. Having a wing player who can be an excellent secondary play-maker is a rare asset, which makes players like Nicolas Batum a great commodity. His passing numbers fare pretty well compared to Batum even though he has a higher USG% on a worse team. His shooting has nosedived in contrast to Batum's though that could be attributed somewhat to his supporting cast. Where he projects defensively might just be the key for whether these comparisons will hold any weight (hold that thought!). With Hayward's passing and the talents of Derrick Favor around the rim, you could have worse things to work with as a franchise. Despite having a NetRtg of -10.0 this yr, there's promise offensively within the Hayward-Favors two-man game:
Favors is one of the best finishers in the NBA, ranking 18th in pick-and-rolls that finish with the roll man, having a strong 1.16 PPP in these situations. His timing and athleticism stand out and pick-and-rolls that involve some motion leading up have yielded nice results for the Jazz[3].
It's not just pick-and-rolls though. Favors' timing in terms of his cutting is impressive as well. Favors is shooting 59.6 percent on cut situations, via Synergy, and with flashes of a decent mid-range jumper, it's opened up even more for the Hayward-Favors two-man game: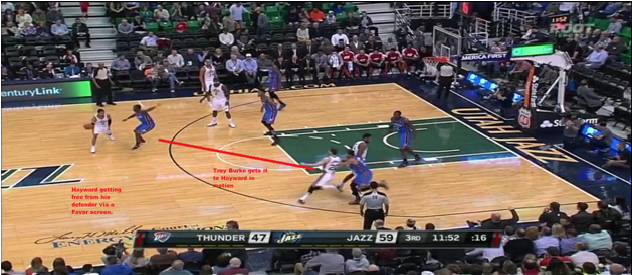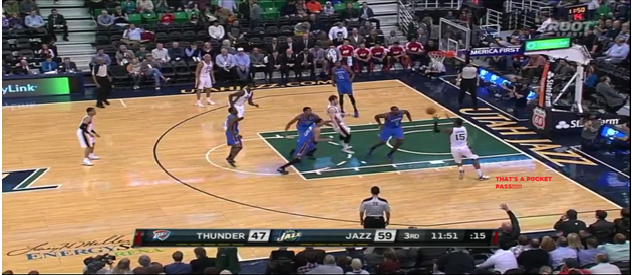 Those are some of the positives, and they are very solid positives, and I hate to do this to the fine people in Utah but here come the negatives. Hayward has struggled quite a bit as a lead ball handler for Utah. Some of this isn't his fault entirely. Trey Burke is learning the ropes as a rookie point guard, their wing core is pretty uninspiring despite Richard Jefferson's bounce-back season and some flashes that Alec Burks has displayed this year in a more prominent role. Enes Kanter has struggled with the departures of Al Jefferson and Paul Millsap, and even Favors has had his problems defensively despite his prodigious athletic gifts.
This however doesn't hide all of Hayward struggles. One of the reasons for Hayward's turnover problems in pick-and-roll situations is his tendency to hold the ball and make passes so difficult: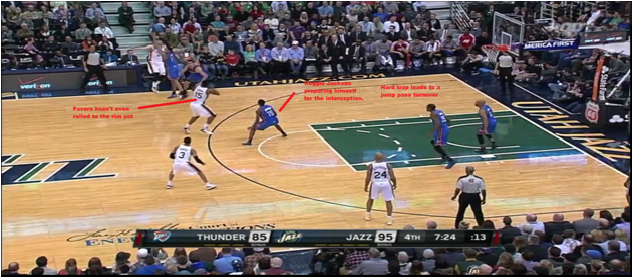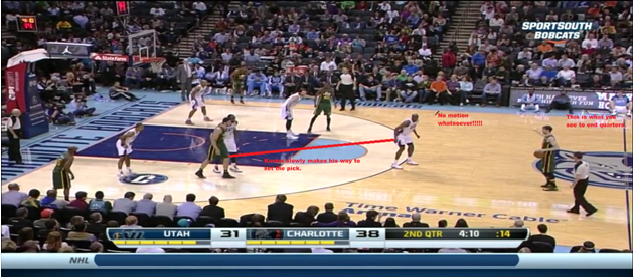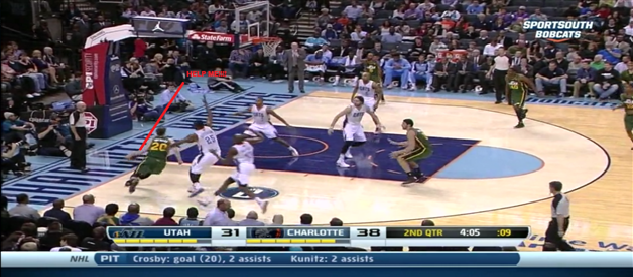 The second one in particular against Charlotte was especially maddening. An isolation could've yielded better results than a slow-developing pick-and-roll with no motion preceding it. Within the flow of ball movement and man movement is where Hayward does most of his damage because it hides some of his problems athletically. He has a lackluster first step which makes these instances even more futile and damaging. Guarding a wing player who can't turn the corner in a pick-and-roll makes it much easier for the defense to contain that play.
Also something to pay attention to is the difference in terms of his shot selection from last year to this year, via Vorped: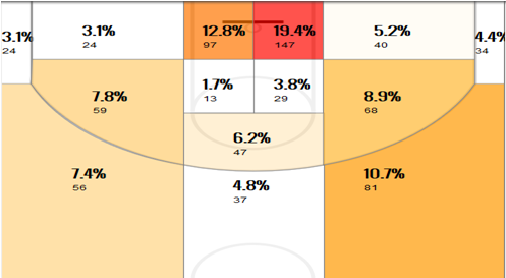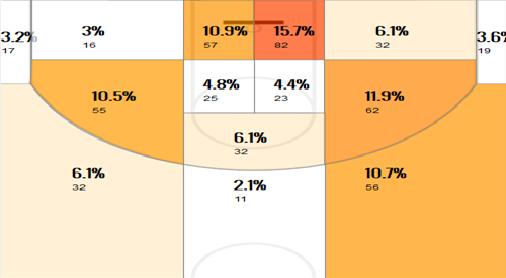 With the added responsibility on offense, fewer three-point shots have equated to a higher frequency of mid-range jumpers. To his credit, his mid-range shooting has actually been very solid at a tidy 44.2 percent compared to 35.3 last year. What's troubling though is with the increased burden, coupled with his supporting cast, his shooting in other areas has declined. Last year Hayward shot 42.2 percent from three and 51.4 from the paint. This year, it's down to 31.1 percent from three and 49.2 in the paint. The drastic dip in three-point shooting is worrying about, and though it may rebound back to perhaps league average by April, it's so far not been a good shooting season for Hayward.
His defense is something that's still a work in progress. The Jazz have been bad this season defensively, and on/off splits for DefRtg for pretty much every starter on the Jazz haven't been good. Issues on defense haven't been a new thing with Hayward and it hasn't improved much if at all this season. Like a lot of young wings in the NBA, Hayward has his issues with getting sucked in by an opposing big man setting a pick, giving at times extra duties for his big man to do.
Off the ball is also a problem for Hayward. In a number of occasions will you see Hayward not sticking to the script in terms of rotations and being at the right spot when the situation calls for it. 28.2 percent of his defensive plays have been on spot-up situations, courtesy of Synergy, and he's given up a PPP of 1.11, ranking 236th in the NBA. That's the case team-wise as well, with the Jazz ranking 29th in spot-up defense. Some of this can be correctable and while Hayward will probably never be an upper echelon defender, there's every chance that he'll grade out as an average and perhaps a slightly above average defender, a rather significant improvement on his current standing.
As it stands now, Hayward is having an uneven season so far, one that he potentially could've parlayed into a massive contract. His problems on offense are noticeable, his limitations athletically in terms of explosion put an artificial ceiling on the type of damage he can do on offense, and it also leaks into some of the difficulties he has defensively. He is a solid passer with a solid assist/turnover ratio, and perhaps his turnover problems on pick-and-rolls will correct themselves and become a moot point going forward. If his shooting from three returns to league average or beyond, suddenly we have the makings of a very good offensive player. Gordon Hayward is still only 23 years old. Perhaps by this time next year, his improvements as a player might just make this column look dumb and obsolete.
(Stats used in this piece were current up to Jan 20, 2014)
---
[1] To varying degrees obviously. I'm certainly not going to be as deflated as an NBA player would be
[2] Though I would assume that his agent is saddened by the potential money Hayward might not see this summer because of all this
[3] Considering the fact that they rank 23rd in offensive efficiency, finding positives is not an easy battle