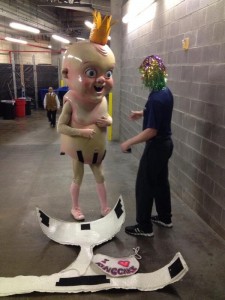 Baller Mind Frame's No Layups brings you the hottest NBA stories on the web mixed with personal opinion from our very own Aaron Lanton. Check it often and absorb the knowledge we're dropping on you!
I mean, I just have no words. None. #KingCakeBaby pic.twitter.com/XImGbskCNP

— WWL-TV Sports (@wwltvsports) February 25, 2014
If you will remember, the New Orleans Pelicans unveiled their new mascot, Pierre the Pelican, just before the season, celebrating their change from the name Hornets to Pelicans, a bird that is often found on the gulf coast.
After realizing just how creepy and frightening Pierre could be the Nets decided to give him a makeover, claiming that Pierre was injured in a pickup game after driving to the hoop and being fouled by the Memphis Grizzlies' mascot, Grizz.
If you thought Pierre was indeed creepy and did need a change, you certainly weren't alone. Despite making Pierre look friendly, the Pelicans have taken creepy to another level by announcing another mascot, King Cake Baby. FanSided
Pierre the Pelican just completed his makeover two weeks ago, now this.
I'm not sure what else to say. Just thought you all should know about this creepy baby mascot thingy. – AL