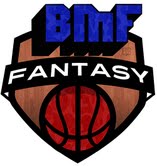 For two No. 1 draft picks in back-to-back drafts, it was no question whether or not they would produce in the NBA. They were both sought out in high school, both went to very respectable colleges, and each was the top draft pick in his class.
In 2010, the Washington Wizards drafted John Wall. He only played one year at Kentucky, a dominant year. In 2011, the Cleveland Cavaliers selected Kyrie Irving, who only played 11 games at Duke before injuring his right foot. He then decided that those 11 games were enough to enter the draft. Needless to say, I guess they were.
Now that John Wall is in his fourth year in the NBA and Kyrie Irving is in his third, it's a constant battle as to who is better. When it comes to fantasy, it's a pretty close argument, as both have not only played extremely well in their time in the league, but both have proved that they are the leaders of their teams. They have both become the players that their respective teams want to build around. So, let's take a look at both players and see who you would rather want on your fantasy basketball team.
John Wall
Wall has progressively gotten better since being drafted in 2010. His first and second years were a little similar statistically, but last year and this year have been major improvements. In his rookie year, he averaged 16.4 points, 8.3 assists, 4.6 rebounds, and 1.8 steals per game. In the following season, he averaged 16.3 points, 8.0 assists, 4.5 rebounds and 1.4 steals per game. Not bad statistics for a very young player that was brought in to lead a team that didn't have a lot going for them.
Last year, Wall averaged 18.5 points, 7.6 assists, 4.0 rebounds and 1.3 steals per game. Unfortunately, he came down with an injury that caused him to only play 49 games. Now, Wall is having his most successful year as a pro. He is averaging 20.0 points, 8.7 assists, 4.3 rebounds and 2.0 steals per game. His three-point shooting is up dramatically, as well as his free-throw shooting. He seems to be healthy and is averaging the most minutes per game in his career since his rookie season (37.8 to 36.9).
In 60 games played, John Wall has tallied 15 25-point games. He has 23 games where he racked up 10 or more assists and one game with 11 rebounds, when he had a triple-double. It's no doubt that he has had a productive season. He's an explosive offensive player who can give you pretty much any statistic on the table. He's offensively explosive and a show-stopper on defense. His ability to drive and get to the basket helps him get to the free-throw line. His three-point game has really stepped up from previous years, where he struggled big time. He's becoming a versatile player that would be a huge plus on your fantasy basketball team.
Now, let's take a look at another explosive point guard!
Kyrie Irving
Irving definitely got a better start to his career than John Wall did. After being drafted first overall in 2011 by the Cleveland Cavaliers, it didn't take long before he was making a name for himself. Although he hasn't played more than 60 games in a season yet, playing 51 in the 2011-12 season and 59 in the 2012-13, he has done enough to make him one of the best point guards in the Eastern Conference.
In his rookie season, Kyrie averaged 18.5 points, 5.4 assists, 3.7 rebounds, and 1.1 steals per game. Those are quite phenomenal stats for someone who only played 11 college-level games. In his second year, which was last season, he averaged 22.5 points, 5.9 assists, 3.7 rebounds, and 1.5 steals per game. He increased his production in both points (+4.0 per game) and assists (+0.4).
Now in his third year, after playing 58 games, Kyrie Irving is averaging 21.5 points, 6.3 assists, 3.4 rebounds, and 1.3 steals per game. Although his points, rebounds and steals per game dropped, his assists have increased and he is still a very productive player in the league.
Comparing to John Wall's 15, Kyrie Irving tallied 20 games where he scored 25 points or more, including a 41-point game, a 40-point game, two 39-point games and a 37-point game. So, his scoring has been a little better than John Wall's. For assists, Irving only had 8 games in which he had 10 or more assists, compared to John Wall's 23. He also has one triple-double, like John Wall. In that game, Irving had 21 points, 12 assists and 10 rebounds.
The Verdict
It depends on who you already have and what you need. Meaning, if you already have a guy that scores a lot and you need someone to get you assists, your best bet is to go with John Wall. On the other hand, if you already have a guy bringing you assists, you should go with Kyrie Irving. If you had to choose between the two and they were your first pick, I would feel better going with John Wall. Although Kyrie Irving scores more, John Wall brings a more well-rounded game and therefore more production across multiple categories.
Needless to say, you can't go wrong with either player.
To see more from Fantasy Basketball Money Leagues click here.
Featured image courtesy of Erik Daniel Drost/Flickr.