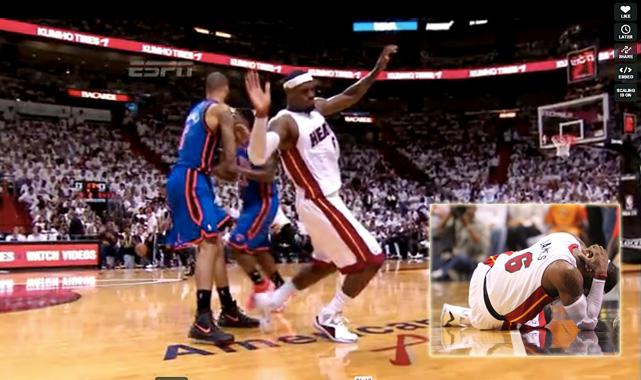 Brought to you by our friends at Fantasy Basketball Money Leagues.
Flopping has long been an art in the NBA as it is in basketball leagues all over the globe. However unlike most leagues, the NBA has taken a stance against flopping, and has created a set of rules that penalize offenders. Most recently, Dwyane Wade of the Miami Heat was fined for a flop in Game 2 of the 2014 NBA Finals. A report by USAToday.com on June 10, 2014:
Dwyane Wade of the Miami Heat became the latest recipient of a flopping fine from the NBA on Monday, ordered to give up $5,000 after the league found he over-exaggerated a foul charged to San Antonio's Manu Ginobili in Game 2 of the finals.
Wade's fine was the fifth that the NBA has issued during this postseason. In the regular season, the NBA meted out a total of six fines for flopping, but how much of a problem has it become in the NBA?
The Art of Flopping
According to ESPN.com, the NBA defines flopping as:
Any physical act that appears to have been intended to cause the referees to call a foul on another player. The primary factor in determining whether a player committed a flop is whether his physical reaction to contact with another player is inconsistent with what would reasonably be expected given the force or direction of the contact.
Again, flopping has long existed in the NBA, or basketball for that matter, but it gained notoriety during the Los Angeles Lakers-Sacramento Kings rivalry in the early 2000s. Kobe Bryant confirmed this via ESPN.com:
Shameless flopping, that's a chump move. We're familiar with it. Vlade (Divac) kind of pioneered it in that playoff series against Shaq, and it kind of worked for him.
It worked for Vlade Divac, particularly in Game 2 of the 2002 Western Conference Finals when he got Shaquille O'Neal into foul trouble early in the first half after the Diesel scored 23 points in the initial 18 minutes of the game. The Kings upset the Lakers in that game 96-90 and stole home court advantage.
While Game 2 highlighted it, that series and rivalry, in general, magnified flopping in the NBA.
Just recently, Vlade Divac made a statement about flopping and the new set of rules established by the NBA. Divac said via NBCSports.com:
Whenever you overdo something, it's time to stop it. So I think it's a great decision by the NBA. But everyone is saying that's my rule; that's not my rule. That's Shaq's rule.
When he was asked why it was Shaq's rule, Divac replied:
"No, I started it because of Shaq, because they didn't want to call fouls. So that's not my rule, that's Shaq's rule."
Divac was referring to the physical play that made Shaquille O'Neal one of the most dominant centers in NBA history. O'Neal was so physically huge at over seven feet tall and over 300 pounds that he would have no trouble backing down any defender in the paint to score a high percentage layup or dunk. That being said, Divac did have some level of success in baiting fouls from Shaq.
However, more than 10 years later, with Shaq long retired, the flop has remained and evolved into an art form.
Anti-Flopping Rules
In October 2012, the NBA set out a new policy on flopping. As reported by ESPN.com on October 4, 2012, here is the league's statement:
Flops have no place in our game — they either fool referees into calling undeserved fouls or fool fans into thinking the referees missed a foul call," vice president of basketball operations Stu Jackson said in a statement. "Accordingly, both the Board of Governors and the competition committee felt strongly that any player who the league determines, following video review, to have committed a flop should — after a warning — be given an automatic penalty.
Here are the fines:
1st Offense: Warning
2nd Offense: $5,000.00 Fine
3rd Offense: $10,000.00 Fine
4th Offense: $15,000.00 Fine
5th Offense: $30,000.00 Fine
6 or More: Suspension
During the 2013 NBA playoffs, the league heeded the call for more stringent penalties during the postseason, so the league came up with a "stronger" policy. As reported by SI.com on April 18, 2013:
Any player who is determined to have committed a flop during the 2013 playoffs will be subject to the following:

Violation 1: $5,000 fine
Violation 2: $10,000 fine
Violation 3: $15,000 fine
Violation 4: $30,000 fine

If a player violates the anti-flopping rule five times or more, he will be subject to discipline that is reasonable under the circumstances, including an increased fine and/or suspension.
In the 2013 regular season, the NBA called 24 flopping violations to 24 different players from 13 different teams. A total of five players received two infractions, but none had more than two. During the 2013 playoffs, seven players from five teams received infractions, and there were no repeat offenders. For the entire 2013 season, a total of $60,000 in fines was issued, but no suspensions were handed out.
In the 2014 season, the NBA only levied a total of $50,000 in fines (including the playoffs). Below is a summary of the offenders and their fines:
| | | |
| --- | --- | --- |
| 06.09.14 | Dwyane Wade | $5,000.00 |
| 05.29.14 | Lance Stephenson | $10,000.00 |
| 05.29.14 | Roy Hibbert | $5,000.00 |
| 05.21.14 | Lance Stephenson | $5,000.00 |
| 02.19.14 | P.J. Tucker | $5,000.00 |
| 02.06.14 | Mario Chalmers | $5,000.00 |
| 01.21.14 | Lance Stephenson | $5,000.00 |
| 12.09.13 | Corey Brewer | $5,000.00 |
| 11.11.13 | James Harden | $5,000.00 |
| | Total | $50,000.00 |
However, is $50,000 enough to stop flopping in the NBA? Definitely not!
Toothless Rule
Former NBA commissioner David Stern believed that the policy isn't sufficient to curb flopping in the NBA. Before Game 1 of the 2013 NBA Finals, Stern said this in a report by SI.com on June 6, 2013:
It isn't enough. You're not going to cause somebody to stop [flopping] for $5,000 when the average player's salary is $5.5 million. And anyone that thought that was going to happen was allowing hope to prevail over reason. But you take a step and you begin to see it.
Creating the anti-flopping rule is a step in the right direction, but it's just a half-step. It's one that's worth strengthening in coming seasons, but Stern also said that it wasn't about amassing a fortune with fines, rather it was "gradually phasing in a procedure which will serve a jumping off point for future discussions."
Stern added, via that same SI.com report:
There's always a challenge of getting it right. The point was to do it gently, look at all the flops, and there have been plenty, [and then] penalize the most egregious very gently. We could end [flopping] immediately if we decided to suspend players, but that might be a bit draconian at the moment.
Automatic suspension would really be draconian, and monetary fines are small change to these millionaire ballers, but what does flopping really mean to the NBA?
Going back to Dwyane Wade in Game 2 of the 2014 NBA Finals, here is an excerpt from NBA.com on that play:
Wade drew the foul against Ginobili with 4:09 left in the second quarter on Sunday night. Ginobili, who took a big swipe at the ball about 35 feet from the basket, wound up going to the bench with his third foul of the half. Wade went to the line and made the two resulting free throws, since Miami was already in the bonus.
The Heat won the game by two points and tied the series 1-1. That play happened in the first half, and a lot of great heroics from both sides much later in the game decided its outcome.
That being said, come to think of the "what ifs" of Game 2: What if Manu Ginobili did not commit that third foul and stayed on the floor? What if D-Wade never had those two foul shots?
Flopping doesn't necessarily change the outcome of a game, but it does matter. And if it matters, it's a problem, until the NBA strikes with an iron fist.