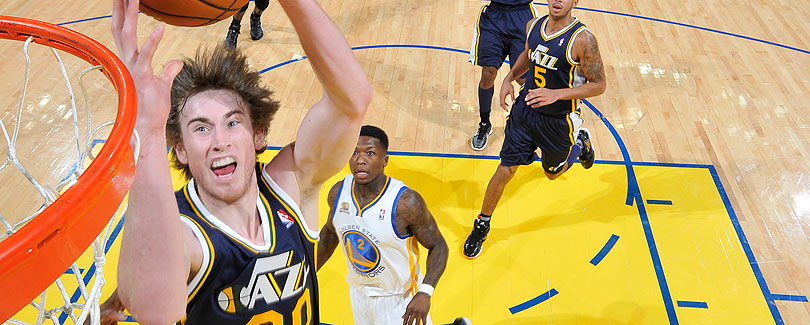 Only one day remains until the Utah Jazz officially kick off their regular season with a home opener against the Houston Rockets and fans in Utah are anxious to see what the young, talented team has in store. Under new coaching leadership, the team is expected to perform significantly better than their dismal performances in seasons past.
At the helm of the team is guard-forward Gordon Hayward and center-forward Derrick Favors, who have both recently signed four-year agreements with the Jazz. They are now looking toward the future and how their roles as players will impact the team. One role they're both going to have to improve on, however, is their communication.
Though Hayward's 16.2-point average last season speaks loudly of his abilities on the court, his quiet persona left a lot to be desired in leadership. Signing a four-year, $63 million contract, however, may have helped him shed his protective shell. Similarly, Favors, who signed a four-year, $46.95 million contract just 10 days ago, started 73 games last season. He is a notoriously low-volume player. Though new head coach Quin Snyder has been pleased with the duo's communicative efforts in the preseason, he hopes that they both realize their secure positions as Jazz leaders and continue to strive for more aggression and leadership on the court.
Their communication game is not the only one they need to brush up on to truly shine as leaders this year. Hayward was criticized last season for not showing enough aggression on the court and failing to use his 6'9" frame as powerfully on defense as he did on offense. He could also stand to improve on his weak 41 percent shooting from the field. Favors, who also needs to show more physical aggression on the court, needs to polish up on his free throws and continue shining as a strong defensive player. Both of these men have shown constant progression throughout the past seasons and projections for this upcoming year further justify their promising development.
When adding aggressive verbal leadership to an athletic, young team, the Jazz' 2014-15 season is looking to be a positive building year with promising playoff possibilities in the seasons to come. As long players like Hayward and Favors are able to hold each other accountable for efforts on and off the court and work confidently with the new coaching staff, the Jazz are sure to rack up the Ws this season.