Sometimes I think the NFL really doesn't want me to watch their games. The Tennessee Titans, San Francisco 49ers, and Chicago Bears each played miserable football this year so I'm only viewing postseason games for the promise of quality football. All four wild card games were boring, which made one of the most egregious penalty reversals one could imagine feel even more annoying.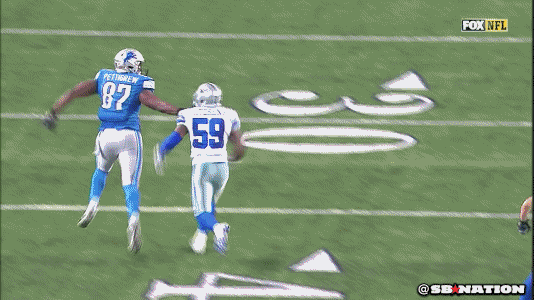 This is pretty clearly pass interference. Quarterbacks would average 2,000 passing yards a year if defenders could interrupt intended receivers with this method, not the new normal of 4,000 passing yards a year (11 quarterbacks eclipsed the 4,000 yard mark this year). Initially, a flag was thrown on the field and head referee Pete Morelli said it was for pass interference. As this was being announced, I was completing a tweet about a different, related issue.
Dez Bryant is ON THE FIELD to argue with a ref about a penalty on the Cowboy's defense. Is that even allowed?

— aaron lanton (@alanton11) January 5, 2015
I don't know why I used a rhetorical question—no, players are not allowed on the field without a helmet. The NFL rule book bans "removal of a helmet by a player in the field of play or the end zone during a celebration or demonstration or during a confrontation with a game official or any other player." That's why this stuck out to me.
This somehow worked for Dez Bryant https://t.co/V5Jjf5CPDL

— Eric Rosenthal (@ericsports) January 5, 2015
I didn't think that the call would be overturned one minute later, but Bryant's actions are definitely an additional violation. My horses have already been put to pasture so all I want to see is two playoff teams fight as cleanly as possible. The refs made several other gaffes that hurt both teams. One of those mistakes includes a bad offensive pass interference call on Cowboys receiver Terrance Williams in the second quarter; the very next play was a 76-yard touchdown by Williams.
Bad calls do not always dictate the outcome of a game because weird stuff happens (for example, the corner guarding Williams on his-76 yard touchdown tripped over a blade of grass). The Lions scored only six points in the final three quarters of a game, completely unacceptable in a playoff game. All you can truly hope for as a fan is that the important, obvious calls are handled properly. Bad calls are a part of the every sport. Learning to accept that fact can be difficult.
The first time I realized this as a sports fan was during the 2000-2002 Los Angeles Lakers three-peat with Kobe Bryant and Shaquille O'Neal. People often talk about moments in the 2002 Western Conference Finals against the Sacramento Kings, but time has forgotten Game 7 of the 2000 Western Conference Finals against the Portland Trail Blazers. A lot of very fortunate calls went in the Lakers' favor, and the Blazers blew a 20-point lead in the fourth quarter. It doesn't mean the game is rigged, but there is a human element.
Bad calls can happen for a variety of reasons. Fans don't need to obsess over every minute detail of this bad call or any others certain to occur in the future. For refs, momentary incompetence can be mistaken for intention to affect the outcome of a game. The answer is often less complicated than conspiracy.
If you want something to yell about then focus on how the NFL assembles officiating crews for the postseason. ESPN's Kevin Seifert noted, "the NFL scrambles officiating crews for the playoffs, assembling them based on grades rather than whom they worked with during the regular season." If you want some inconsistencies in your workplace, just grab a bunch of people from different teams who have never worked together on assignment for a live, nationally televised event. Who needs continuity when you've got good grades, right?