"Everything about Under Armour is about the underdog. I think every athlete feels that too. Who wants to wake up and go exercise? Nobody. But you want the results. So having and finding the will to do it. We are the overachieving brand. We are the underdog brand. We are the ones that no one thought could do it, nobody gives a chance to be in this position, but we are and we take that with great responsibility." Kevin Plank, Under Armour CEO – February 12, 2015, CBS This Morning
Few people would have believed in Kevin Plank's dream when he started Under Armour nearly two decades ago. Who could blame the doubters? Anyone hoping to elbow their way into the sportswear market would have to compete with worldwide brand names including Nike. Nowadays it feels like Nike is the one watching their back. Under Armour's sales surpassed $3 billion in 2014, second only to the big swoosh, but they are not satisfied with their current success. There are bigger plans afoot. With 2015 marking Under Armour's realistic opportunity to become the number one name in sports apparel starting with their new marketing campaign "The Book of Will" starring Stephen Curry, Jamie Foxx, and others who represent Under Armour's commitment to overcoming long odds. Baller Mind Frame was privileged to attend an event hosted by Under Armour that explained their long-term objectives and what "The Book of Will" is all about.
The event started with a talk by the charismatic Plank who broached a variety of subjects from the 30,000 square feet Under Armour store in Chicago set to open later this year to the Speedform Gemini, a new running shoe that Plank said is so well designed that wearers won't even need socks.
Plank went on to say that Under Armour is not interested in trying to do everything at once. The company goal is to be the best at what they do. In other words, quality over quantity. Everything is designed with the goal of making the athlete better, a philosophy that has worked out well so far.
The most important portion of Plank's talk was his overview of Under Armour's plans within the digital realm. Over the past two years, Under Armour has acquired three mobile health and fitness applications and also developed their own mobile app called Under Armour Record. According to Plank, "1 in 5 Americans has 1 of these 4 apps." That's pretty amazing by any measure. Under Armour Record has several features that users would find incredibly helpful for workouts such as tracking calories burnt, duration, and comparing personal progress to friends' stats who need a reminder of who's the best (okay, maybe I'm the only one who would talk trash while using this app). Under Armour has a head start on the competition in this field and Plank is very confident that the company's investment in health and fitness apps will pay off in the near future.
Next up, Plank introduced award winning actor-musician-comedian Jamie Foxx to the stage. Little did the attendees know, Plank and Foxx go way back. Plank's first big break for Under Armour came during the filming of the football classic Any Given Sunday which featured players wearing Under Armour gear during the games. Foxx was also grinding away in auditions to be taken seriously as an actor, and was rejected for roles in Any Given Sunday multiple times before Oliver Stone finally gave him the green light. The two underdogs shared a connection through this film that continues to Under Armour's "Book of Will campaign." Unbeknownst to Foxx, Under Armour was not yet making jockstraps during filming for Any Given Sunday so Plank sewed it together himself with a little help. That's basically the definition of perseverance to solve a problem out of nowhere.
Foxx told some other great stories about what "The Book of Will" means to him, and why he wanted to be a part of the campaign. The audience was then greeted with the world premiere of a commercial from "The Book of Will" campaign featuring the tenacious U.S. sprinters Manteo Mitchell and Natasha Hastings.
[youtube]https://www.youtube.com/watch?v=6ck7frxs-Uc[/youtube]
Excellent commercial with two of the best American athletes in the world, their new shoe line, and quick previews of the Under Armour Record app. That's how you get the people going.
Stephen Curry, the 2015 leading vote-getter for the NBA All-Star Game, was introduced to the stage next and he clearly enjoyed just soaking it all in. He called the moment, "surreal," and added that having his family and best friends there for the premiere of the first commercial commemorating The Curry One, his first signature shoe, made him emotional.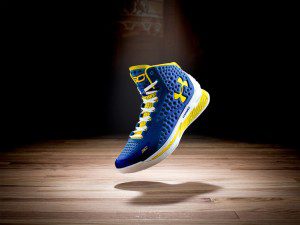 Curry embodies what "The Book of Will" is all about – he wasn't recruited by ACC schools although he lived on Tobacco Road, he was doubted by many NBA scouts before he entered the league despite outplaying his college peers on the court, overcame pesky foot injuries, and re-engineered his jumper to become one of the deadliest scorers the game has ever seen. Heck, that's not even getting into the stuff he had to overcome while playing basketball in same city where his father, Dell Curry, is a hometown basketball hero.
[youtube]https://www.youtube.com/watch?v=AsHTXZzUYRQ[/youtube]
Curry's story is exactly what Under Armour was looking for – an underdog story that shows hard work does pay off. The sweat is worth it. The hard times are worth it. The disappointments are worth it. "The Book of Will" campaign is perseverance, something Foxx was able to sum up in the commercial for The Curry One.
[youtube]https://www.youtube.com/watch?v=e6o8PbAsGKA[/youtube]
If you enjoyed that commercial, the look on Curry's face while it showed during the event would've brought joy to your heart too. Curry never saw the final cut of the commercial so we were all seeing it for the first time together. He looked like a man who felt like things were beginning to pay off, and all he had to do now was complete the journey. A similar look of determination and strong will radiated from Plank and Foxx.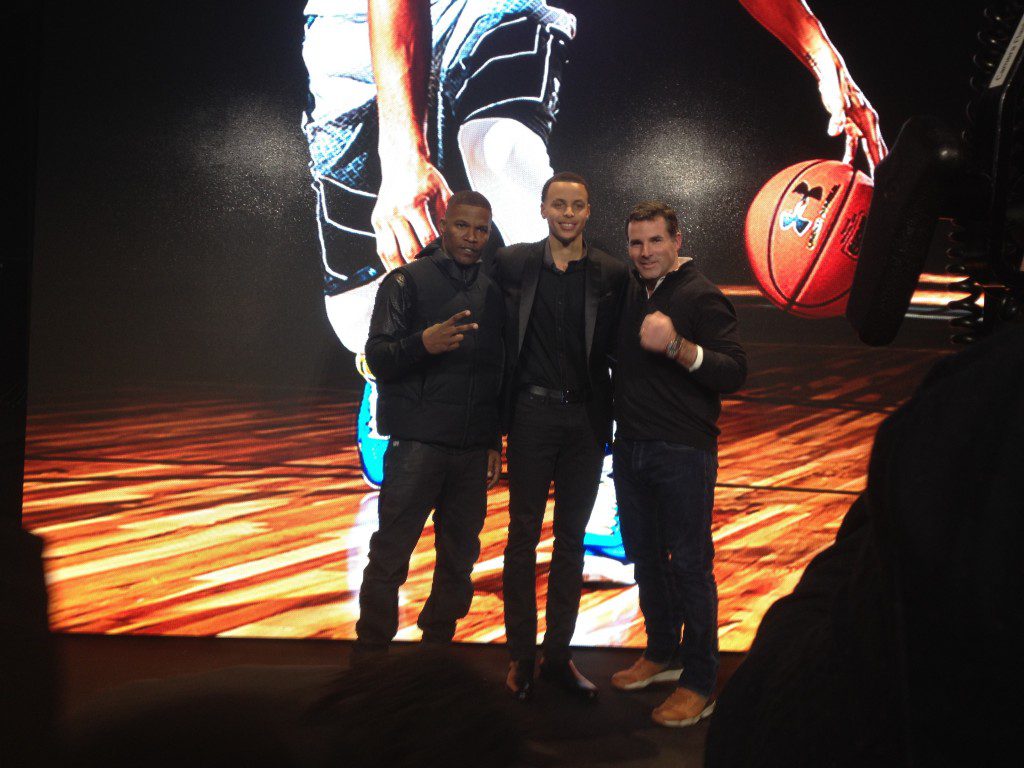 Under Armour's leading faces appear ready to take on the world.