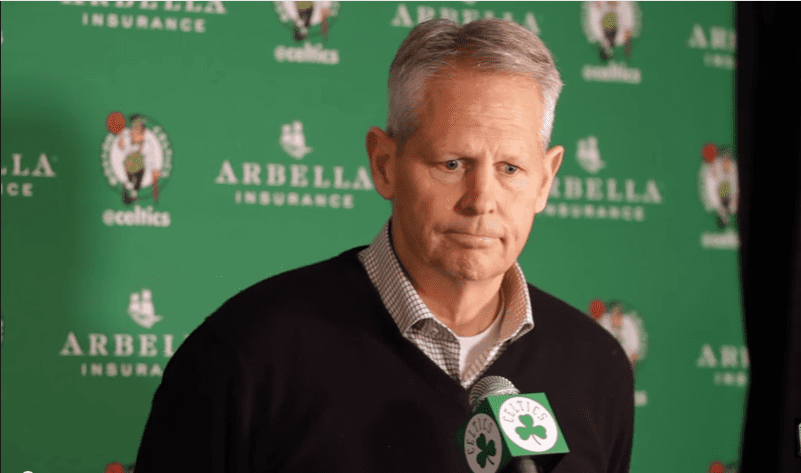 Isaiah Thomas, Tyler Zeller, Jonas Jerebko, Luigi Datome, and Jae Crowder. A 2015 Mavericks first-round pick, the Grizzlies 2017 first-round pick, a 2016 top-12 protected or two second-round picks from the Minnesota Timberwolves, the Mavericks second-round pick in 2016, a 2017 Clippers second-rounder and a 12.9 million dollar trade exception.
My fingers hurt from typing all that, and if you're reading aloud your unquestionably out of breath. For those of you who don't know, that is a list of what the Boston Celtics have accumulated through trades this season. Of course when you come into such wealth as this team has you must have to give something colossal up, right? Wrong. The only players traded this season that were on the roster last season were Rajon Rondo and Jeff Green.
Rondo is a point guard that needs to be surrounded by players such as a Paul Pierce or a Kevin Garnett (a much younger Garnett). Jeff Green is an excellent third or fourth scoring option. These type of players are wonderful for teams that are one player away from serious contention. Teams like Memphis and Dallas, not teams such as the Celtics where they would be surrounded by young, developing players. That makes the Celtics clear-cut winners in any transaction they were involved with, being that they found the perfect landing spot for each player with the highest return and incentives in each deal.
So why am I telling you all of this? Because it's relevant. Just like the green team is now, being two games up on the field for the eighth seed in the Eastern Conference. At the beginning of the season, most, if not all reasonable NBA fans figured the Celtics a lottery team in with the likes of the Philadelphia 76ers and the New York Knicks. Not necessarily a bad thing if you're rebuilding, which the Celtics seemed to be. Now, surely to be in the playoffs and projected to be playing the red-hot Atlanta Hawks, the Celtics are certainly this NBA season,s surprise team.
If the Celtics are outperforming all of their expectations there must be someone to lay the credit on. Is it the Coaching? Sure, but Brad Stevens is only in his second year at the pro level. Who hired him? Only the same guy who flipped Rondo and Green into building block players and the barrel worth of draft picks listed up above. The same guy also seems to consistently find the perfect deal for his team, receiving maximum value sometimes even over payment for a player. Obviously, the answer is Danny Ainge. Which brings me to the more important and main reason of the article. Ainge should be the clear-cut, absolute favorite to win the NBA Executive of the Year Award.
Once a week Ainge is on "Toucher and Rich", a local Boston sports talk radio show. Each week that I have listened to him he has never conceded to the inevitably impending doom that was the 2014-15 NBA season for the Celtics. One of the radio hosts, Fred Toucher, every week in some way tries to get Ainge to admit that the team is in the middle of a "tank-a-palooza" season. And each week Ainge has not only denied the accusation, but actually claims just the opposite. That was all of course before the Celtics were a playoff team. He sounded nuts, but he clearly has had a vision for this team that is unfolding in front of us all.
He has achieved success all season long without unloading one piece of the invaluable assets gained through the dispersion of the original "Big Three." Two of those 11 first-round picks are from the Brooklyn Nets and look to be lottery worthy next season. It seems to be only the beginning of the wheeling-and-dealing that Ainge will be doing for many seasons to come for the Celtics. Although after this year it will undoubtedly be somewhat expected from this team or any team Ainge is the General Manager of. So before Ainge is regarded as a top-three GM, he deserves this award for the team he has created without losing one asset. In fact, gaining more assets and key players in the process.
There is no question Ainge would be facing stiff competition in the form of Atlanta Hawks' GM Danny Ferry, if he wasn't in the middle of an indefinite leave of absence from his duties due to that little scouting report issue. That, and the fact Ferry has basically had the same squad for last two seasons and they only started winning after Ferry brought Mike Budenholzer on. While Ainge has built his playoff team out of seemingly nothing and left his plethora of picks intact. The Hawks' recent success is absolutely due in part to the ability of the head coach getting a group of role players to buy into his ideology. Ainge brought Stevens on with just that in mind. He knew Stevens wouldn't have a team full of all-stars in the beginning, and that Stevens stresses defense. Also, that it would be a kind of learning experience for everyone involved. Ainge has clearly seen this all coming together since the last championship season in Boston.
It's almost like the man has a crystal basketball he uses to see into the future of the league. It's exciting and unexpected. Who doesn't enjoy unseen success? There is one of these teams every year, and this year it's my Boston Celtics. All because of Danny Ainge. Bringing on a young coach who only has room to grow with a team that looks to do the same. It needs to be recognized and it should be done so this season. After all the problems the league has had with older, less open-minded GM and owners, Ainge is at sight for sore eyes and dry ears.
Spread the word, Ainge is the man this year.