Baller Mind Frame's No Layups brings you the hottest NBA stories on the web mixed with personal opinion from our very own Aaron Lanton. Check it often and absorb the knowledge we're dropping on you!
Isiah Thomas is one of the smoothest, most charismatic operators on Earth, I'll give him that. Despite public outrage, Thomas was hired yesterday to become the president of the WNBA's New York Liberty and will be given a small stake in ownership. Re-hiring a guy found guilty of sexual harassing a woman while working for your company is a faux pas too egregious to be real, until you remember that the Liberty are owned by the same man who owns the New York Knicks and great friend of Thomas, James Dolan. There is a larger plan in place. We'll get there in a minute.
One of the most prolific NBA players in the league's history, Thomas has dipped his toes into several off the court basketball endeavors as an owner, head coach, and president of basketball of operations at college, minor, and professional levels. Along the way, he's made plenty of enemies but that fact is apparently vastly overshadowed by his inordinately powerful friends. Thomas has failed miserably at every stop since retiring as a player. His greatest act was drowning the New York Knicks in mediocrity following their run to the 1999 Finals
It's an open secret than Dolan has listened to Thomas' advice before and after his time on the Knicks' payroll in different capacities between 2003-08. For the sake of brevity let's just say he was a general manager who cared nothing for cap space or picks (think Billy King with the Brooklyn Nets before his time), and always went with his gut on players he liked which never, ever, worked out. None of this matters because Thomas will always have a place with the Knicks and his dear friend James Dolan. No, the New York Liberty are not the New York Knicks, but you don't have to be able to read tea leaves to see where this is headed.
So Isiah Thomas is now working at MSG and Phil says he probably won't stay the whole 5 years? Um, yeah, nothing to see here.

— Adam Zagoria (@AdamZagoria) May 5, 2015
That's the thing. We have two huge problems here.
1. Ask any Knick fan how they feel about Isiah Thomas returning as president of basketball operations, and the response will go a little something like this.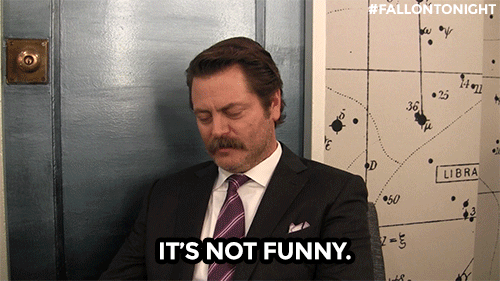 No other team will even consider hiring Thomas because he's already demonstrated he has no clue what he's doing with personnel. It's the equivalent of giving a competitive swimmer a full course meal before the race; no one wants to screw their own team like that. Being an overbearing, competitive asshole can work for a player. The same mentality is not suited for managing a basketball roster, at least not Thomas' version of it. Dolan doesn't help the situation by capitulating to many suggestions by Thomas, and never seriously threatening to fire him despite poor job performance or a being found guilty of a criminal act.
2. Here are the basic facts of what happened in the sexual harassment case that resulted in a guilty verdict against Thomas via Deadspin.
Here is a thing that actually, inarguably happened. On October 6, 2007, a jury found that Isiah Thomas sexually harassed a New York Knicks executive, who was fired when she told Madison Square Garden, the organization that owns the Knicks, that Isiah Thomas sexually harassed her. She was awarded $11.6 million to be paid by MSG and MSG's owner, James Dolan.
Seems pretty straightforward until you ask Thomas and the Knicks' organization about "the false allegations".
Clarification: this statement on the Anucha Brown Sanders trial & Isiah Thomas came from Madison Square Garden: pic.twitter.com/PEa7MuQlk8

— Ian Begley (@IanBegley) May 5, 2015
Think that was preposterous? Check out the interview from Thomas this morning.
[youtube]https://www.youtube.com/watch?v=jVY2ENMNebQ[/youtube]
We are less than a year away from the league being praised for standing up for what's right against the tyranny of evil that was Donald Sterling, a man with a racist, misogynistic history everyone knew about for decades before hesitantly doing something about it. Thomas' actions are less vile overall considering that Sterling was (is?) a slum lord that affected many more people, but this has to be a stain on the NBA's reputation, right?
The WNBA exists in concert with the NBA. Allowing Thomas to weasel in through the back door (and how badly does this look for the WNBA? They are being treated second-rate in every way possible) only after a few years have gone by should be something we are morally opposed to. According to the public outrage, we are bothered by it, but not enough to do shit about it. Thomas is a basketball managing abomination and a sexual harasser found guilty in a court of law. This isn't looking the other way because he's great at his job. Dolan and Thomas are friends. That's the only reason he's back with Madison Square Garden in any capacity.
But, please, let's not feign outrage about ethics. This is a business first and friendships will reign above common sense as long as the bottom line isn't affected. Money talks and Knicks fans have spoken loudly, "Professional ineptitude and questionable ethics won't get in the way of the franchise we love."
Cool beans. Have fun with that and good luck on your championship drought.