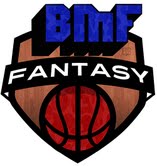 Derrick Rose suffered a fracture to his left orbital bone in the Bulls' FIRST practice of the season and will undergo surgery. At this point, news like this can no longer be considered ominous of a season-to-come, but more like a ubiquitous part of an NBA season. It's sad, but unfortunately, so truthful that it resonates every Bulls and even casual NBA fan out there.
So far, no timeline has been released. It will likely come after his surgery is done. What does this mean for fantasy basketball? Honestly, not very much. Rose was not very high in our BMF rankings and actually one the players I was going to recommend to avoid in drafts this season. This news, only serves to reinforce that view.
Aaron Brooks is now worth a look as a late-round pick in standard drafts and a must-grab in deep leagues. I was high on Jimmy Butler coming into 2015-16, but this just takes him over the top. He's the second-best shooting guard in fantasy basketball and is worth taking at the end of the first round. Overall, expect an uptick in the assist averages of all of Chicago's starters. While the offense should be flowing through Butler, guys like Pau Gasol and Joakim Noah are known to be excellent passing big men. There are a lot of guards to choose from this season. Do the smart thing and pass on Derrick Rose in your fantasy draft.